Q&A with new First Tee CEO, Keith Dawkins
Interviewed by Sydnee Mack
The First Tee has been a golf industry staple for more than 20 years, helping to introduce young people to the game in a variety of communities. Prior to his retirement in 2017, Joe Louis Barrow Jr. led The First Tee and fostered growth from a few hundred kids at the start to presently impacting more than 5 million juniors annually. Turning the pages on that chapter, the organization recently underwent changes in the leadership, staff and structure. With many of your facilities serving as a home base for this initiative, Golf Range Magazine wanted to provide insight into these changes – directly from the organization's new CEO Keith Dawkins (pictured, far right).
Tell us about who you are and the path that led you to your current role as CEO of The First Tee.
I have a 25-year background in entertainment and media. Half of my career I spent on the news side as the "maker of content" guy with CNBC, Fox News and VH1 News and then the other half, was spent on the entertainment side with Nickelodeon. At Nickelodeon, I led two key content/marketing initiatives. The first was called NickSplat, a program that targeted millennials who grew up on '90s Nickelodeon. The second was Nickelodeon Sports. Through Nickelodeon Sports, I helped forge relationships with all major sports leagues to create new, multi-platform content and drive marketing events and initiatives, including an on-site branded kids' zone at The Players Championship at TPC Sawgrass.
There have been some recent major organizational shifts at The First Tee since you entered. The most visible being the dismissal of many folks who'd been with the organization for years. Can you talk to us about this shift and the impact it will have on the organization?
Change is hard, no matter where it happens. When you have an organization that has a new leader coming in, any changes made are going to be felt profoundly by the organization. As it relates to the most recent changes within the organization, there are people who are no longer with the organization but have done phenomenal work along with Joe Louis Barrow to get The First Tee to where it is. Those people have deep relationships within the organization and their absence is felt. I am sensitive to those feelings.
However, the new people who have been brought into the organization represent an investment in The First Tee. An investment in the areas that are important as far as the growth of the organization. Areas that include communications, marketing, digital and social media, research and revenue creation. These are all areas that represent an investment in our future as an organization.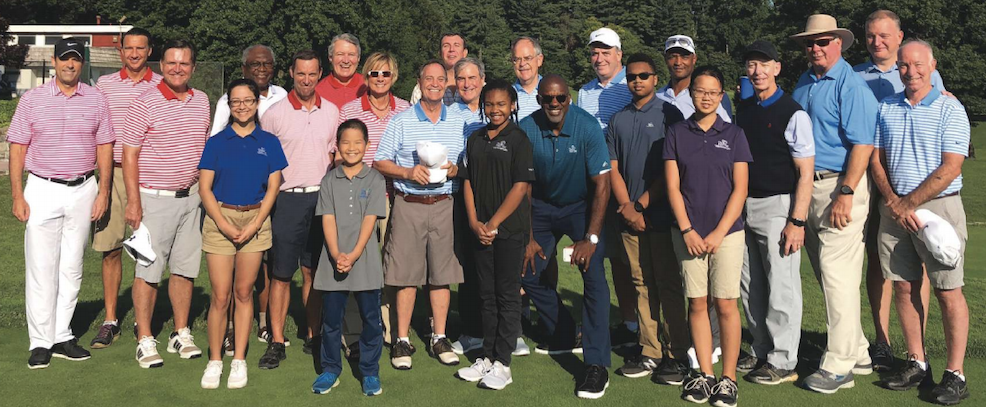 In light of the major changes that have already been made within the organization, what is your long-term vision for The First Tee?
Well, yes changes have been made, but I don't see any of them as being a radical departure or new direction for the organization. For me, the changes represent getting back to the starting point of where The First Tee was born 20 years ago when Commissioner Finchem (Tim Finchem, former Commissioner of the PGA Tour) and a few other like-minded individuals got together in 1997 and said, "how do we grow this sport, expand it, diversify it, make it more inclusive and possibly impact billions of kids lives along the way?" That's what I'm looking to do, with our three strategic pillars: (1) fan engagement; (2) diversity and inclusion; and (3) civic responsibility; which is a term that I use to represent the nine core values which I view as being unique and fundamental to The First Tee.
Number one, how do we engage these kids? Well to start, let's look at the numbers. There are 50 million kids in the U.S. under the age of 11 who make up 15 percent of the population. Over half of those kids are children of color. That makes this cohort of kids the largest and most diverse group that we've ever had in our nation's history. The next step is then understanding that audience, who they are, what they do and how they think and then engaging them in ways that they are accustomed to, to attract them to our space.
Our second pillar is diversity and inclusion. There is so much diversity within that audience, it is "mission critical" for all of us in terms of figuring out how we embrace this super diverse generation of kids. Even the Caucasian kids are cognitively more diverse than we've ever seen them before.
Back in the day, in terms of music you might have one kid who was the "hip hop kid," one kid who was the "country kid," and one kid who was the "rock kid." Well now, you can find Meek Mills on everyone's playlist. These kids have embraced a different way of thinking.
Our third pillar, civic engagement brings us back to those nine core values of The First Tee that are more important than ever because this generation cares about health and wellness, social issues and global impact.
What do you think will be your biggest challenge as CEO of The First Tee?
Growing the game is a huge focus of The First Tee and is a challenge that the entire golf industry is currently facing. Words have different meanings for different people. Coming into this space, "grow the game" for many people has meant creating more golfers only in terms of swing speed, launch angles, loft and all this stuff. I won't say that those things are not important in terms of actually playing the game, but it's really not what I'm talking about when I say, "grow the game."
I'll start by going back to my time as a member of the Nickelodeon Senior Executive Team. There were 21 of us on that team and there were only three men. Eighteen women were running the other big parts of the business including the president of the company. That right there is seismic! That's very different than a lot of other companies and we're just talking about gender leadership.
So, when I talk about "growing the game," I want to, in 10-15 years, see all those young girls and kids of color who make up that diverse group of kids that I spoke about earlier, as executives and CEO's, VP's of business operations and marketers throughout the golf industry landscape. Because when that level of diversity starts to hit the shores of the golf industry, that's when more innovation, more revenue, more everything happens within the industry and the space itself.
What has been your biggest win?
I don't know about a "biggest win" just yet, but we've done a bunch of things that I'm excited about including bringing in this new leadership team. The people who have come into these new roles bring a variety of talents and skill sets that will be important to The First Tee moving forward. They are also enthusiastic. They are excited to pour in. They are digging in and creating wins for us everyday, which is critical in year one.
When did you fall in love with golf?
Fall in love? Fall in love is an interesting phrase, so I'll start with when I started playing golf. I was around 25 and had just gotten engaged to my now wife. My soon-to-be brother-in-law gave me a 5-wood. It was an old TaylorMade Burner. My initial thought was, "this is interesting." At that time, I didn't play golf at all.
I didn't understand this at the time, but I started to understand more once I started hanging around him and playing more. I understood that he wasn't just giving me a 5-wood. He was giving me a gift of brotherhood, love, camaraderie, quality time, an extended network and friendship. At its best, that's what golf and sport is, a gift. Because at its core, golf is very frustrating, but what keeps me coming back to the game is those other things: the love, the bonding, the opportunity to spend time with four people you care about and that's what I hope to give to many more kids and families through my work at The First Tee.