A Philadelphia practice range transforms open space into a sculpture garden
While some may disagree, the game of golf and art are intrinsically connected. Many golfers, in fact, consider playing the game to be more art than science, as they craftily sculpt a round with each stroke of the golf club. And you'll be hard pressed to find a golf course architect who doesn't consider their designs to be a work of art.
Kal Katz, the owner of Mad Golfer Golf Club, a GRAA Top 50 Stand Alone practice facility located outside of Philadelphia, has taken the relationship between art and golf to the next level. For the last decade Katz and his wife, Beryl, have been members at the Grounds for Sculpture – a 42-acre sculpture garden in Hamilton Township, New Jersey, that houses work from hundreds of world-renowned artists. There, he took a sculpting class that sparked an idea. "That was my first hands-on experience in the art world.
I got really involved with it from there and absolutely loved it," explains Katz. "I had this piece of land at my practice range that was essentially going unused. So I came up with the idea of creating our own sculpture garden, we call it the Art Community Experience."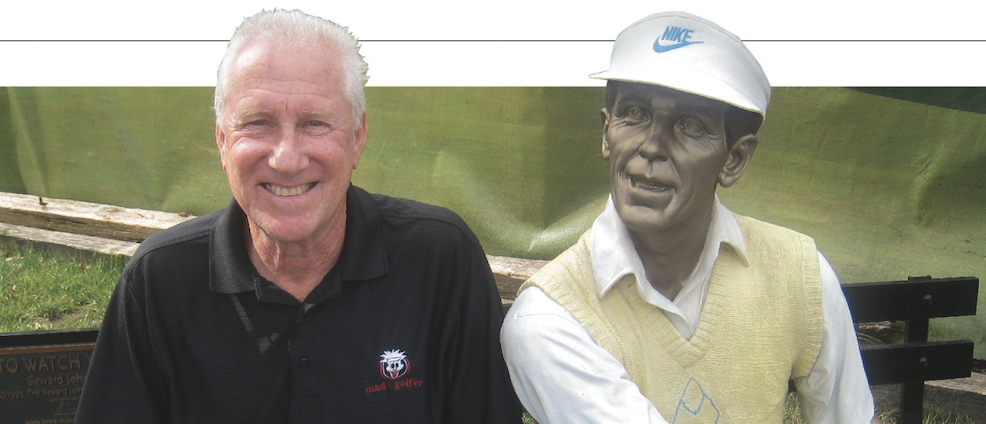 After a local landscaper donated the blueprints for the landscaping design, Katz went to work alongside his staff ripping the place apart. Using his own money to fund the project, they rented heavy machinery, dug trenches for lighting and electricity, bulldozed walkways, brought in 3,000 square feet of sod and three truckloads of stone. They also planted 40 evergreen trees and more than 240 rose bushes and shrubs.
The results have exceeded even Katz' expectations. "I thought we'd have six or seven pieces that people could walk through and enjoy, but we have 27 major pieces of art," he says.
The artwork ranges in value from $5,000 all the way up to $100,000. Katz' favorite piece was done by renowned sculptor Seward Johnson, who actually created the Grounds of Sculptures in New Jersey.
"Seward does life-size bronze figurative sculptures: a lady holding a bag of groceries, a man sitting on a bench, a man sweeping the street. You can literally stand next to them and not know you're standing next a sculpture," Katz describes. "We were able to acquire one of his pieces on loan. It is actually a golfer sitting on a bench crossing his legs. We created our own vignette – 8×16 image of St. Andrews – and placed it behind the sculpture. So he's literally sitting on the bench in front of St. Andrews."
Seward's work can be found in parks, museums and private art collections across the world. How was Katz able to convince him, along with many other great artists, to lend their work to his small garden at a stand alone practice range?
"It's a win-win situation. They have major pieces of art that are sitting in their studios, or in storage, that haven't been sold yet. This gives them exposure for those pieces," explains Katz. "Technically, all of the art here is for sale – although we don't promote that. It's fairly expensive; some of the pieces are upwards of $100,000. I doubt that I'll sell anything, but that's never been our intention and the artists understand that.
"I do have an agreement with the artists that if something does sell because of exposure on our grounds, we get a small percentage of the sale. Which we'd put back into developing The Art Community Experience further."
It's abundantly clear that making money is not the prime inspiration for Katz or the artists. The Art Community Experience is set up as a 501(c)3 to have the pieces loaned to them for display. All the pieces are owned by the artist, but while they're on the Mad Golfer premises Katz needs to insure and secure them.
"There's no residual value. I'm not going to sell another bucket of balls or another round of mini golf. I probably won't sell anything out of the golf shop. It's strictly geared to help people appreciate art," Katz describes. The ultimate goal for Katz is to help expose children and young people to art. His wife runs a non-profit called SAGE (Senior Adults for Greater Education) that works very closely with local school districts. One trend she and Kal have noticed is that art programs are the first things cut when schools face budgetary concerns.
"Our focus is to get professionals, art teachers, administrators and educators to bring kids here, to perhaps inspire some creativity and provide a space for them to be exposed to art," says Katz. "At the bottom of the property we have a space to hang artwork. We created that area so that in the future we can have local students display their artwork here, too. So you'd have a sculpture that sells for $50,000 sitting next to a 10- year-old's piece of art. How inspirational is that for that young child?"
Mad Golfer Golf Club has an interesting history. The range has been around for nearly 30 years and has gone through a laundry list of owners. Katz purchased it 13 years ago when it was rundown and didn't look like a place that could succeed. What a change, as there are now $100,000 pieces of art that sit on the property. "It's pretty amazing to think about," says Katz. "It's quite the transformation story. Now we're hoping that our sculpture garden can be transformative for our community and for young people."