The architects behind award-winning range
The GRAA introduced the Range Renovation Award in 2017, highlighting unique and successful practice range renovations. The inaugural winners included Colleton River Club, Bluffton, South Carolina; Cool Springs, (pictured) Pittsburgh, Pennsylvania; Kenwood Country Club, Cincinnati, Ohio; Manhattan Woods Golf Club, West Nyack, New York; and Vitense Golfland, Madison, Wisconsin.
Golf Range Magazine recently caught up with the architects behind each of these projects. We asked them about their views on golf course design, industry trends and what makes an award-winning practice facility.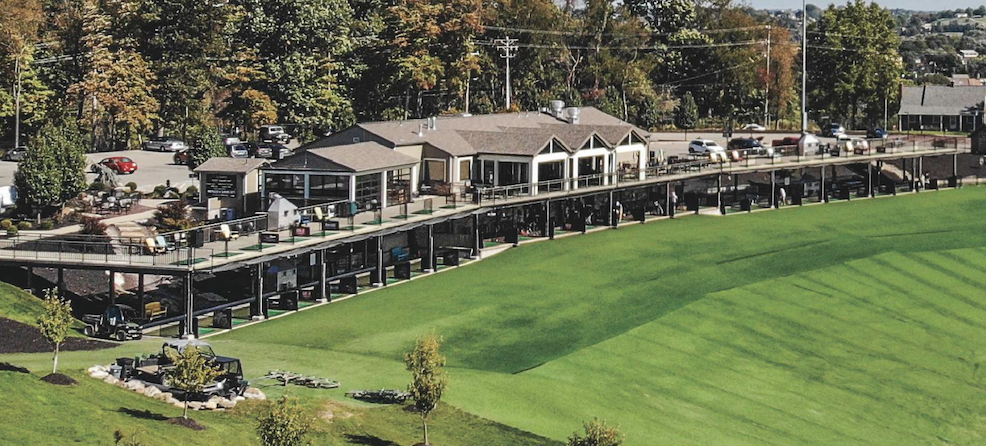 Golf Range Magazine: We've noticed an uptick in range renovations in recent years. What do you believe sparked that trend?
Jim Lipe: I believe that uptick is a partly because golfers are reassessing how they spend their money and time. If done properly, practice areas can be a great way to spend shorter periods of time at the course, still connect with friends or family and can even be set up to meet players' competitive needs. I have been involved with several really top-notch practice facilities recently, and each of them has become a strong selling point for members. To name a few others, May River Club, Boot Ranch Golf Club, Shoal Creek and, perhaps the best of all, the David Toms 265 Academy.
GRM: What are the most important design characteristics of a good practice range?
Lipe: It's important for the range to mimic, even if at a smaller scale, the design character of the particular course. Targets must be clear and feel like approach shots to real greens with pins tucked behind bunkers sometimes. For metalwoods and longer irons, if at all possible, golfers need to be able to see the ball land and even bounce. Bunkering that is similar to bunker complexes on course to use as targets or sightlines. Length and width of a range is also a very important ingredient. Lack of space can be a major hindrance to any meaningful facility enhancement.
GRM: Talk about your vision for the Practice Park at Colleton River.
Lipe: The missing component at Colleton River was a first class short game area. We constructed three greens to create the Practice Park and allow for differing approach shots – including long and short bunker shots, bump and runs, pitches and flop shots from various lies. Golfers can hit it uphill, downhill, from the rough or tight fairway lies. To find the space, we converted a portion of the existing Borland Par 3 Course that was being underused. Because of it's location near a marsh, it's actually quite beautiful and adds a pleasing environment for practice. It is also adjacent to the existing putting green and close to the first tee, which helps to maximize utilization. The three practice greens can also be set up to complete a nine hole par 3 loop.
This is often a very good way to introduce children to the game. It's fun, walkable, not time consuming and not demanding. The Practice Park and the existing par 3 course work very well together in that fashion.
GRM: What's it like working with Jack and what have you learned from him over the years?
Lipe: Jack is the supreme strategist in golf design. He works so diligently to meet the desires of his client. He is also very keen on analyzing cost versus value in every decision made during the design process. I have especially learned from Jack in these areas, and I try to emulate him where I can. My 40 years in golf design has been a continuous learning experience from Day One, and learning under Jack has been a tremendous blessing.
Golf Range Magazine: We've noticed an uptick in range renovations in recent years. What do you believe sparked that trend?
Jeff Ellis, PGA: The advancements in range technology definitely have something to do with it. It gets more than one person in a range bay, which improves your revenue per square foot. It makes the decision to renovate easier when you can get a healthier ROI. Also, I believe more parents are choosing to involve their children in golf instead of heavy contact sports and the range is that entry point.
GRM: And has the ROI manifested?
Ellis: Customers enjoy our state of the art practice range, technologies and customer service. It's allowed us to entice new customers to drive the extra couple miles for a better practice experience.
GRM: Talk about your vision for the renovated Cool Springs Golf Center and what inspired you to take the leap.
Ellis: A special thanks goes to our owner, Brian Shanahan, on this one. He is the one who had the vision and took the leap. He grew up in a nearby community and remembers having fun here with his five brothers playing mini golf, hitting baseballs and learning the game of golf. When the property came up for sale, he saw it as an opportunity to give back to his community and build onto a place that has very special meaning to his family.
GRM: How was the collaborative process during the renovation? Describe what it's like working with multiple people to make decisions and bring ideas to life.
Ellis: Exhausting, but rewarding in the end. Brian, John Henk, Greg Haftmann and I worked for 365 days straight. Doing heavy labor, design, repairs, architectural meetings and contractor meetings, literally whatever it took to make Cool Springs better. We were a great team, and I have a lot of fond memories from that year, as I'm sure they do too.
GRM: Give an overview of the changes made during the renovation.
Ellis: Complete restoration of the 18-hole mini golf course and landscaping were done. We installed a full artificial turf driving range with realistic greens, quality hitting mats and upgraded our range balls. With all the rain the past couple years, the artificial turf helps us stay operational and keep maintenance cost down. We added three synthetic greens with natural surroundings and a sand bunker as our dedicated short-game area. We also constructed a restaurant and golf shop, as well as installed indoor simulators and heated range bays for the winter months.
GRM: What makes Cool Springs a special facility?
Ellis: The generations and generations of families who have grown up here make it special. We have gotten several letters and visits from families expressing their joy that Cool Springs is back!
Golf Range Magazine: Describe the renovation process at Kenwood.
Brian Huntley: It was an interesting project because we had to move some holes and terrain to create additional space. We rerouted two holes to create a pocket within the golf course to accommodate the new additions – which included an interactive short-game area, a teaching studio and an expanded teeing ground. At the same time, the club was adding new amenities like an upgraded outdoor pool area and a fire pit.
Another challenge was that the range goes downhill, which makes it tough for golfers to see exactly where their ball lands when they hit to short targets. There's also a two-tiered teeing ground, where the back tier with artificial turf hitting mats sits above the bottom tier. Because of this, we had to be very strategic with where we placed target greens and pins. It's important for golfers to see where the ball lands and be able to gauge distances during practice.
GRM: What do you believe sparked this trend of range renovations, particularly at private clubs? Will it continue?
Huntley: I believe it will continue. I've done quite a few projects recently and have a couple more on the books right now. At the private club level, it's one area that all members benefit from. So there's usually no kickback from the membership. They understand that it benefits everyone from the skilled players to the high handicappers. Also we all understand that time is a valuable commodity today. As architects and facility operators, we've tried to encourage people to play three holes or six holes if they're limited on time, but there's still that stigma that if I can't play nine I'm not going to play. But by making the practice a more realistic and authentic golf experience that takes far less time, it becomes very powerful. In my local region alone, we've had two country clubs close their doors in recent years. So the competition for private club members is also a major catalyst. If you have a first-class practice area, that's an advantage and a differentiator. I think that's even more true for the 35-50 year old members who have families and more time demands.
GRM: What's the first thing you look at when doing a range renovation?
Huntley: I always tell owners the cheapest thing for me to do is to move a pencil around. The first thing I do is look to see if there's enough space to accomplish our goals, and if not I'll see what we can do to the golf course to create more room – moving a hole, a green or rerouting. If space is limited, I'll even explore relocating the range. I try to avoid nets, which can be very expensive to install and maintain. In many cases, for the price of a really good net system, I might be able to relocate a green or switch a dogleg to create a pocket on the golf course. When I go to a facility for the first time, all bets are off. I try to be creative and look at every option I can.
If there's very limited room, and it's going to be tough to have a really nice range, I encourage them to have a spectacular short game area. I'm working on a club right now that might lose their range and it's likely too costly for them to move holes around. We're exploring this option. The nice thing about Kenwood is that they had the space to enhance the practice range and also build an interactive shortgame area with new chipping and putting greens.
Golf Range Magazine: We've noticed an uptick in range renovations in recent years. What do you believe sparked that trend?
Doug Smith: Most public and private clubs are really understanding the concept of practice versus 18-hole rounds. Right now, it's a matter of "keeping up with the Jones'. " Everyone is competing to be a full golf service operation, not only trying to better golfers' skill levels, but also increase rounds, memberships and be a sought after entertainment destination.
GRM: As you renovated Manhattan Woods, how did you decide what elements stayed, what went, what was added and what was enhanced?
Smith: More square footage for practice was a must. This drove the concept of the project. We increased the size of the grass tee, installed more bays with turf mats and added new fairways in the landing area, a bunker and a green for short game practice. An additional putting green, fairway bunker and a wedge target green added variety, too.
GRM: Did you consult with the Gary Player Design Group, which built the course, on the project?
Smith: The Gary Player group was involved in the conceptual design.They were 100 percent on board with the changes and the way it turned out.
GRM: What was the biggest challenge and how did you overcome it?
Smith: All the tweaks to the design during construction was the most challenging part. Usually when you see a golf course architect photographed in the field he usually has his arm pointing at something – but what that really means is that the plan just changed in that particular direction. With Manhattan Woods, the topography was a bit challenging and the drainage certainly was increased.
GRM: What makes Manhattan Woods special?
Smith: Manhattan Woods is a golf only club with a diverse membership that makes it very unique. Their standards are very high and they are committed to always upgrading the course on every level for their members. They fully understand that the course must get better over time. The practice facility is a big part of that, and it's now state of the art.
Golf Range Magazine: We've noticed an uptick in range renovations in recent years. What do you believe sparked that trend?
Joel Weitz: There is no question that the development and presence of Topgolf has had a significant impact on golf ranges and facilities. It's proven that mixing the golf range with a bar/entertainment/hospitality environment can be successful. Prior to Topgolf, most facilities spent resources to update conditions of the golf range, like improving grass tee areas and targets. The recreational component of Topgolf, through its gaming system and now Toptracer Range, has attracted a new type of customer who is more focused on ball tracking, gaming systems and drinks. In other words: Entertainment on the golf range.
GRM: As you renovated Vitense, how do you decide what elements stayed, what went, what was added and what was enhanced?
Weitz: Golf Suites, it was apparent that our old covered area had its weaknesses. Partitioned boards were weathered, bays sizes differed and many amenities were lacking. We noticed our customers only used to the Golf Suite area, and neglected the traditional bays. We had to upgrade everything. Comfortable chairs, bar top tables, music, TVs and a wait staff are some of the things that have attracted customers.
GRM: Is that what inspired the second phase of the renovation?
Weitz: One of the most important lessons I've learned is not to be complacent and resistant to change. With the flat state of the golf industry, it's become increasingly important to explore new opportunities to stay competitive. Making decisions to take the leap is much easier when there are proven examples in the marketplace that work and represent new technology.
GRM: How did you decide who to consult with on the project?
Weitz: The construction company must demonstrate a good understanding the project's purpose – and have the skills to complete the project consistent with your expectations. The project schedule, including completion date, is incredibly important to ensure that all operational aspects are addressed. This takes planning with marketing, event staff, operations staff and construction employees. Of course, if needed, financing is more important than any of the factors above. It's very important to provide the most efficient and effective ROI, but not at a point that sacrifices the quality of the project.
GRM: What makes Vitense a special facility and what are the defining characteristics of the renovations?
Weitz: From a golf range perspective, our facility is unique because it has 63 years of a rich history. We fortunately have been able to continually invest to improve the product and services we offer. We were able to become a year round golf range practice facility in 2006. This was enhanced by Golf Suites being constructed in 2014, a grill and bar in 2016 and adding Toptracer Range in 2017. Our facility is also made unique by our three 18-hole miniature golf courses – two outdoors and one indoors. We also offer the first and only illuminated golf course in Wisconsin – a full ninehole layout.