Josh Jacobs had a simple but effective idea 11 years ago. Now entrepreneurs from every walk of life are signing up to execute his school-based golf participation concept
BY: ART STRICKLIN PHOTOGRAPHY BY BRIAN WALTERS
You can closely examine the professional backgrounds of Dave Seanor, Sean Rivera and Tenesha Davis without sensing they have much in common. Seanor is a former golf writer and editor, Rivera had been a Wall Street trader and Davis was pursuing a career as an electrical engineer. From diverse walks of life they have found their way into an entrepreneurial situation that industry people now see as one of the most successful golf initiatives of the last decade.
It's the hybrid golf and child-care enterprise that is sweeping the U.S. under the ever-better-known title of TGA Premier Junior Golf. Standing for Teach, Grow and Achieve, the national program has taught golf to more than 200,000 kids in 2,400 partner schools. It takes the royal, ancient and not very accessible game to where students are after school and involves them and ultimately their parents in a lifetime sport many have never previously experienced.
"There are a lot of ways to grow the game, but we are actually growing the pie because 80 percent of the kids in our programs have never been involved in golf before," says COO and National Program Director Steve Tanner, 33. "We feel like everybody can do their part and we are doing ours." The concept of creating afterschool golf programs on a pay-for-play basis, charging approximately $100 for a six-lesson segment, with all equipment and instruction provided, is enough to entice schools to participate. It draws kids from a wide demographic range and draws in teacher/investors from various levels of the golf and business world as well.
The idea was started in 2003 in Los Angeles by founder Josh Jacobs, 36, and has grown rapidly over the last decade. The prospective golf teachers buy their own territories and are incentivized to make it successful while the schools are happy to find another program to offer to the large numbers of kids who stay on school property late, waiting for one of their two working parents to exit their workplace. Tanner says TGA has benefitted from a change in national family demographics where the stay-at-home mother is now part of a two-income working household, leaving more time for after school activities for kids, now filled by the school-based introductory golf programs.
"We really got lucky on this one with the two working parents and the emphasis on the physical component and the skills component after school. It's a great fit," Tanner adds. "We have a service-based business, which means you have to be passionate about golf and passionate about kids who are your customers along with parents and schools."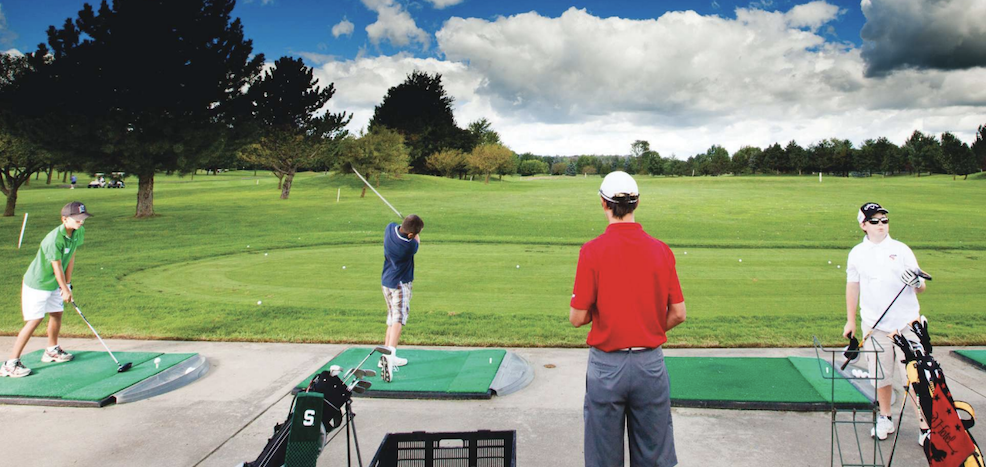 "I had seen so many different junior programs and plans in my years as a journalist," says Seanor, the former golf magazine editor. "I was looking for a job and wanted to be in golf and was interested in what they had." TGA has been able to attract those looking to run their own businesses, with local territory rights being sold for an average of $25,000, and the owners having the incentive to maintain their school-aged customer bases with after-school lessons which can transition into summer camps and more formalized golf.
Advantages are many and unambiguous. The individual franchise investors supply all the equipment. The kids are already at the school, looking for activity options. Bringing in the TGA road show exposes them to golf learning, fitness, life lessons and a new sport they can enjoy for a lifetime.
The unique company has already attracted the attention of the PGA of America, whose Southern California section recently purchased two franchises. In other parts of the U.S. you'll find PGA sections setting up informal alliances at TGA locations. "We all want to help refine participation in junior golf," says Northern Texas PGA Executive Director Mark Harrison, who has structured a new partnership with local PGA professional Troy Lewis, the owner of two TGA franchises. "We like to think of TGA as one of the on ramps of golf for kids," Lewis explains. "If you look at our pyramid for junior golf, with the off ramp being the top elite junior level, TGA is an on ramp and the pyramid is very broad for our juniors." Lewis still serves as the Director of Instruction at Fossil Creek Golf Club, between Dallas and Fort Worth, the traditional landing spot for many past junior players. But he said the entrepreneurial nature of TGA is what drew his interest, his initial capital and his participation in growing the game.
"I enjoy the business-building side of it," he says. "When I reach a decision, I don't have to go to a member committee. I can go ahead and do what I feel is best for the business and best for the game." Recently recognized with a Northern Texas PGA player development award, Lewis is currently working with 12 North Texas elementary schools, bringing golf to kids never before exposed to it. "You would be amazed at how many parents have never played before, but want to be a part of this and want to go out to a range to practice with their kids," he says with satisfaction. And that was exactly the situation Dallas' Kent Thompson found himself in when his son Eli signed for a TGA program after school at age 8.
"I was surprised. He went from knowing absolutely nothing about golf to being able to drive the ball well off the tee. He really liked it," says Thompson, a non-golfer himself. Rivera had not been involved in schools for decades, other than sending his own kids there before heading off to the pressurized world of Wall Street finance. After 18 demanding years with Credit Suisse and Morgan Stanley, he was ready to make a switch.
"I just got tired of the stress and the travel and I was ready to move on," confesses Rivera openly. "Here, we have a nicer clientele than I had before— very down-to-earth customers and very relaxed customers."
He also noticed that his own kids, ages 5-9, were being offered a wide variety of after school programs, all of which parents paid extra for, and felt golf could be a fine addition to that mix. "I could see parents were paying a lot of money for their kids after school," Rivera explains. "It wasn't like when I was growing up where you'd go down to the park with a stick and a ball. There are a lot of two-income families now and they're looking for activities for their kids." Rivera took over the Southern Westchester County franchise, one of five TGA franchises in the New York City area, and it's been the perfect mix of his well-honed business skills, his love for the game and his love for kids. "Having this job and balancing it with family gives me a good quality of life."
The opportunity to work with kids in a school setting is what brought recently laid off engineer Davis to the TGA franchise in the northern Atlanta suburbs. "I'm sports-mad and love working with kids and when I first heard about this I thought it was a good fit," says Davis, a native Hoosier who competed in multiple sports during her youth in Ft. Wayne. "Our programs are affordable. The kids say, 'let me try this out' We are the first touch for a lot of kids, most of them having never picked up a golf club. We get the clubs in their hands and it's a direct stepping stone to golf at ranges and regulation courses." Because TGA is a private company it doesn't reveal financial figures, but Tanner said business is good and getting better. "We are a very sustainable, profitable business with strong financing and strong cash flow," he states. "The future is very big for us." For Seanor, the golf writing veteran who has written about almost every program and golf growth plan, what makes the TGA go is love for the game, a chance to expose it to a new and possibly huge demographic and a chance to be financially profitable and personally responsible in a business he enjoys and cares about. "I've found that I am doing some good and also doing quite well," Seanon says. "Both are important, if we want to keep moving forward."