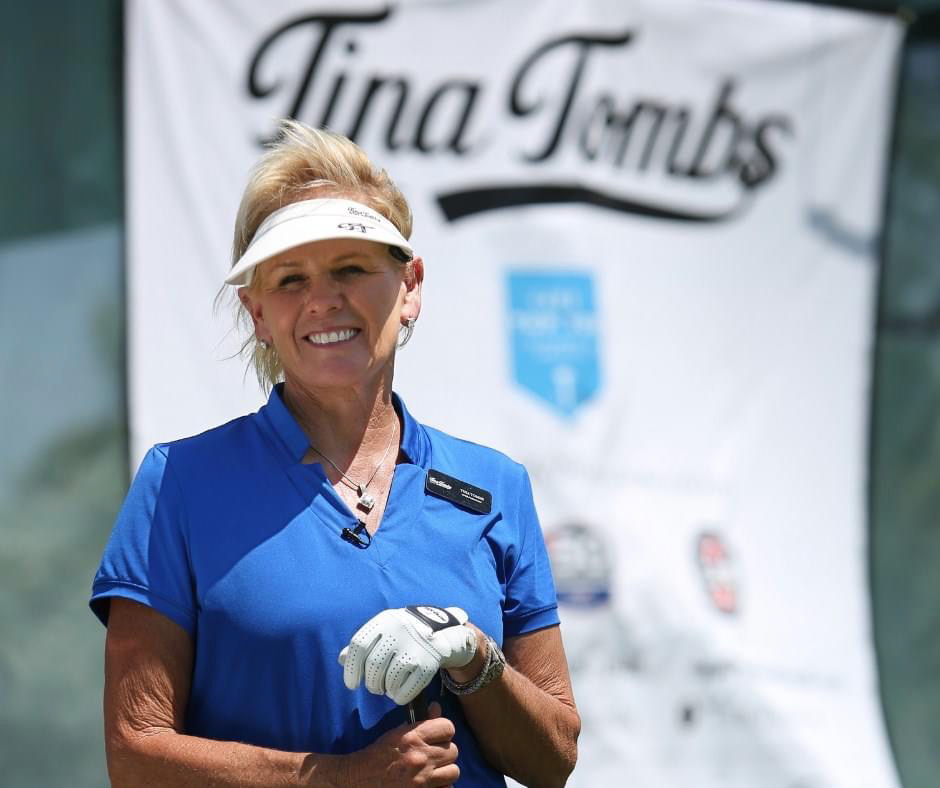 By Tina Tombs, LPGA
My career in golf spans four decades, and I enjoy the unique experience of having won on the LPGA Tour, while also being one of only four LPGA Professionals who have been selected as LPGA National Teacher of the Year on two separate occasions. Not only am I a teacher who has taught Tour players, but I am a coach of golfers of all ages and abilities. It is my determination and ability to set clear goals that have helped me achieve this success as a player, and now as a teacher.
While I learned from my successes, it's the cuts that I missed, the tears that I shed and all those sleepless nights before championship Sunday that are what I treasure. After all, they molded me to become the teacher that I am today, as I strive to be among the leading teachers in the industry. I have trained with the best teachers and sports psychologists the game has to offer, and they've all influenced my life, my game and most importantly, my teaching philosophies and techniques.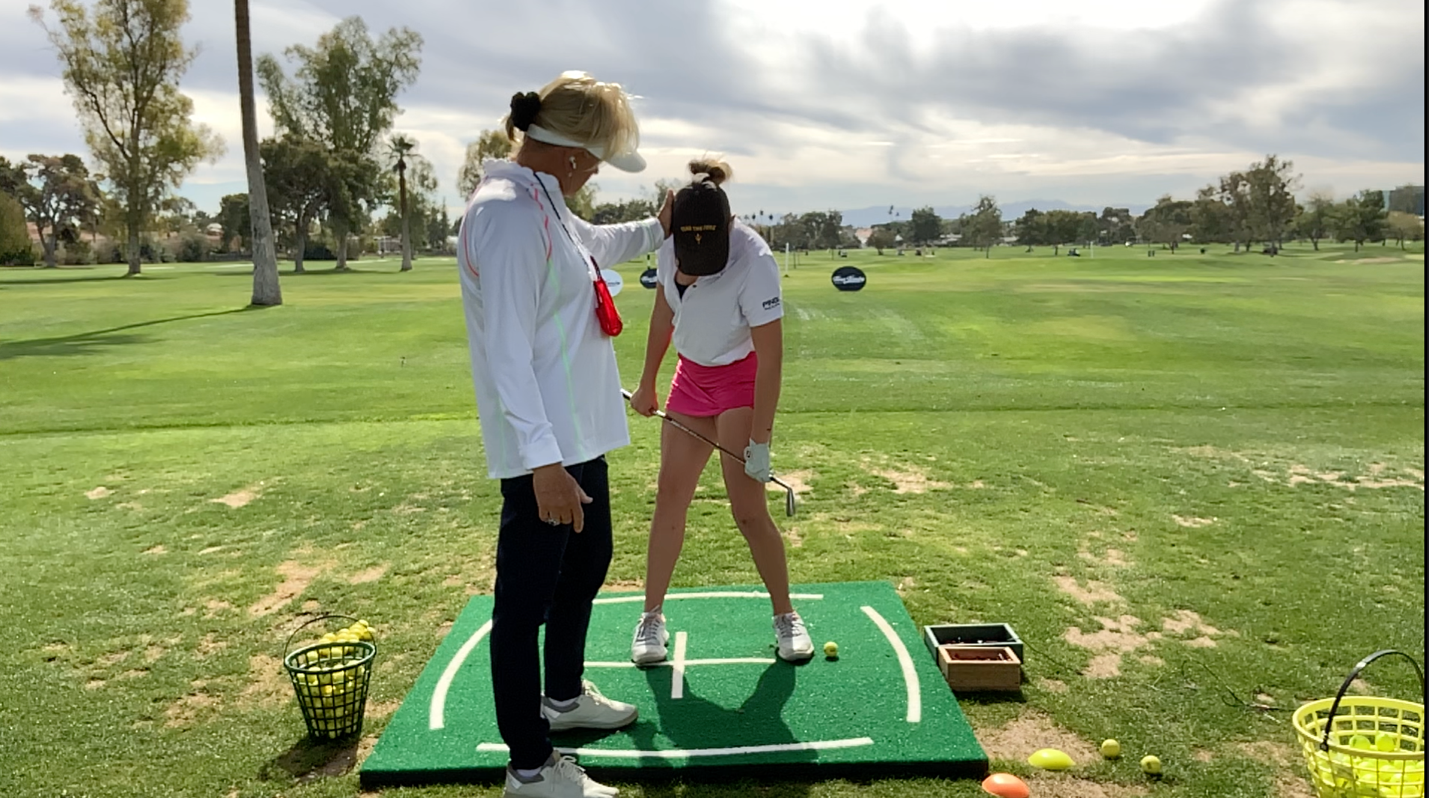 Because I've experienced great successes and times of struggle, I feel like I am a true student of the game. I love to learn and apply that knowledge in my teaching curriculum, and that continuous craving for education has become a passion that I instill in my lessons with golfers of all ages and skill levels – beginners, juniors, women, men and even professionals. Because I love what I do, going to the lesson tee every day at Tina Tombs Golf doesn't feel like a job or work. I can relate to my students, and I am able to address their specific needs.
I have spent many hours on the lesson tee, as well as on the course with beginners who have become single digit handicaps, mediocre golfers who now play in their club championships, as well as in collegiate, state and national championships. They love playing and improving their own game. I utilize the latest cutting-edge technology to enhance my evaluation skills and complement my ability to individualize my instruction. My teaching philosophy lauds the notion that there is a different swing for every individual I train.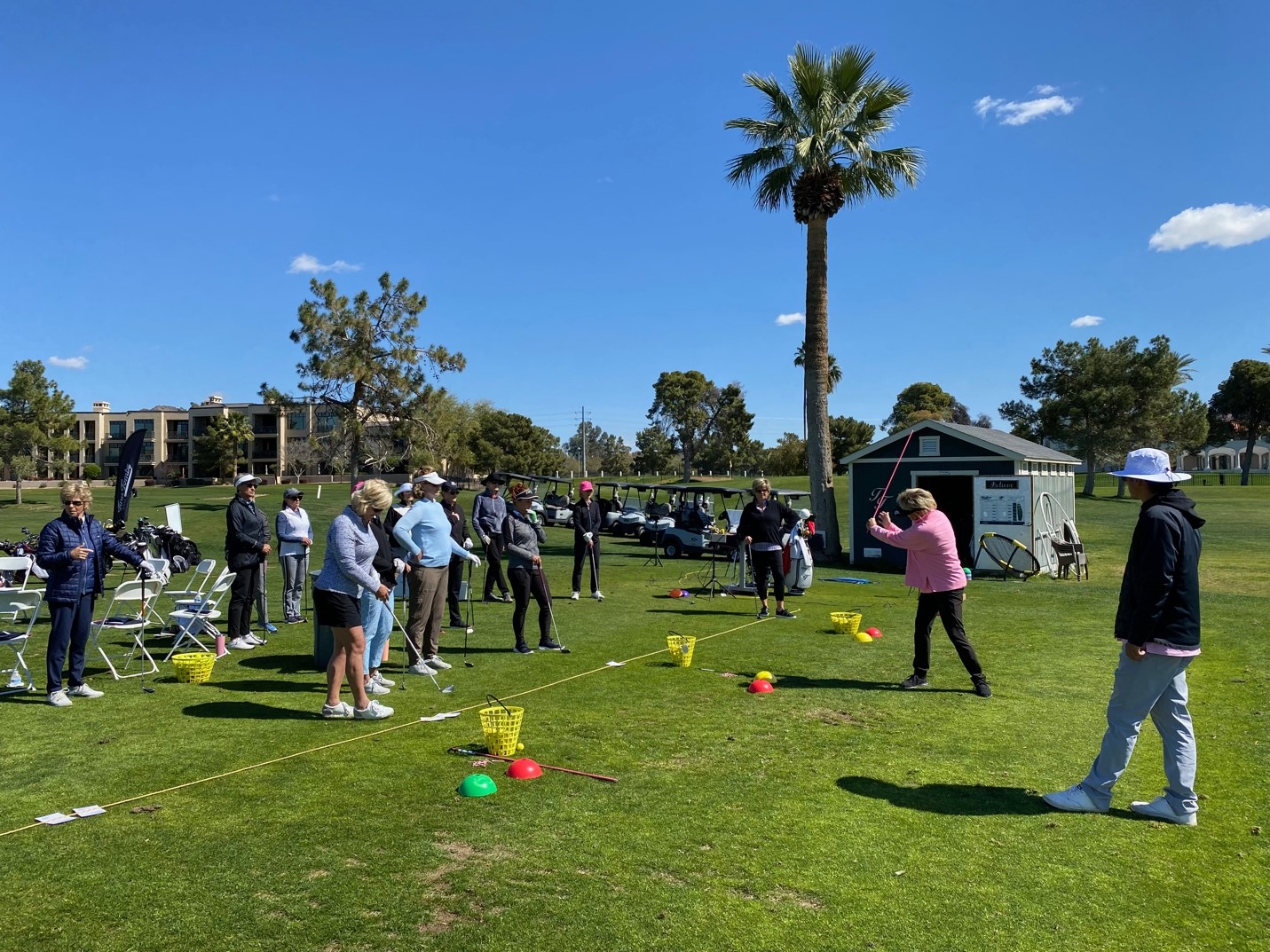 The Tina Tombs Golf Learning Center is located at the Arizona Biltmore Golf Club in Phoenix, Arizona, and this is where it all happens! We have two instructors, me and my nephew Ryan Tombs. Our focus is to grow the game by creating a fun environment for our students, and this provides an atmosphere that fosters learning and improvement.
Our programs include private and small group lessons, LPGA Golf 101 and 201 Adult Beginner Classes, LPGA*USGA Girls Golf Programs, Junior Classes, Junior Elite Practice Sessions for our advanced juniors and Women's Wednesday Classes. In addition, we are contracted by corporations for networking opportunities and special golf activities.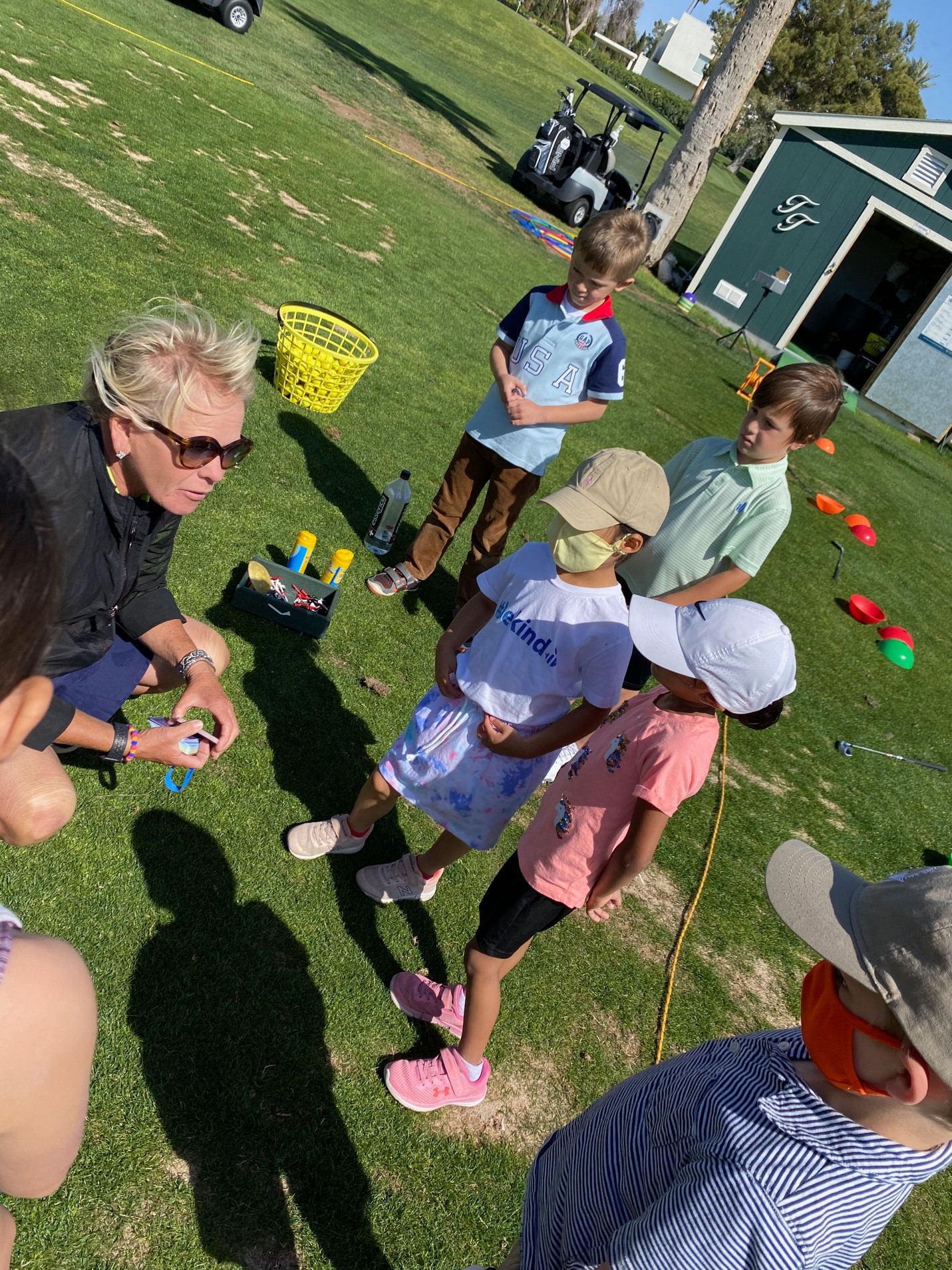 We are excited about our Adult Beginner Classes, Women's Wednesday Classes and Girls Golf program because we know that participation among this segment of golfer has boomed during the pandemic. In fact, the National Golf Foundation says that 40 percent of new golfers during the pandmic are female.
My commitment is to help everyone, of course. My goal is to take the weekend warrior and help him or her play their best golf. By implementing the Ultimate Golf Lesson Screenings, it allows each person to play to their individual build and blueprint of their own body.
I want to try and empower all students with as much knowledge as I can, and fill their toolbox to walk on any golf course with confidence. These tools will help them take care of themselves, cultivate confidence and stay strong in key moments.

Golfers want to be perfect, and it's important to make them understand that golf is not about playing with perfection. In fact, it's often about how we play despite that lack of perfection. How good are our missed shots? This often relieves the pressure of expecting perfection, and allows them to play golf in the present, and be only as good as your next shot. Maybe they'll even have some fun along the way!
Despite increasing our number of women's classes, we still have waitlists. This aspect of growth in the game has been awesome! Wednesdays are really fun! We're creating friendships between the ladies, developing a sense of community, getting women golfers playing the valley golf courses together, encouraging them to participate in tournaments together, helping them lower their scores, improve their handicaps and win championships!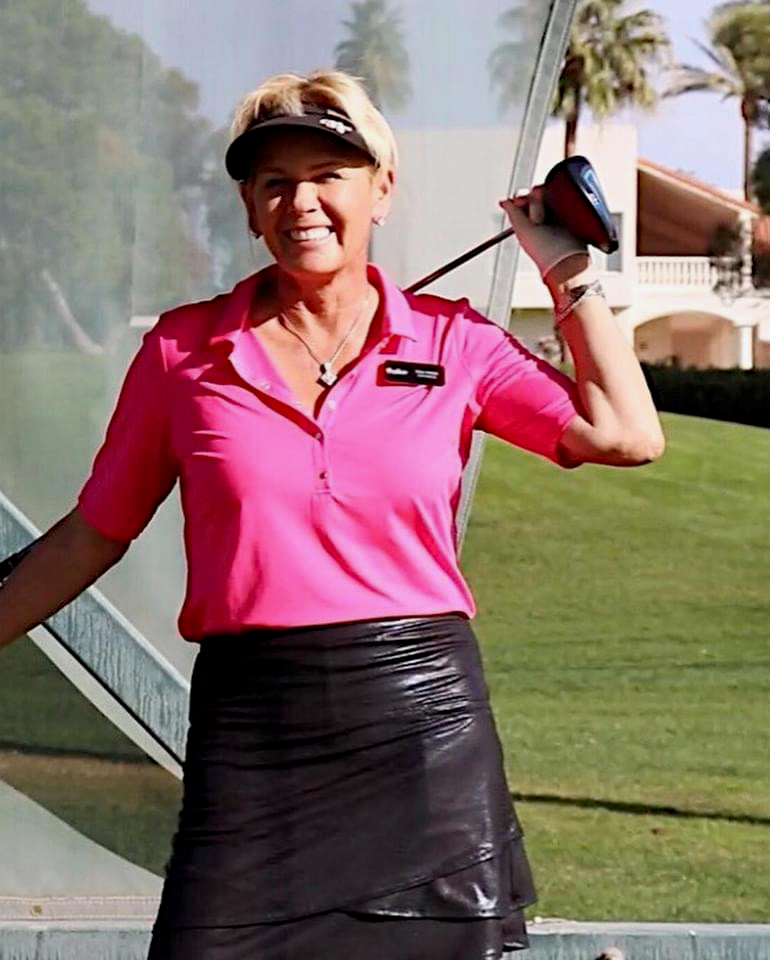 Testimonials:
Thanks so much, this has been a wonderful learning experience for me. I have adored the clinic and cannot thank you and Ryan enough for your patience and great teaching skills. Please sign me up for next year. I already know where I want to be on Wednesday afternoons. Thanks again, Marla.
Tina, I was very fortunate to have my dear friend Patty tell me about Tina Tombs Golf Instruction. After my very first lesson, I knew I had found the person who was going to help me take my game to the next level. I told my family that Wednesday, lesson day, was my favorite day of the week. Each week I learned something new from you to help improve my game. I can't thank you enough and look forward to joining class again next year. Fondly, Marne.
Tina, Thanks for your help with today's session. I'm thrilled with the results after only 60 minutes with you!  Thank you, Geoff.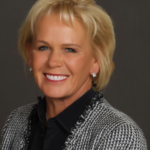 Tina Tombs is a two-time LPGA National Teacher of the Year, GOLF Magazine TOP 100 Teacher, Multi-Year Golf Digest Best in State Instructor-Arizona, two-time LPGA TOP 50 Best Teacher, US KIDS Master Teacher and two-time GRAA Top 50 Growth of the Game Teaching Professional. She is a member of the Arizona and New Hampshire Golf Halls of Fame, and is the LPGA Teaching and Club Professionals Central Section President.