TaylorMade Golf Company, makers of the No. 1 played driver in golf, today announced the launch of the SLDR Mini Driver, a 260cc metalwood equipped with a 43.5" shaft, designed to promote distance and accuracy off the tee for players who frequently drive with their 3-wood.
TaylorMade research indicates that a high percentage of golfers, regardless of skill level, hit 3-wood off the tee more often than from the fairway. However, the 3-wood is designed to hit the ball off turf, not a peg. That void between product design and product use led to the development of the SLDR Mini Driver, which is engineered to be longer off the tee than a 3-woood and incredibly accurate.
"Tour pros and betters amateurs often hit their 3-wood off the tee more often than from the fairway," said Brian Bazzel, TaylorMade's Senior Director of Metalwood Creation. "We embraced that fact to create a metalwood that's sized between a 3-wood and driver and is designed to be easy to hit off a tee."
Like the SLDR driver – the No. 1 driver on the PGA Tour – the SLDR Mini Driver features a low-forward center of gravity (CG) location that reduces spin. From there, most players benefit from playing a higher loft (what TaylorMade calls "lofting up") by combining a low spin-rate with a high launch angle, which are the launch conditions that promote maximum distance.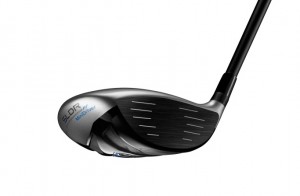 The SLDR Mini Driver also incorporates TaylorMade's Speed Pocket technology, which promotes lower spin on impacts low on the clubface, where the majority of driver mis-hits occur.
And though it's engineered to be easier to tee off with than a 3-wood, the SLDR Mini Driver is also easy to launch the ball off the turf with, thanks to its smooth sole that's smaller and offers less resistance than a driver's.
Aesthetically, the SLDR Mini Driver's sleek shape and smooth matte silver crown, black clubface and black button-back gives the club an attractive appearance from all angles, especially at address. The contrasting colors also facilitate easy and accurate face alignment.
The first Tour pro to put the SLDR Mini Driver in play was Troy Matteson, who put not one but two in his bag at the Valero Texas Open: one to use off the tee and one to use from the fairway.
"The SLDR Mini Driver is intended to appeal to a wide audience," added Bazzel. "For the Tour pro or top amateur who places a premium on distance control and accuracy, this club is a fantastic option. It's also a great choice for those amateurs who struggle with 460cc drivers."
Two SLDR Mini Driver models are available, standard and TP. The standard model retails for $279 and is equipped with a Fujikura 57 shaft. It is the same shaft used in the SLDR driver, but at 43.5 inches (two inches shorter than the SLDR driver) it promotes tighter dispersion for increased accuracy. The TP model retails for $379 and is equipped with Fujikura's Motore Speeder 7.3 shaft and is built to a heavier, D5 swingweight for improved control. Lofts in both models range from 12°, 14° and 16°.
Both SLDR Mini Driver models will be available at retail starting on 5/2. Visit TaylorMadeGolf.com for more information.
###
About the adidas Group
The adidas Group is a global leader in the sporting goods industry, offering a broad portfolio of footwear, apparel and hardware for sport and lifestyle around the core brands adidas, Reebok, TaylorMade, Rockport and Reebok-CCM Hockey. Headquartered in Herzogenaurach/Germany, the Group employs more than 50,000 people across the globe and generated sales of €14.5 billion in 2013.
About TaylorMade-adidas Golf
Headquartered in Carlsbad, California, TaylorMade-adidas Golf Company sells golf clubs, balls, clothing and accessories under the TaylorMade, adidas Golf, Adams and Ashworth brands. TaylorMade-adidas Golf Company posted 2013 sales of over €1.3 billion.
For more information, contact:
TaylorMade Golf Communications
Dave Cordero
Tel: (760) 918.6367
dave.cordero@tmag.com