After weeks of anticipation and numerous tour staff professionals putting them into play on Tour, TaylorMade Golf today announced the release of the new Tour Preferred EF wedge. The Tour Preferred EF wedge combines industry-first technological advancements with the meticulous craftsmanship of renowned club designer Clay Long in a tour-validated wedge that delivers astoundingly long-lasting high-spin performance, exceeding that of any wedge TaylorMade has ever created.
In February, TaylorMade staff professionals Dustin Johnson and Sergio Garcia were introduced to the wedge at the Northern Trust Open, electing to immediately put them into play just two days later. Two weeks later, Johnson claimed victory at the WGC-Cadillac Championship with three of them in his bag. Following Johnson's win and witnessing the EF's performance firsthand, TaylorMade Tour staffers clamored for the opportunity to test and dial them in for their respective bags in advance of the Masters. With multiple players likely to make the switch to EF, the wedges should play a major factor, as no course puts more of a premium on short game performance than Augusta National.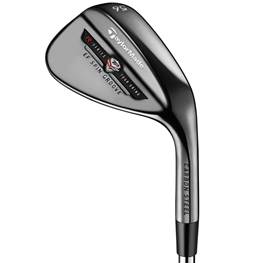 TaylorMade's Tour Preferred EF wedge is highlighted by the introduction of a proprietary electroformed (EF) nickel cobalt face. The incredibly thin face insert (.25 mm thick) is created by way of a process that begins with the ionization of nickel and cobalt in an electrolytic solution. The charged ions are then deposited directly onto a master plate containing the design of the grooved and microtextured surface.
Using electroforming, TaylorMade engineers are able to yield consistent, ultra-precise groove geometry among the most detailed ever created in the golf industry. Nickel cobalt is remarkably wear-resistant and durable; 50% harder than Carbon steel. While substantially harder, the Tour Preferred EF wedge retains an incredibly soft feel from the 1025 Carbon steel body, resulting in a perfect blend of feel and performance.
(click HERE to learn more about the Tour Preferred EF Wedge)
"The Tour Preferred EF wedge is the perfect blend of craftsmanship and innovation," said Clay Long, TaylorMade's Director of Product Creation, Putters and Wedges. "Electroforming delivers a consistent high-performance groove pattern that delivers incredible spin over the course of thousands of shots. To have our Tour players put them into play immediately after seeing them for the first time is a true testament to their performance."
Available in two sole options, the first is the Tour grind, designed for the player who prefers a traditional, tour-proven sole design. Available in lofts of 47°, 50°, 52°, 54°, 56°, 58°, 60° and 62° with bounce options from 8 to 15 degrees, the Tour grind design features a beautifully refined shape with progressive camber and generous heel relief. This allows for the versatility of a C-grind on open-faced shots but retains the main sole surface for better performance on full swings and shots from the bunker.
The second option is the popular and versatile ATV Grind. The new ATV Grind boasts a reshaped sole that's slightly narrower than the original ATV wedge. The ATV Grind promotes less bounce on both chip and full shots, whilst maintaining higher bounce on critical open-face shots around the greens and from the sand. The ATV grind will be available in lofts of 52°, 54°, 56°, 58° and 60°.
Both grind options feature a KBS Tour shaft and are constructed with 1025 Carbon steel and include an aesthetically-pleasing, glare-reducing dark smoke PVD finish.
Both models of the Tour Preferred EF wedge will be available at retail on 4/10 at an MSRP of $159.99.
For more information, visit www.taylormadegolf.com
About the adidas Group
The adidas Group is one of the global leaders within the sporting goods industry, offering a broad range of products around the core brands: adidas, Reebok, TaylorMade and Reebok-CCM Hockey. Headquartered in Herzogenaurach, Germany, the Group has more than 53,000 employees and generated sales of EUR 14.5 billion in 2014.
About TaylorMade Golf Company
Headquartered in Carlsbad, California, TaylorMade Golf Company sells golf equipment, footwear, apparel and accessories under the TaylorMade, adidas Golf, Adams and Ashworth brands. TaylorMade Golf Company posted 2014 sales of €913 million.
For more information and/or additional assets, contact:
TaylorMade Golf Company Global Communications
Jory Mendes
(m): 707.843.6913
John Ohail
(o): 760.978.6342