TaylorMade Golf Company, an industry leader in product innovation and technology, introduced today Kalea, a full set of clubs designed to deliver meaningful performance to female players. TaylorMade is committed to product performance and creating products that make golfers of all skill levels and swing types better; Kalea delivers on that commitment with the first women's-exclusive offering from TaylorMade in over a decade.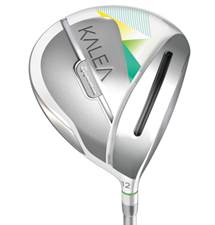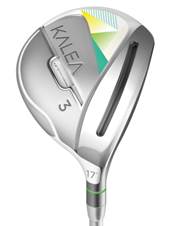 Kalea utilizes product features that are relevant and beneficial to many female players, and does so with compelling, aesthetically beautiful designs and color finishes. Kalea features optimized lofts, low/back CG locations, slot technology in the soles and Kalea SlimTech shafts with smaller tip diameters that help increase launch angle at impact. Kalea's unique blend of features work in unison to maximize performance for slower swing speeds, generate more consistent yardage gaps throughout the set and produce noticeably higher ball flights. The set is also designed to create a smoother transition between the different club types by managing lofts, lengths and head shapes to ensure that every club is as easy to hit as the next. All in, Kalea's premium, attractive design blends with product technology geared specifically for the launch conditions of women golfers.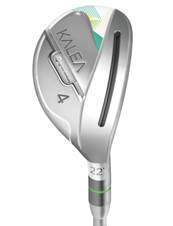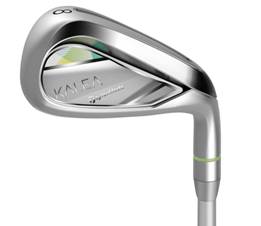 In total, Kalea is available in thirteen clubs: driver, 3, 5 and 7 fairway woods, 4 & 5 Rescues, 6 & 7 transition irons, 8 & 9 irons, pitching wedge, sand wedge and putter. A Kalea cart bag is also available separately. Kalea will be sold in a 10-piece set (D, 3F, 4R, 5R, 6T, 7T, 8i – SW), 8-piece set (4R, 5R, 6T, 7T, 8i – SW) and 6-piece set (6T, 7T, 8i – SW). Each club will also be available for purchase individually, as will the putter and bag. Complementing the release of Kalea golf clubs, TaylorMade has also announced the release of Kalea golf balls, a two-piece ball with a soft cover and low compression, engineered to perform best when played in conjunction with Kalea golf clubs.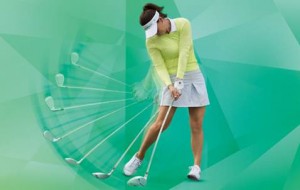 "We've learned a great deal about product performance in the last decade, much of which was geared toward faster swing speeds," said Tomo Bystedt, Senior Director of Product Creation. "For us, Kalea was a great opportunity to take our learnings on slower swing speeds and bring them to market with products that provide meaningful performance for female players, and we couldn't be more pleased with the results."
Pricing and Availability
At retail on December 4, Kalea will be available in multiple configurations (10-piece $1399; 8-piece $899; 6-piece $675) as well as putter and bag, priced at $149 and $189, respectively. Kalea golf balls, also available on December 4, have an MSRP of $19.99/doz.
For more information, visit TaylorMadeGolf.com.
###
About the adidas Group
The adidas Group is one of the global leaders within the sporting goods industry, offering a broad range of products around the core brands: adidas, Reebok, TaylorMade and Reebok-CCM Hockey. Headquartered in Herzogenaurach, Germany, the Group has more than 53,000 employees and generated sales of EUR 14.5 billion in 2014.
About TaylorMade Golf Company
Headquartered in Carlsbad, California, TaylorMade Golf Company sells golf equipment, footwear, apparel and accessories under the TaylorMade, adidas Golf, Adams and Ashworth brands. TaylorMade Golf Company posted 2014 sales of €913 million.
For more information or additional assets, contact:
TaylorMade Golf Company Global Communications
Jory Mendes
(o): 760.476.8041
jory.mendes@tmag.com
@itsthejor