TaylorMade Golf Company, the number two golf ball brand played on the PGA TOUR with three tour staffers currently in the top ten in the Official World Golf Ranking, today announced the release of its '16 golf ball lineup, highlighted by the new Tour Preferred X, Tour Preferred and Project (a). With these three models, TaylorMade's new lineup provides exceptional feel, performance and spin around the greens.
Tour Preferred
TaylorMade's Softest Tour Ball
The new Tour Preferred ball (4-layer construction, 80 compression), features TaylorMade's next-generation SpeedMantle™ inner layer, comprised of a material that is more than 65% softer and more flexible than the previous generation's mantle. The development of the new mantle has allowed engineers to create a softer feeling ball, while still maintaining the performance characteristics of the original Tour Preferred golf ball. The new Tour Preferred golf ball provides higher launch and more spin for long irons while maintaining the same distance off the tee and greenside spin as the Tour Preferred X but with a softer feel. The new Tour Preferred still features TaylorMade's proven Soft Tech™ cast urethane cover, the company's softest and most durable cover to date, and Low-Drag Performance Aerodynamics (LDP™), (a 322 dimple pattern that provides distance off the tee and a penetrating flight through wind that tour players prefer. The new Tour Preferred is designed for players of all swing speeds looking for a softer tour performance golf ball.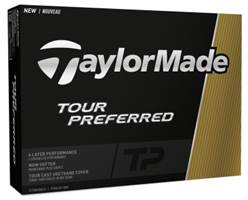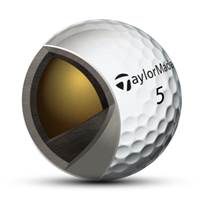 Tour Preferred X
TaylorMade's Tour Ball with the Most Control
The new Tour Preferred X ball (5-layer construction, 87 compression) features a new thicker re-engineered Soft Tech cast urethane cover for more greenside control and the same LDP™ 322 dimple pattern found in the Tour Preferred. Similar to its predecessor, the Tour Preferred X delivers low spin off the tee, low iron ball flight but with more greenside spin, as preferred by the best players in the world. TaylorMade Tour Professionals who play the Tour Preferred X include Dustin Johnson, Sergio Garcia, Justin Rose and 2015 PGA Champion Jason Day, along with dozens of others.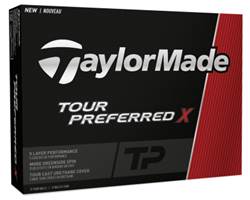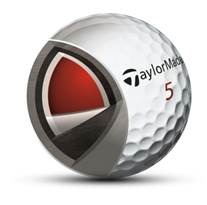 "We developed forty three Tour Preferred X prototypes throughout our exhaustive pursuit to engineer a better golf ball and put them in the hands of our Tour players," said Eric Loper, TaylorMade's Director of Golf Ball Development. "They were unanimously drawn to the ball that produced more control around the greens, and that was the new Tour Preferred X. We're excited by their initial reactions to its performance and look forward to their transition into the new models for the '15-'16 PGA TOUR season."
Choosing Between Tour Preferred & Tour Preferred X
With Tour Preferred and Tour Preferred X, TaylorMade offers two distinctly different performance golf balls with tour-caliber performance. What separates Tour Preferred and the Tour Preferred X from a performance standpoint is feel and spin. Tour Preferred, TaylorMade's softest-ever Tour ball, is the lowest compression tour ball the company has ever offered and is designed for players who prefer softer feel in a tour-caliber golf ball and more spin in the mid-to-long iron shots. This spin will also promote a higher trajectory on approach shots than the Tour Preferred X. On the contrary, the Tour Preferred X is designed for players looking for a more penetrating flight with their irons and more feedback (firmer) on shots into and around the green.
 
Pricing & Availability
Both Tour Preferred and Tour Preferred X will be available at retail on November 6 at an MSRP of $47.99 per dozen.
 
Project (a)
A Softer Tour Ball for Amateurs
TaylorMade's 2016 lineup also features the bolstered Project (a), designed specifically for the competitive amateur player to promote more spin and improved performance where needed most: 30 yards and in. The new Project (a) has an overall compression of 70 (versus 88 in the original model), which was achieved by dropping the core compression 33%. The core compression has been reduced from 60 to 40 by way of a REACT™ Core with a new speed optimized formulation. As amateur players generate nearly 50% less spin than players on tour, Project (a) is specifically designed to deliver more spin on mid irons, short irons and shots around the green, resulting in enhanced control and increased scoring opportunities.
The new Project (a) features many of the same technologies as featured in the original model, including REACT™ core technology for more distance on long shots. The new Project (a) also retains the proprietary Soft Tech™ cast urethane cover, TaylorMade's softest and most durable, to provide higher greenside spin, softer feel and improved durability. Soft Tech is the same cover used on both Tour Preferred models.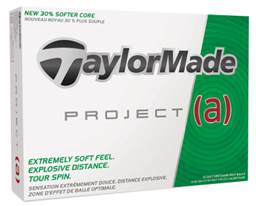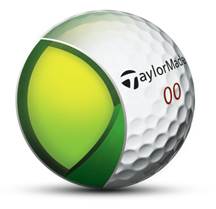 Pricing & Availability
Project (a) will be available at retail on November 6 at an MSRP of 34.99$ USD per dozen. To learn more about Tour Preferred, Tour Preferred X and/or Project (a) golf balls, visit TaylorMadeGolf.com.
###
About the adidas Group
The adidas Group is one of the global leaders within the sporting goods industry, offering a broad range of products around the core brands: adidas, Reebok, TaylorMade and Reebok-CCM Hockey. Headquartered in Herzogenaurach, Germany, the Group has more than 53,000 employees and generated sales of EUR 14.5 billion in 2014.
 
About TaylorMade Golf Company
Headquartered in Carlsbad, California, TaylorMade Golf Company sells golf equipment, footwear, apparel and accessories under the TaylorMade, adidas Golf, Adams and Ashworth brands. TaylorMade Golf Company posted 2014 sales of €913 million.
For more information or additional assets, contact:
TaylorMade Golf Global Communications
Jory Mendes
(o): 760.476.8041
jory.mendes@tmag.com
@itsthejor