The brand's master clubfitter, Justin Wilson, reveals intricacies of the job and some of his fitting methods
By: Tony L. Starks
Justin Wilson was a long-time PGA Tour clubfitter, helping the finest players in the world fine-tune their equipment. He cut his teeth sharing an office with the late Jim Flick, as a master fitter for TaylorMade Golf where he fit and built equipment for their global professional staff. In his new role as the master fitter for Cobra Puma Golf he still works with the brand's elite players – like Rickie Fowler and Lexi Thompson – but he's also had to adjust his approach due to the unique relationship between Cobra Puma and La Costa Resort in Carlsbad, California.
Cobra's fitting center is located on the far end of La Costa's range, where the company parks their tour van – complete with all the tools Wilson needs to find the best fit for players of all levels. Inside the van you'll find a swing weight scale, a shaft cutting machine, a variety of grips and virtually everything else a master clubfitter could ask for.
"I had to reinvent myself from a tour guy, to being someone who can handle retail, demo, deliver premium VIP experiences and still work with the game's top players," says Wilson. "The Cobra brand has really helped me do that. We have a fresh, young brand that's unique. So when I work with the amateur golfers who come to see me, I'm not trying to sell them on the performance of the equipment. I want them to buy into the Cobra brand as a whole."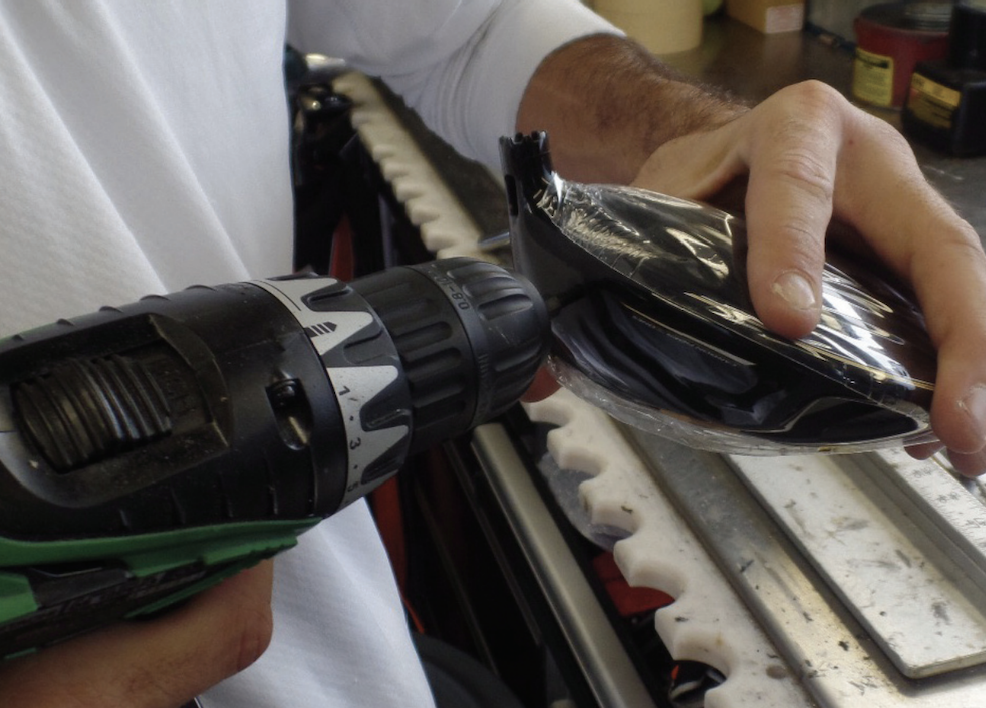 So with a top-notch fitter and a tour van, you might expect the Cobra fitting experience to be a pricey and exclusive operation, much like some of the fitting facilities offered by the other major brands. But that's not the case, the public can schedule fittings with Wilson through the La Costa website.
"I am in a setting where anyone can come see me, I'm not invitation only," says Wilson. "Fittings are about three things: perceived value, building a relationship with the player and performance. We are a little less expensive than going to some of the established locations of other major brands, but if someone walks out with the driver or set of irons I'll still waive the fitting fee – which is somewhere in the range of $300. That really helps because I'm giving them a great value for free and building a rapport."
In addition to now servicing the public, Wilson has become a mainstay with the La Costa membership. "When they see the big tour van sitting out on the range, of course they're going to be curious," he says.
However, Wilson faced a unique hurdle with the membership. Many of the major golf equipment brands are based in Carlsbad or have an office there, so all of the members have "a guy."
"We're in Carlsbad, the epicenter of golf equipment," Wilson describes. "The members who've been here for 10-plus years, they all have a guy and never really want to buy at retail. They know they can probably get something, somewhere, from someone they know.
"But once I get them on the range and take them through the in-depth process, I then have the ability to take them inside the tour van and build their club right in front of them. That all together – the instant gratification, top-notch service and great product – totally beats discounts."
Providing that type experience for the members and guests is what originally inspired La Costa to partner with Cobra Puma Golf.
"They were doing a lot of their R&D here after the split from Acushnet because they didn't have a range at their headquarters. We decided to take it step further and offer fitting programs that would not only benefit our membership, but also guests who would be looking for a tour pro-like experience," says La Costa's Director of Instruction AJ Avoli, who helped coordinate the partnership. "I send my students there to check their equipment. We feel like it's important to do both fitting and instruction together. So golfers understand how the club can affect them if it's not properly fit, but also why they possess certain swing tendencies."
Customizing CG Position and Performance With Hotmelting
Hotmelting is common on the PGA Tour, and has become a curious subject for golfers everywhere. Many people come to me asking about it and how it helps performance. For the tour guys, they're able to achieve their desired head weights and swing weights for their driver, while also sometimes moving the CG to encourage a certain shot shape. Described in the most basis of ways, hotmelting is placing a gluelike substance in certain spots inside the clubhead to promote specific feels, performances and better sound. With our tour van right there on the range, I'm able to demonstrate to golfers how it works and explain the benefits.
Fit Drivers Based on Attack Angle
When it comes to the driver, I fit people bases on their attack angle. If they have a negative attack angle – or one that strikes the golf ball with a descending blow and imparts a lot of spin – than it'll be an expensive driver that I fit them into. However, by having the range where we can see ball flight and the ability to do video and track launch conditions, I'm able to give them small instructional tidbits to help them have a more efficient swing. Right away using the fitting tech (launch monitors and cameras) and ball flight, I can show them the results of having a positive attack angle with the driver – striking the ball with an ascending blow. I let them know that in the long run, it's far better to have an effective swing instead of compensating with a super expensive piece of equipment. That's what makes our fitting methods special. We really want to create bonds and loyalty through honest fittings and premium equipment without the tremendous upsell.