In the age of AimPoint and other specialized platforms for improved performance on the greens, teaching professionals are stepping up the emphasis on this skill area
BY: JOHN TORSIELLO
You can't fault a golfer—especially the guys—for getting overly concerned with the power game off the tee. The pure satisfaction of nailing a drive down the pipeline runs through the body and puts a skip in your step. Of course, draining putts is also a source of pride and pleasure. The trick for teaching professionals is to get golfers thinking there is knowledge, technique and some form of practice that will actually equate to better putting results.
"With the work day tending to be longer now and economic demands greater, most golfers spend any time they have on the driving range because that's where they seem to feel they can get the 'golf experience' in a short period of time," says Paul Kaster, who recently became a teaching professional at the Academy of Golf at Royce Brook Golf Club in Hillsborough, N.J. after serving as Director of Golf at High Bridge Hills Golf Club in High Bridge, N.J.
Kaster says he notices few players of average skill working with true focus on their putting. Singledigit golfers seem to have that activity to themselves. Among his own students there is a proclivity to practice putting thanks to the one-on-one work he initiates with them, which includes straight talk about good putting's value in terms of scoring and improvement. "My adult students practice their putting more," Kaster says, "because the system we use with a SeeMore putter gives them some structure. They tell me they practice more at home and even at the office."
Just watching a PGA Tour telecast, the weekend golfer will get exposed to the highly regarded AimPoint green-reading system. Winner of an Emmy Award for technical effects, the "predictive putt technology" that AimPoint brings to the screen powers a live graphical insertion of optimal putt overlays into golf broadcasts. According to the company, it is "the first operationally feasible solution to the putt prediction problem and provides a groundbreaking illustration of putting." Average golfers can shave anywhere from four to eight shots off their scores by becoming better putters, asserts Chris Edwards, who is director of golf at the Daniel Island Club in Charleston, S.C. "Unfortunately," Edwards says, "players love to practice driving the ball because it just feels better to let one rip with confidence, even if they do continue to three-putt." He emphasizes the fun factor of putting when trying to lure golfers to take putting lessons. "If you can set up your putting green with drills and call them 'challenges,' people will show up. They love the idea of a game when it comes to any form of practice. We can definitely do more."
Putting demo days should be presented at least once a month, according to Edwards. A PGA pro's presence on the putting greens would encourage at least a dialogue to better golfers' efforts and keep them focused on the great upside for scoring. Kaster says there is great value in getting a custom-fitted putter into a student's hands. "It's also nice that at public facilities it's generally free to practice putting. So they are learning something that keeps them engaged with the game, spending time at the course without incurring a lot of cost, and improving. The added benefit is that our relationship gets stronger. That's a recipe for growing the game."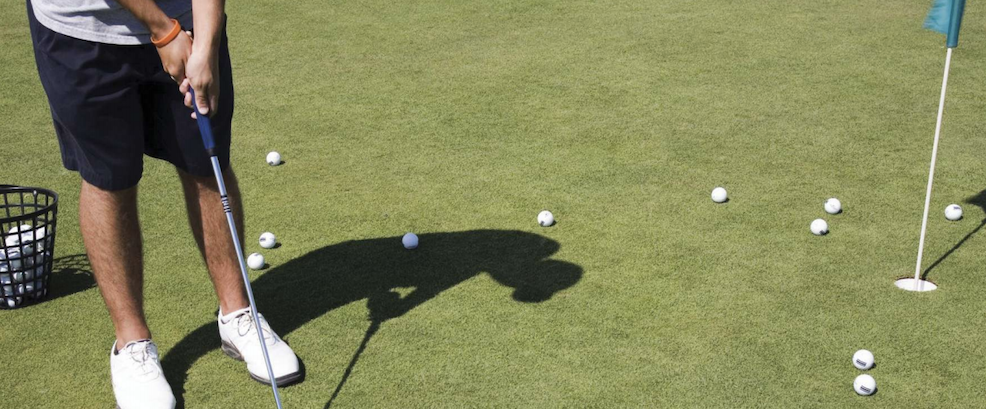 Golfers do seem to always practice their putting at least for 5 or 10 minutes whenever they are at the course and planning to play, finished playing or there to relax for a while. Can they practice a little longer and more productively? One thought is to create a buddy system of sorts, possibly between husband and wife, and create a short series of drills that can be done together. Ohio-based teaching professional Rick Zivsak encourages this—he markets a jack-and-jill type of coaching series that includes on-the-green practice and technique.
One interesting exercise couples can always do together is simply to head to the practice green with just one ball and roll it back and forth to each other in a continuous, flowing manner using a great variety of distances, slopes and breaks. It's a fun feel-developer that keeps each person's attention because they have somebody who matters in their life on the receiving end of their rolls. Friends can do this drill as well.
According to PGA data, only six percent of lessons concentrate on putting. Kaster says that the low figure is somewhat a result of the fact that clients dictate the subject of lessons, "which presents a challenge in itself." He believes teaching professionals should promote putting as important and something that can be learned. Yet, he adds, a lot of professionals don't spend much time learning how to teach putting. There are a number of ways to entice golfers off the tee line and onto the putting green for lessons. Clubs and ranges can hold putting demo days, and skills challenges with shop credit as prizes. They can place information and statistics about the role putting plays in scoring in newsletters to students or membership, or invite guest speakers who specialize in putting or green reading to give a presentation.
Kaster says, "Treat putting with the same respect you treat the full swing, and treat putters like you treat drivers. They certainly deserve equal respect and regard." The neat thing about putting instruction is that it requires very little overhead. All you really need is a reasonably well-conditioned practice green and at least one professional on staff who is interested in teaching putting.
Stand-alone ranges are missing the boat if they don't have a dedicated area for putting practice and instruction. "There is an entirely new stream of revenue that they are turning their backs on if they have the space and the resources to build and maintain a green (and there are lots of great artificial options out there now)," says Kaster. Carol Preisinger, director of instruction at the Kiawah Island Club in South Carolina, says teachers should engage golfers on the practice green without thought of compensation. It's a dramatic way to foster trust that what they are telling golfers about putting has meaning and value. "People are very shy to take lessons and the expense seems high to many," says Preisinger, who is AimPoint certified. That puts the onus on coaches, in her view. "Put one or two thoughts in a student's head and encourage repetition," she advises. There are a plethora of teaching aids pros can use when instructing putting. Kaster likes to use the SeeMore putting system. The SAM PuttLab is an analysis and training system based on accurate ultrasound measurements. It analyzes the 28 most important parameters of the putting stroke and displays results in easy to understand graphic reports. Within seconds the system gives an individual feedback on the putting stroke. The analysis can reveal small details of the user's movements and allows the teaching professional to develop improvements and training strategies. Preisinger likes to employ The Putter Wheel (a tool that encourages the user to take accurate aim at a target and tell him or her if the stroke will be on line) and the Orange Whip Putting Wand, designed to train putting rhythm and develop center contact for a truer roll, during her lessons. But Ralph Salito, director of golf at the Club at River Oaks in Sherman, Conn, stresses fundamentals. "I try to use the basics of physics, which everyone understands–put it together with proper technique and hope they believe and practice," says Salito. "Over time they will improve." While stressing putting to your members and customers may not help you sell more buckets of balls for the range, it can create a valuable new revenue stream by adding to your lesson schedule.