We caught up with three major champions and one of the LPGA's best ball strikers
BY: GARRETT JOHNSTON
Golf Range Magazine took an in-person view at two recent LPGA Tour events. There were a few tidbits we picked up from watching the players on the range and talking with them about their practice habits, which we want to share with you as instructors, facility operators and caretakers of the game.
Among the concepts we discussed with a variety of players were swing thoughts and range routines. For former World No. 1 Stacy Lewis, who is taking a break from the game while she's pregnant with her first child (Nov. 3 is the due date, if you're curious), we discussed what goes through her mind while standing over the ball on the practice range. Her go-to thought is simple.
"I'm just telling myself to keep my clubhead outside of my arms, my clubhead has been sneaking inside on me," Lewis said.
As far as the overall game plan on the range, Lewis keeps things straightforward.
"When I'm on the practice range, the biggest thing for me is to get my body loosened up. It's not so much about exactly where the ball goes," said Lewis, adding that this is especially true before a competitive round. "I try not to work on too many things on the range pre-round. You need to do that early in the week like Monday, Tuesday, Wednesday. By the time Thursday hits, you've just got to go."
Prior to her break, she played her last competitive round in June, Lewis changed to a heavier iron shaft for the first time in eight years starting at Kingsmill in May. She says her misses are minimized and she adds five yards to each club.
The two-time major winner went from a quiet season before Kingsmill to making the cut on the number and playing her way into the final grouping the very next week at the LPGA Volvik where she finished tied for 7th. She'll look to continue her strong play next season after she and husband, Gerrod Chadwell, have their first child.
PAULA CREAMER
For Paula Creamer, the 2010 U.S. Women's Open champion and Solheim stalwart, the pre-round routine is most helpful when it's focused on the fundamentals.
"I try not to do too many technical things on the range, but I also want to feel like my game's worthy of getting out there for competition and I want to feel comfortable," Creamer said. "If I'm feeling really good about my swing, I may only hit a few balls. For the most part I like to keep my warm-up simple like it should be."
Creamer wants amateur golfers to follow suit.
"It is just a warm-up after all, I think a lot of amateurs get in their way thinking that's how they're going to play," Creamer said. "If they hit the ball on the range well, that's the only way they're going to play good. That's not the case, it's just a warmup."
Creamer's caddie, Dave Brooker, gets her wedge yardages to targets on the range whether they're 40, 50, 60 yards or all the way to 105. The 31-year-old then starts practicing with those and then goes into 10 or 15 of her slow-swing drills: "Where I work to feel my golf swing." She uses a 9-iron for this portion of the warmup.
Creamer then hits every other club through her bag up to her trusty 7-wood and 3-wood.
"My training aids depend on what (new swing coach) Kevin Craggs comes up with for me," she added. "I've never been into numbers or TrackMan. I use it and my coach, dad and caddie look at it, but I'm a literal person. So when I'm told to 'keep my right hand on top,' that's what I'm going to do."
Creamer also uses a band for her legs to keep them closer together for her putting stance. She says her tendency is to stand too wide over the ball, so Creamer can wear this band and practice in her hotel room or on the putting green.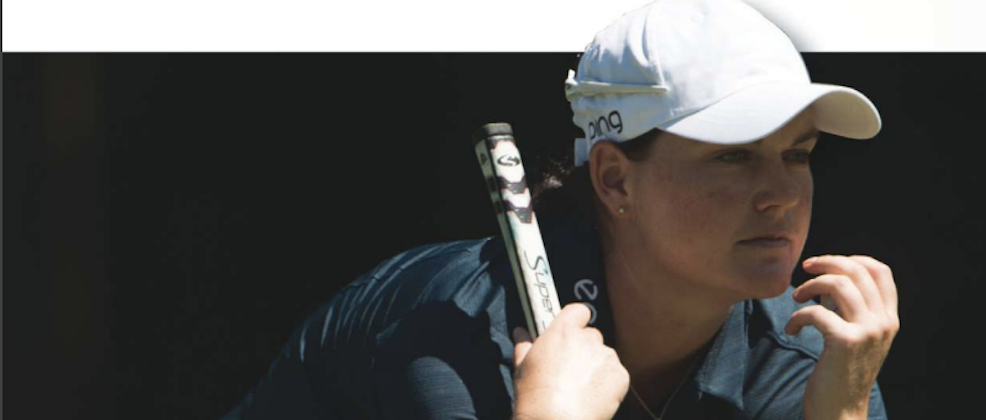 CAROLINE MASSON
One of the LPGA Tour's most consistent ball-strikers, Caroline Masson of Germany has a consistent approach to her practice. She ranks inside the top 20 in greens in regulation, but how does a premier iron-player work on her game at the range?
"My pre-round routine usually takes about an hour and 10 minutes," Masson said. "I usually start with my 60-degree wedge and then hit every other club all the way down to my driver."
How much does envisioning golf shots for that day's round come into play?
"I do that all the time," Masson said. "I'm thinking about how I want to shape my drive on the first hole, and before that I'm working on my approach shot with my wedge into the second hole."
Masson feels her routine has changed a bit in the last couple years due to priorities.
"It used to be more quantity than quality, but you still have to get your reps in," Masson said. "But there's no reason to hit balls with no purpose, so you have to find a balance on the range."
Masson breaks down her hour-10 of practice time by starting on the putting green with lag and short putts for 15 minutes, and then moves on to the practice range for 25 minutes of ball-striking. She then heads to the short game area and practices various chips and bunker shots for 20 minutes and finishes off with 10 more minutes on the putting green before heading to the tee.
BROOKE HENDERSON
Canadian superstar Brooke Henderson would stand out on any practice range. The biggest reason: Her grip. She chokes up by a healthy two inches on every club in her bag.
"My clubs are all standard but my driver is 48 inches long," Henderson said. So why the unique approach? "I've been choking down for many years, I've tried it the other way but it just doesn't feel as comfortable."
With a KPMG Women's PGA Championship and six LPGA Tour titles to her name at age 20, it's a safe bet Henderson's on the right path.