A young man's journey from a range in Southern California to Augusta National
BY: GARRETT JOHNSTON
Makoto Hirayama recalls first introducing his son, Kai, to golf on the practice range at Southern California's Arcadia Par-3 Golf Courses when he was five. Kai used his father's R9 irons and Makoto took a video as Kai swung (and missed) on his first three attempts. But Kai found the ball with his fourth try. "After that, he didn't want to go home, he just wanted to practice to get better," Makoto said.
Thousands of shots later, Kai's golf abilities brought his family all the way to Augusta National.
The Drive, Chip & Putt National Finals at Augusta National is one of the most unique golf events in today's game. It's held the Sunday seven days before the final round of the Masters, and in a week full of sentimental traditions, it's quickly finding its place in that vein. The event is a tangible way for dreams and once-in-a-lifetime opportunities to become realized, for the kids competing and also for their families.
Some of these dreams have nothing to do with whether they actually win a trophy.
While the now 11-year-old Kai competed in the "Chip" portion of the event on Augusta National's practice area, he took a glimpse toward the practice putting green. Standing there, within roughly 100 yards, was his hero, Hideki Matsuyama, practicing his putting stroke.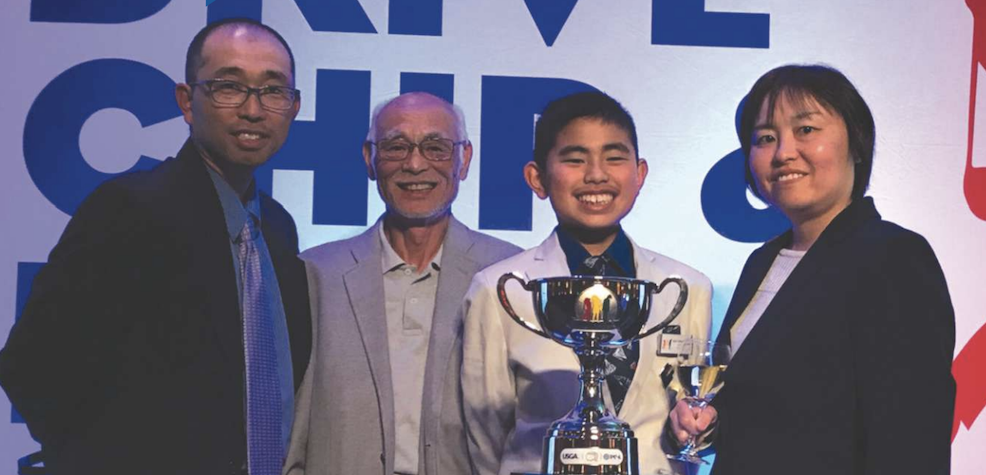 "It was amazing to see my favorite player on the most famous course in the world," Kai said. It was the equivalent of playing a national basketball junior championship at Oracle Arena and seeing Steph Curry dribbling in the tunnel, calmly awaiting his chance to take the court in The Finals later that week.
Kai's grandfather, Shunsuke Nakane, who's been golfing for 50 years and still plays two to three times a week at age 73, came all the way from Ibaraki Prefecture, Japan to see Kai compete, and he remembers first dreaming of going to Augusta while watching Tom Watson win over 40 years ago in 1977. There he stood next to his son, Makoto, watching his grandson compete on the hallowed grounds.
Could Makoto have imagined at Arcadia's practice range, that this was possible? "No," Makoto said. "I never dreamed of it."
Makoto and his wife were just hoping that Kai could improve enough to play golf with his grandpa in Japan. Maybe by high school he could have a chance to beat grandpa. But he beat grandpa by age 9. It was around that time that Kai recalls first wanting to go to Augusta, as he watched other kids competing in the Drive, Chip and Putt Championship on TV.
In just two short years, he accomplished his goal and made his way to Augusta. Though he didn't return with a trophy, he has memories that will last a lifetime. He met Annika Sorenstam, Condoleeza Rice, Bubba Watson and many others. One of his favorite encounters with reigning Masters Champion Sergio Garcia, who surprised the kids during their dinner reception the night before the Finals.
"I was like, 'no way' when Sergio showed up," Kai smiled.
"That was really cool," 9-year-old contestant Cole Kim, also of Southern California, said of Garcia's surprise.
Garcia enjoyed the moment as well and he told GRMthat the opportunity the kids had at Augusta National was very special, particularly because it didn't exist when he was a kid in Borriol, Spain.
"To be competing in front of crowds at such an iconic place, it's amazing," Garcia said. "I can only imagine how they felt, but to see how they responded, not only the kids but the parents, I think it is an amazing opportunity for all of them."
Cole attended the weekend with his grandmother Kathy, parents Albert and Grace, and his sister Chloe. Cole's grandfather, Nack Kim, introduced golf to his sons and played for 30 years, and in turn Albert brought it to Cole. Unfortunately, Nack passed away last year before finding out his grandson qualified to go to Augusta National.
The qualifier at Torrey Pines, where Cole stamped his ticket to Augusta, was on the same day as his uncle's wedding.
At one point the family considered not letting Cole compete, as he was in the wedding party after all. But Uncle Chris Kim (the groom), encouraged them to let Cole go for his huge opportunity.
After qualifying for his trip to Augusta National, Cole got driven 90 minutes up the California coast to the wedding that night in Orange County just in time to get changed out of his golf clothes and into his wedding party outfit for the reception.
Cole first remembers watching The Masters in 2015 during Jordan Spieth's win, and he points to that event as inspiring him to want to go to Augusta National.
Cole saw Spieth practice the Monday after the DCP Finals and said: "It didn't feel real."
When Augusta National itself started to feel real was as he was riding down Magnolia Lane. "That's when I felt like a professional golfer," Cole said. Perhaps some of these contestants will get there one day.
"More than anything, I really want to go back," Kai said. "My friends want to go too, so I have to beat them first."