Steve Murphy, the 2010 Aloha PGA Section Golf Professional of the Year and Merchandiser of the Year for Resort Facilities, and the Section's 2009 Horton Smith Trophy winner, is the PGA director of golf at the Prince Course at Princeville (Hawaii) Golf Club.

Steve Murphy on the importance of using your range to create an on-course experience:
We were looking for a way to promote playing golf to new golfers, from juniors to adults, for the resort and local play we get on the Prince Course. Because the main course can be difficult for new players, we decided to make use of our practice range as a part-time "Mini Prince" with eight-inch cups. Every day at 3 p.m. our range closes, and at 4 p.m. it reopens as a six-hole par-3 course with holes ranging from 65 to 91 yards in length. For resort guests, we charge $15 for adults to play, while children can play for free when they play with a paying adult; this encourages the kids to join their dad or mom for a few holes in the afternoon to get a feel for what it's like to play on a golf course. For our local junior students, the Mini Prince is a chance for us to provide on-course instruction without tying up any holes on the Prince Course. We'll be starting Get Golf Ready programs for adults soon, and we intend on using the Mini Prince in the same way for them.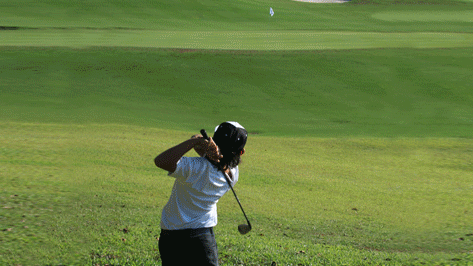 Steve Murphy on the business impact of using your range to create an on-course experience:
We handled almost all of the Mini Prince construction in-house with our maintenance staff adding one new green and getting our five existing target greens rolling smoothly. We also poured some concrete slabs and added artificial turf tees with yardage markers. In the future we might invest some additional money to expand the Mini Prince to nine holes, but for now we're very happy with the results. We're getting more new players out on the Prince Course after they've had a chance to play a few rounds on the Mini Prince to get comfortable with the Rules and etiquette of the game, and to learn how to hit a variety of shots. We also think this will be a real hit with our Get Golf Ready students, as they'll be able to practice on the range, then move right to the Mini Prince for on-course instruction. The setting is much less intimidating than a full-size course, and we make sure the environment is very relaxed; you can play barefoot if you want!
If you would like to email the author of this Best Practice directly, please email smurphy@princeville.com