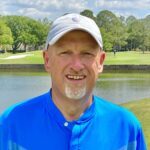 Steve Brewer, the 2016 North Florida PGA Section East Central Chapter Player Development Award winner, is the PGA Director of Instruction at Dubsdread Golf Course in Orlando, Florida.
Steve Brewer on the importance of adding online engagement:
I opened the Dubsdread Golf Learning Center 13 years ago. From the beginning, my mission was to build a program that would develop golfers and cerate golfer loyalty to the game and our club. The core of our program is our group programming for juniors and adults. We experienced great success in both programs right away. Our Junior Academy program grew during the school year to 30 to 35 juniors and our junior summer camp program reached over 100 juniors.  Our "Adult Tee It Up" class program quickly averaged 40-plus adults in classes every month.  My goal was to constantly find ways to grow. Two years ago I made a decision to partner with "Operation 36". A big factor in my decision was the online engagement piece it would provide for my students. The platform allowed me to enhance so many things in my program–class content and on-course play to name a few. But it was the student engagement piece that initially got me to sign up for the program. Having a platform my juniors and adults could use to submit practice and on-course play they did on their own time was a game changer. It allows us to reach out to them after they have posted their activity, offering them encouragement and help when needed. I clearly saw the engagement among the players grow and more importantly, saw growth in our program. Students were excited to take ownership of their growth and have told others about the program. 

Steve Brewer on the the business impact of adding online engagement:
Our program incrementally grew incrementally each year for 11 years, but when we added the Operation 36 platform, we saw substantial growth. We are now up to 70 juniors in our Junior Academy, doubling in size with Operation 36. With the robust offerings we provide our students with this platform, we were also able to raise our juniors rates and increase revenue from juniors by 300 percent. In our adult program, we now average 75 golfers per month. With a small rate increase and student growth, we raised revenue in this category by 100 percent. We did not have on-course events prior to adding this platform. We now have three on-course events each month, one for adults and two for juniors that generate an additional $8,000 in greens fees, cart fees and fees for spectator cart rentals per month. By adding this platform, there has been a tremendous positive financial impact across all revenue streams at our facility.

If you would like to email the author of this Best Practice directly, please email sbrewer@dubsdreadgolf.com.