The popular teaching and training aid kits and products have become a staple among golf instructors' repertoire, not just for youth golfers, but adults as well
Acronyms in golf are a common thing: the United States Golf Association is commonly referred to as the USGA, the PGA of America is sometimes simply referred to as the PGA and of course, the Golf Range Association of America is also known as the GRAA. However, the similarities between SNAG Golf and other teaching and training aid companies and golf organizations begins and ends with its use of an acronym for its name, which stands for "Starting New At Golf." SNAG's products look more like toys than teaching and training aids to some, but, according to some teaching professionals, that's half the attraction.
While many teaching and training aids available on the market today are just as effective, SNAG's products may be the most colorful and visually appealing to juniors. Of course, as Nicole Weller and Doug Hammer describe, SNAG's products don't have to be used with only young golfers; adults can learn just as much from SNAG as kids can.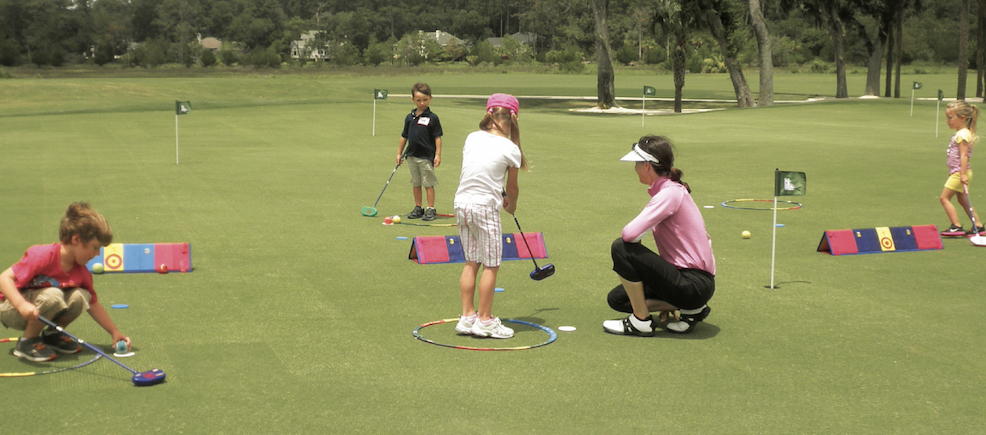 From Nicole Weller…
With having won the PGA of America's Youth Player Development Award in 2013, Nicole Weller is well known for her work with youth golfers, and is also a big believer in the importance of developing youth golfers. In addition, Weller has become a big believer in SNAG Golf and has realized the power of its products.
Weller first started using SNAG Golf products about 14 years ago after she saw the products at the PGA Merchandise Show in Orlando, Florida, when the company was first getting started. When Weller introduced SNAG products into her instruction program, she piecemealed most of the aids to put into her inventory. She was receiving such good feedback from using SNAG Golf equipment that when the company started offering Group Coaching Kits, she bought two kits right away so she could start using the products more in her everyday instruction and clinics.
Weller uses all kinds of SNAG Golf products while she teaches her youth golfers, including: Launchers for full swing, Rollers for putting, Bullseye targets, large and small Hoop Clocks to use for safety zones, Flagsticky targets, Rolleramas for putting and chipping, Roller Brushes to help students develop a slow and rhythmic putting stroke, the SNAGO-Matic for chipping strokes, the Snapper, also for full swing, and much more.
"I use a lot of the SNAG products for instruction, but I also use it to create fun games for the youth golfers too," explains Weller. "For example, we chip to the large targets, such as the Rollerama, on the onset and as my students improve, we move them onto smaller targets, like the Flagstickys, to continually challenge them."
While Weller continued to have success from SNAG, she decided to become a SNAG Certified Instructor four years ago. During her two days of training by the company, she was blown away with all of the different uses of the products and activities that they could be used for. The sessions helped to open her eyes to the usefulness adults could take from using SNAG Golf equipment.
"It occurred to me that we could use SNAG Golf products to improve our Get Golf Ready program," says Weller. "Our first Get Golf Ready each spring at The Landings Club was typically slow to fill up, mainly due to unreliable weather, so I decided to stir up some interest by making the entire first level of Get Golf Ready SNAG-based."
Although some eyebrows were most certainly raised, Weller saw a remarkable improvement in interest for her Get Golf Ready sessions in the spring. In fact, the students who participated in the first Get Golf Ready using SNAG equipment raved about the sessions so much that it had a very positive impact on Get Golf Ready sign ups for the rest of the season.
"Because SNAG is geared for beginners and we do not want to make a relatively complicated game any more difficult or confusing, we have been sure to use the same language and terms that SNAG helped establish as our students transitioned from Get Golf Ready to Get Golf Ready 2," Weller continues. "For example, instead of "putting" the ball, our students are "rolling" the ball."
Weller explains that youth golfers have a blast using the SNAG Golf equipment as their fun colors and unique shapes help portray the game in a less serious light. "The SNAG products really grab the attention of my youth students," says Weller. "It helps make the game more fun, which is part of what teaching professionals should always be doing."
While the kids enjoy playing, practicing and learning with SNAG equipment, it has also allowed Weller's more mature students take hold of the game and their swings in a whole new way. She cites one beginner, an adult, where the student used to absolutely hate golf because it was too boring and too difficult. After a few lessons using SNAG Golf equipment, that very same student has received terrific feedback from the aids and has now fallen in love with golf, all because of SNAG.
"That's what a lot of golf instructors may not realize about SNAG Golf and it's products," says Weller. "While they may even look like they are geared towards just children and are just 'plastic clubs' (as some students have called them) they are extremely effective with numerous educational aspects that many don't realize. Rollers and Launchers can easily show the student the positions they need to achieve when taking one's grip, as well as using letters like A, Y and L to describe various swing positions. Furthermore, they really help beginners feel and imagine the correct ways to swing, which sometimes can be half the battle."
Weller has indeed created some of her own games and drills using SNAG Golf equipment, such as affixing a Bullseye target to a golf car for added fun or setting up multiple Hoop Clocks for youth golfers to hop from one to another to encourage fitness. She is also impressed by what the SNAG Golf workbook has to offer in terms of drills and other curriculum. Actually, a lot of what Weller works on with her SNAG-oriented students come directly from the workbook.
Finally, Weller stresses that SNAG Golf is indeed a learning tool and will not replace modern golf equipment altogether. "Most of the kids 'grow out of the clubs' and want to move on to traditional equipment," explains Weller. "I will always let my youth golfers move on as long as they're ready and mature enough to do so. Graduating from SNAG Golf equipment to actual golf clubs isn't necessarily based on the student's age, but rather their skill level."
As Weller describes it, SNAG Golf accomplishes what all teaching and learning tools strive to do: garner the attention of students (and golf instructors) and help the student improve their swings.
From Doug Hammer…
What does Doug Hammer do to help calm the nerves of juniors who are just starting the game of golf? Put an oversized, colorful golf club in their hands and have them hit a tennis ball at a man dressed in a Velcro suit.
This scene was played out at each junior camp that Hammer, PGA director of instruction at Troon North Golf Club, hosted this year at his facility thanks to SNAG Golf.
SNAG stands for "Starting New At Golf" and it came in at number eight on the GRAA Teaching & Training Aids survey. However, it is unlike any other product that made our list. With tools designed to simplify the game, SNAG has seen huge success in teaching beginners the essentials. For starters, SNAG took the 14 clubs that are found in a typical golf bag, and reduced it to two: the Roller and the Launcher, which encourages students how to make a full swing, putt, and how to hold each club.
SNAG also comes with the "Launch Pad" from which every shot is played. This guarantees a perfect lie for each shot. As far as a hole goes, there is none. Instead, players shot for what SNAG calls a Flagsticky. It is an aboveground weighted cylinder that is covered in material that they SNAG ball will stick to.
All this is to say that SNAG has drastically altered how many PGA Professionals are approaching instruction for beginner golfers. As it happens, this is Hammer's first year using SNAG equipment and he could not be happier. "I drug my feet on it for a few years until a colleague that used SNAG raved about it. I finally pulled the trigger on it because I was looking for something different."
While SNAG may be an unorthodox training aid, it helps teach the same basic techniques that any good instructor would. Hammer says that while kids and women tend to be more receptive to using the SNAG equipment, he even has found use for it in his everyday lessons. "The way the grip is set up on the SNAG club is perfect for getting someone to hold the club the right way," says Hammer. "If someone is having trouble I just pick up that club and just say 'Here, hold this. That's what it is supposed to feel like."
SNAG makes it difficult to not have fun while using it as Hammer found with his junior clinics. At Troon North G.C. the back tee is 125 yards long so Hammer saw the perfect opportunity to utilize SNAG for an entertaining range game. "We purchased the complete SNAG package," Hammer said. "So it came with flagsticks, clubs, balls as well as a padded Velcro suit that the SNAG balls will stick to. The suit has a big bullseye on the front and so we had someone wear the suit and run around the range while the kids tried to hit him. The kids absolutely loved it. It relaxed them immediately and took all the intimidation out of golf It made it fun."
Despite the bright colors and oversized clubs that are visually appealing to juniors, SNAG really focuses on all beginners. Hammer had similar success using the Velcro suit when Troon North G.C. hosted a company outing. When trying to think of something for the non-golfers to do besides a normal clinic, he decided to take advantage of one of SNAG's other features: It can be used indoors. After clearing out the ballroom upstairs at the facility, Hammer set up a light reception with drinks and appetizers and encouraged the participants to hit the ball at the person donning the suit.
The reaction was similar to that of the junior camps. "We had about 20 people in the ballroom and they had a blast," Hammer said. "It is great even for non-golfers as a team building event for employees" SNAG offers 11 different coaching kits and 51 component kits that include supplemental products in an effort to cater to different types of facilities. This also allows a PGA Professional to choose which components of the program they will use.
Hammer admits that SNAG may not be the best training aid for a seasoned golfer, except to promote what a good grip is to feel like. But he says the beginners he introduces it to are very receptive, including the hard to target women's demographic: "The kids are obviously going to love it, but I find that women are also loving it," said Hammer. "They are excited to learn and I typically will have group lessons for ladies that use SNAG equipment around the greens. The weighted clubhead prevents them from trying to lift the ball and promotes solid contact. They are a dream to teach."
SNAG's belief that making golf fun for beginners will keep them engaged is proving correct as more than 5,000 instructors are using it nationwide. In terms of a training aid helping to grow the game, SNAG has hit a bullseye.