A broad spectrum of Connecticut public golfers have spread the word for years about Angela Aulenti's award-winning mastery of the clubfitting art-and-science
BY: JOHN TORSIELLO PHOTOS BY JOHN RIZZO
Angela Aulenti is director of golf at Sterling Farms Golf Course in Stamford, Conn., and owner of Aulenti Fitting Studio. She is a go-to fitting professional in her region with enough mastery of the gear-and-swing connection to have earned 2013 National Clubfitter of the Year honors from Callaway Golf. The first female head golf professional in Connecticut, Aulenti operates a year-round indoor/outdoor facility tricked out with all the leading technology for precise fitting analysis. Her selection for the national Callaway clubfitting honor came over hundreds of competing Callaway certified professionals. Known for her lifelong dedication to furthering industry goals, the PGA and LPGA member is now in her third term as president of the LPGA Teaching and Club Professional's Northeast Section.
Angela comes by all this golf achievement naturally, having grown up on a public golf course in the nearby Connecticut town of Westport, where her mother was director of food concessions. She became a standout competitor on the state amateur circuit, which led to a brief career on the LPGA Tour. In 2012, Aulenti was inducted into the Connecticut Golf Hall of Fame, and has won numerous awards for her service and commitment to the game, including the 2011 LPGA Professional of the Year. She is also director of golf at a city-owned sister course to Sterling Farms. Aulenti spent some time recently with Connecticut-based GRM contributor John Torsiello and reflected on career and industry topics.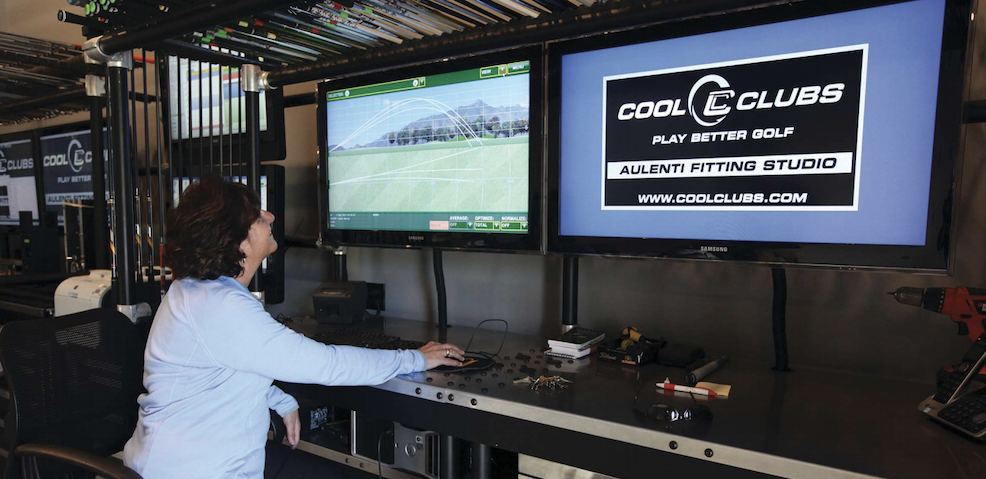 Golf Range Magazine: What did the national clubfitting award from Callaway mean to you?
Angela Aulenti: I was taken aback, really. Awards sometimes have that tendency to surprise people. They aren't the reason we do what we do. I always set out to be the best I can at whatever I challenge I take on. I've been connected to the business of golf since I was 8 years old, and contributing to our profession has always been a love of mine. To be chosen among so many deserving people is an honor.
GRM: When and why did you get involved in clubfitting?
Aulenti: I've been clubfitting my entire professional career but the improvements in technology gradually deepened my involvement. As the systems that use Doppler Radar technology were coming along to capture and deliver real-time data and graphics, professional fitting seemed all the more important. I saw it as the future of the game. I felt I needed to set myself apart from everyone else by building a lot of expertise in this area. I received lots of encouragement and I needed it because at the time I got deeply invested the economy wasn't great.
GRM: Has it made a difference for you?
Aulenti: I believe it puts me one step ahead to have, for example, TrackMan technology for fitting. It's been the best thing I ever did. What this gives you is the tools to fine-tune the fitting process and bring a very significant education element to it, as well. When you can show and explain the causeeffect to people, that's very enjoyable.
GRM: Clubfitting has become more a matter of science and analytics lately. Do you continue to find it personally rewarding?
Aulenti: Absolutely. As a PGA and LPGA member, I want people to play better golf and having the wrong equipment makes that more difficult. When you get the proper equipment in their hands you can see the difference.
GRM: How do you feel your fitting studio and practice complex are different from others?
MW: We are set up inside-to-outside. We hit from a climate-controlled bay out to the range, not into a net that's up against a wall. To me that is crucial.
You can see the ball flight, see how the trajectory moves up or down with different club specs, and then you get to also see how the ball lands. That is super important information and ideal feedback for the person getting fit—as well as for the clubfitter.
GRM: Are there challenges in clubfitting?
Aulenti: Of course. It's often a challenge to get customers to repeat their swings. I don't keep just the good swings and throw out the bad ones. The point is to try and identify an average swing that we can work with. Also, if the person is getting fit for a complete set it can take more than three hours. Over that time span the stamina of the person breaks down a bit, so we may have to divide the process into more than one session.
GRM: Tell us a little about the process.
Aulenti: What I basically do is map out information by having a client hit balls with their own clubs, collecting the impact and ball-flight data from TrackMan. A swing is something like a fingerprint; everyone has a different one. And clubs from some manufacturers produce more spin, some are heavier, some are lighter, some people have a preference for a certain company and are loyal to that brand. I don't try and sell them XYZ company's clubs. It takes a while to get it right. We try out new clubs, starting with different shafts then clubheads depending on what they need and what they are looking for from their game. The idea is to see if we can come up with something that will be significantly better in performance for them.
GRM: When someone books an initial clubfitting session with you, what tends to be their expectation?
Aulenti: They just want to play better. They want distance and they are looking for consistency. We fit them for every club in the bag, if that's what they want, from drivers down to putters. A lot of what I do is to educate customers as to what is available and what would help them obtain the desired results. Every golfer is interested in hitting it farther. But if it goes 40 yards farther to the right or left, what good is it?
GRM: How many customers do you deal with a year? What are the demographics?
Aulenti: I work with hundreds of golfers a year on fitting and I would say it is a 60-40 ratio, males to females. I fit kids as young as 12 and adults up to 80.
GRM: You competed at a very high level, you are accomplished as a teacher of t he game, so how much do those attributes contribute to the clubfitting operation?
Aulenti: I look at the process from a teacher's standpoint—any effective clubfitter does that. I refer to the TrackMan data and compare that to what I see the golfer trying to do. I can look at a swing and see things with my eyes that will guide the session along and influence decisions. I tend not to get into teaching when clubfitting, except perhaps with my own students.
GRM: Is clubfitting an important talent for a professional to have? Does it help drive sales in other parts of the golf operation?
Aulenti: It has for me, because I'm involved in teaching and the sales side of the golf business as well. To some degree, the fitting activity has trickled over into those areas. Success in your clubfitting and higher golf shop sales definitely go together. In difficult economic times, clubfitting can help you keep your head above water. But if you're going to do it, you have to do it right and invest in the best equipment. Anything that can drive golfers to spend time at your facility or on your practice range is a plus.