GRAA Boot Camp in Palo Alto reveals innovative teaching concepts and proven strategies for increasing revenue
BY: TONY L. STARKS
Twenty-five golf professionals converged at Palo Alto (California) Hills Golf & Country Club on August 23 for the third session of the 2016 GRAA Boot Camp Series.
Special guest speaker Shawn Humphries, a GRAA Top 50 Growth of the Game Teaching Professional and owner/operator of the Shawn Humphries Golf Performance Academy, delivered an innovative presentation outlining his unique and impactful teaching strategies. His philosophies include concepts like:
Building a Player's Self-Image – "Your self image is what makes you act like you," said Humphries. "Many times when a player is in contention for the first time, their thoughts will stray. They'll think 'I've never been here before." Their perception of themselves changes and they're unable to execute down the stretch. We work to help golfers create a positive self-image of themselves as players, and maintain that perception throughout the round. Golf is the most inconsistent environment of any game. Lie, conditions and distances are always variable. They only things you have to make consistent are your thoughts and your thought process."
Understanding Player Profiles –"For coaches, it's so important to read of how players are wired when you first meet them and understand how to interpret certain cues. Are they confident or cautious? Are they an assertive communicator or tactful? Do they have conventional movements or non-conventional? Looking at these things can help you understand how to communicate with the player and get a better feel for that players decision making process. Understanding your athletes as individuals and people is the first step to helping them improve."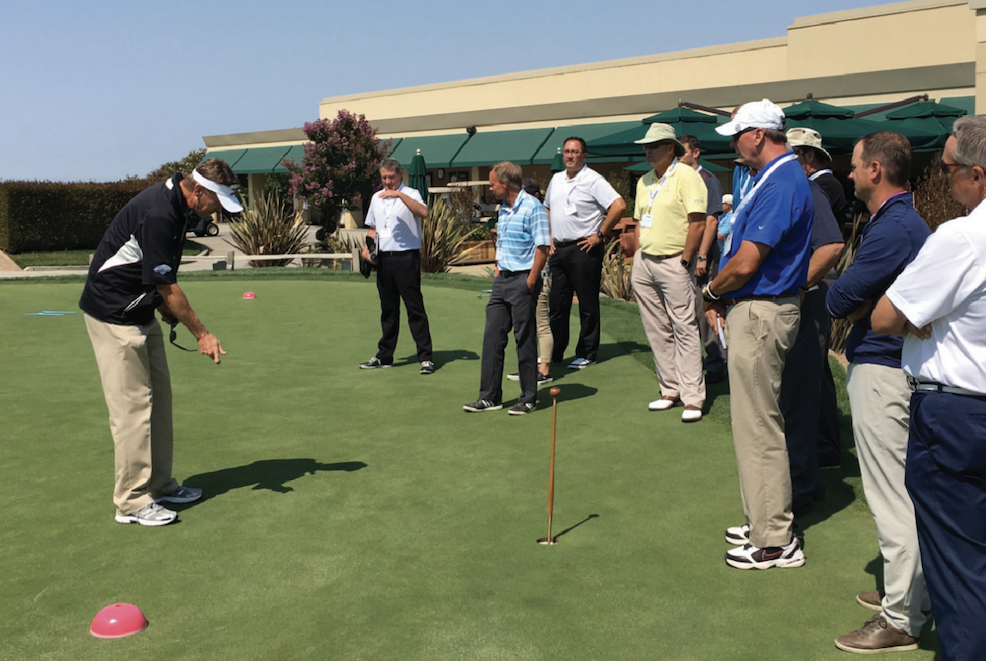 Humphries strategies have gained a great deal of momentum, as he has become a consultant for several Division I college athletic programs outside of golf. PGA Professional Nikki Gatch, the PGA of America's Player Development Regional Manager for Southern California, also delivered a presentation to the room full of attentive golf professionals. Gatch discussed the role of player development in helping practice facilities become more profitable and helping golf professionals expand their influence. "I define player development as providing something for everyone, regardless of skill level. With that in mind, the practice range is the perfect place to start growing the game," said Gatch, right as a stray golf ball bounced off the window behind her. "The guy who just hit the window, even he's making the decision to spend his money playing this game. Think about the golfers at every level who make the conscious choice to spend their time and money with you, how are you bringing them along." Within her presentation, Gatch discussed impactful statistics, gathered by respected marketing and research firm RetailTribe, on how range-related player development enhances revenue:
A lesson taker will spend 79 percent more on golf products;
A lesson taker will spend 65 percent more on food & beverage;
A lesson taker will play a least 20 percent more golf in the next 12 months;
72 percent of golfers reported the impact on their game exceeding their expectation after a clubfitting.
Beyond the two special guest speakers, every attendee was encouraged to contribute to the conversation and offer ideas that could help their peers. Here is a summation of just a few of the many best practices and ideas that were discussed:
Tom Good, PGA Director of Instruction, Kings Country Club – One of my students that's not a member, he hits the ball a ton. We usually work on the back of the range, but sometimes I'll take him around to the front and he'll whale on balls. The members will stop and ask: "Wow, Tom, you work with this kid?" And it creates conversation and is good exposure.
• Bill Menkemeller, PGA Teaching Professional, Pruneridge Golf Club – I get a lot of business just working behind the counter. A lot of teachers stay in their office when they're not teaching, that's not a good place to be.
Drew Farron, PGA Teaching Professional, Blackhawk CC –Something I do for engagement is practice. When I practice I use a Swing Shirt training aid, the orange top is a little attention getting. So members stop and ask questions, or they'll just see me out there and that makes me more approachable.
Rick Laforet, PGA Director of Instruction, Monarch Bay Learning Center – We conduct a Redzone short game challenge, which focuses on shots 125 yards and in. We put signs out on the range to indicate the different shots and it gets people engaged.
Courtney Burdick, PGA Teaching Professional, TPC Harding Park and Eagle Club –With the Eagle Club, we "e-blast" our golfers with different golf games and practice ideas. We even post the list in the shop when people check in.
Humphries – We'll host a quarterly skills challenge. We'll focus on the eight areas that we work on (bunker shots, putting, wedges, etc.) and we'll keep all the points and tally them up at the end of the year. It gets them jacked because they only get it ever so often.
• Rob Stocke, PGA Director of Instruction, Golf Club of Georgia – New ownership brought an influx of capital into the club. They went out and purchased a 120-inch TV that rises out of the ground on the practice range for members to watch the big games while they work on their games.