Scott Shapin, the 2011 Southwest PGA Section Assistant Professional of the Year, is the PGA first assistant professional at Kenwood Golf and Country Club in Bethesda, Maryland.
Scott Shapin on the importance of keeping youth golfers engaged with fun rewards:
Giving out prizes to juniors is often the norm for most facilities, including Kenwood in years past. Whether it is golf balls, stickers or hats, we found that the kids are more engaged when they're playing for prizes that they could pick. We wanted to make it more exciting for the kids, while increasing skill levels and good behavior. We developed "Kenwood Ka$h" as a reward system this past winter. The paper money includes four denominations, and each bill contains a goofy picture of the professional staff. We then created a wall of merchandise that can only be purchased with Kenwood Ka$h, with prizes ranging from one dollar to fifty dollars. The kids can earn Kenwood Ka$h many different ways, including: attendance, timeliness, good behavior, and high performance in contests. Once earned, it can be lost too. We have a range of finable offenses, including dress code and bad etiquette. Kenwood Ka$h is fun and also a learning tool. Juniors can save it to buy high dollar items, or they can spend it as soon as they receive it. We distribute Kenwood Ka$h during clinics, play days, junior league, and interclub practices, which are all accessible to them if they join the KJGA (Kenwood Junior Golf Association). During clinics we give each child $2 for showing up so they have some money to start the day. We also have safety and good behavior bonuses. We have noticed a significant increase in excitement in the junior program since we began rewarding students with Kenwood Ka$h.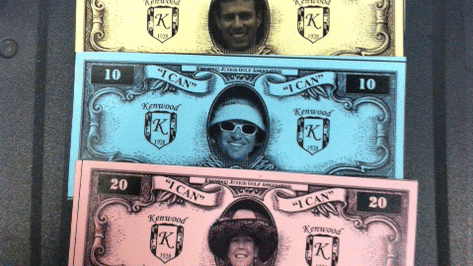 Scott Shapin on the business impact of keeping youth golfers engaged with fun rewards:
Kenwood Ka$h has helped make junior golf more about instruction, rather than babysitting. We are also able to move merchandise. To help fill our prize wall, we take older merchandise from the golf shop and purchase it slightly above cost (to cover shipping costs and to make a small profit) with the junior golf fund. The actual price and the Kenwood Ka$h prices do not match. For example, if a shirt is regularly $59.99 in the golf shop, it can be purchased by the kids for $30-$40 in Kenwood Ka$h. The most expensive item for the kids is $50 (a reindeer headcover that is coveted by all the juniors). One student saved $56 through June, while most kids have about $20. The cost of a yearly KJGA membership is $195, which includes one of two five-week clinic series, six play days, and several 18-hole events. In the past we have totaled between 80-90 juniors; this year, we have 100 juniors signed up. One five-week clinic is in the spring and the other is in the summer. Some elect to only participate in one or the other. However, we see about 40-50 kids on a weekly basis. We use roughly 25 percent of the junior golf funds for prizes. Kenwood Ka$h has helped move out old merchandise in order to create room for the new merchandise.
If you would like to email the author of this Best Practice directly, please email scott@kenwoodcc.net