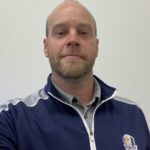 Scott Hoffman is the Owner/Operator at Northway Golf Center in Clifton Park, New York.
Scott Hoffman on the importance of enhancing the range experience:
My family has been in the golf business for more than 60 years, when my dad's Uncle Bob opened a miniature golf course that he designed in high school, and added a driving range in 1958. Barely ten miles from the location where Uncle Bob's range once stood now stands Northway Golf Center, a driving range and retail store opened by my parents in 1974. At the time, it was 20 hitting bays and a sparsely-populated golf shop that grew from a few apparel lines to a full selection of soft and hard goods. After graduating from college in 2000, I returned to my upstate New York roots and by 2002, I was in the family business full time. Now almost 20 years later, the golf industry has changed significantly, and business is better than ever. In 2014, I was at the PGA Merchandise Show and met with some folks from a new technology called Protracer. Understanding that this technology was the future of driving ranges, we were one of the first facilities in the country to install it on our range, and boy has it grown since then. Now rebranded as Toptracer and under the Topgolf umbrella, this technology is introducing golf to a whole new generation of people encompassing a diverse array of demographics. Avid golfers use it to hone their skills and get their numbers down, while kids, families, beginners and virtually everyone else is discovering the fun and camaraderie that golf offers. In February of 2020, we opened a beautiful new Toptracer Performance Center that houses eight hitting bays, equipped with heat, comfortable seating, food service, flatscreens with the Golf Channel on the air and a whole new level of enjoyment that Toptracer technology provides. With a portion of my parent's original range still standing, we have aspirations of extending the Toptracer Performance Center to allow for even more golfers.
Scott Hoffman on the business impact of enhancing the range experience:
Ask any driving range owner who has installed Toptracer on his or her original hitting bays or built an entirely new structure like we did, and they'll have your ear for more than a few minutes, highlighting the benefits they've seen in their business. In our case, we are attracting new golfers all the time – some of them are interested in learning the game, a function that Toptracer makes incredibly more efficient through its teaching and club fitting capabilities, or they're just there to share a new experience with family and friends. I can look in our Toptracer Performance Center and see a group of highly-skilled high school golfers playing next to some beginners who are just learning the ropes next to a mom and dad with their young kids enjoying time out of the house. That's what Toptracer means to our facility. Because of the draw that Toptracer represents for our range, sales in our full-service retail operation have increased annually since upgrading our technology. We also have a full junior golf program and welcomed almost 200 kids last year alone. With technology implemented, we're engaging customers from all fronts and crossing boundaries from the traditional game that my parents supported for all those years.

If you would like to email the author of this Best Practice directly, please email shoffmangolf@yahoo.com.