SCOR™ Golf today announced the availability of SCORFit 2.0™, SCORFit 4.0™ and SCORFit Lite™, the patent pending fitting kits and applications for golf professionals, retail stores and club professionals for the SCOR4161 line of precision scoring clubs.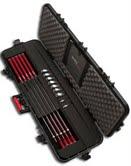 Initially introduced as the industry's first on-line and in store wedge fitting system in July 2011, SCOR™ Golf has once again raised the bar with the new and improved SCORFit™ process and fitter options, which quickly and precisely helps players determine the proper 'prescription' of scoring clubs for their particular game, including the right lofts, shafts and specifications for length, lie angle and grip size. The patent pending SCORFit process is the industry's most detailed application, and the first to reconcile the variances in specifications between makes and models of irons to allow golfers to arrive at the exact loft matrix and other important specs for their scoring clubs. The constantly-expanding database of irons' specifications already contains almost 500 models of irons from over forty manufacturers.
SCORFit Lite™ allows golfers, teachers, fitters and retailers to use their smart phone or tablet in a fitting or demo environment to access the SCORFit™ iron database and prescribe lofts and shafts for the consumers. The SCORFit™ process is the most comprehensive, detailed and accurate interactive, scoring club fitting process in golf and the ultimate in wedge fitting.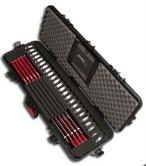 "While other companies talk a little about custom fit wedges, it is the only way we build clubs at SCOR™ Golf. Scoring clubs are too important to be purchased off the rack in limited lofts, specialized bounces and with a one size fits all shaft," said Terry Koehler, President of SCOR™ Golf. "SCOR4161 is the industry's most revolutionary design for high lofted scoring clubs, and when you couple this with our industry-leading SCORFit™ fitting process, golfers now have the ability to ensure they put the right scoring tools in their bags to lower their scores."
SCORFit 2.0™ and SCORFit 4.0™ on-site custom wedge fitting systems for golf professionals, retailers and custom club fitters feature interchangeable heads and shafts. Highlights include:
-SCORFIt 4.0™- includes every loft offered in the SCOR4161 line, from 41 to 61 degrees.
-Includes 10 shaft options-two weights of steel, two weights of graphite and 2-3 flexes in each shaft
-Includes several left hand lofts
-SCORFit 2.0™ allows golfers to try the full spectrum of SCOR4161 lofts with all shaft options, and a selection of heads that is always within one degree of the golfer's prescription.
"Very few golfers have the right combination of lofts in their scoring clubs," added Koehler. "They also are not playing the proper shafts to optimize feel, or specifications to improve their shotmaking in the 'money range'. The SCORFit™ process and fitting kits help each golfer determine his best scoring club make-up ensuring just the right set of precision scoring clubs that will deliver improved trajectories and better accuracy while offering optimum forgiveness."
About SCOR™ Golf
SCOR™4161 is the flagship product of SCOR™ Golf. The revolutionary product line erases the dividing line between short irons and wedges, and represents the first wedge technology designed specifically for the modern power game. This innovative approach to the scoring end of the set has been proven in "Iron Byron" robotic testing to reduce the effect of high-face impact, putting the ball 21 feet closer to the hole than the leading wedge brands. It combines unmatched forgiveness, game improvement performance and superior precision in the scoring clubs for golfers of all abilities. The innovative SC3 progressive weighting design across twenty-one precision lofts from 41 to 61 degrees optimizes trajectory, spin and distance control for each scoring club. SCOR™4161wedges and short irons also feature the renowned V-SOLE® technology, proprietary GENIUS® shafts co-engineered with KBS® and UST Mamiya®, and the company's own SCOR grips. All heads are Tru-Form-Forged™ from 8620 carbon steel to combine the precision of casting with the feel of forging. Each set of SCOR™4161 scoring clubs is custom built to fit each individual golfer by using the proprietary "SCORFit" fitting process that determines the exact specifications necessary to optimize a golfer's performance in the scoring zone. More information on SCOR™ Golf and SCOR™4161 can be found at www.scorgolf.com or at 877-726-7670.