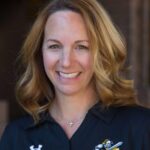 Sara Griffin, the 2015 and 2019 Pacific Northwest PGA Section Youth Player Development Award winner, is the Co-Owner and PGA Director of Instruction at Griffin Golf in Sumner, Washington.
Sara Griffin on the importance of offering long-term development programs for extended relationships:
My husband Chris and I run Griffin Golf from an indoor teaching studio housed in an industrial park in Northwest Washington State. We have three hitting bays with Foresight GCQuad technology that aid in our instruction and development of our students. We also have relationships with two local public golf courses, High Cedars Golf Club in Orting, Washington and Allenmore Public Golf Course in Tacoma. We utilize their driving ranges, short game areas and 18-hole golf courses to help educate our students and guide them in the right direction, increasing their skills and lowering their scores. To develop lasting relationships with our students we have several programs designed to meet their busy lifestyles. Two of these programs, in particular, place a focus on student retention and long-term development. Our LTD Program is geared towards competitive golfers and those preparing for high school and collegiate golf. Once juniors have passed 150 yards in our unique style of on-course instruction or are playing on their high school team, they are invited to join the LTD Griffin Club. Through this program, students get two private lessons per month and an on-course small group experience that incorporates course management and mental game priorities. A similar program exists for adult golfers, known as the Griffin Club, that engages students on a regular basis. The Birdie Package offers one private lesson per month and the Eagle Package offers two. In addition, participants get two hours per month of practice time in our indoor studio from November to February and access to CoachNow for remote coaching when applicable.

Sara Griffin on the business impact of offering long-term development programs for extended relationships:
It is important to develop relationships with students on a long-term basis. These programs enable us to engage students regularly, placing accountability on them as well. We have many great amenities to offer, and bundling these services as we have, provides a beneficial package for students to buy into for their long-term development and growth in the game. These programs also allow for regular revenue on our part, as we ask for a six-month commitment, but will accept students into the programs for as few as three months if that's all they can sign up for at the time. We feel it is important to provide lesson options that promote continued education in the game, rather than a few lessons here and there. In fact, we also have a women's lesson structure that starts with a Ladies Boot Camp, covering the very basics of the setup and swing, as well as etiquette, proper attire and elementary aspects of being a golfer that we all take for granted. Upon completion if this program, we have ladies' clinics, on-course instruction and play and finally long-term development in the Griffin Club. So, you can see that we have an eye for fostering relationships that go beyond the weekly lesson structure that has been the norm. We look for commitment from our students and offer up the same on our side of the lesson tee.

If you would like to email the author of this Best Practice directly, please email griffinpgagolf@gmail.com.