How a practice range and short course became one of the city's most profitable municipal properties
By: John Torsiello
The Alamo City Golf Trail partners with the city of San Antonio to operate eight facilities and be stewards of municipal golf in the southern Texas metropolis. Seven of those properties include full-length 18-hole golf courses, while the eighth occupies a much smaller footprint. A nine-hole par-3 course and practice range, known as San Pedro, sits some four miles outside of downtown and is the city's second-leading revenue producer among the municipally operated properties.
By his own admission, Andrew Peterson, President and CEO of the Alamo City Golf Trail, said San Pedro was in pretty rough shape at one point. Adding: "That's putting it kindly."
"The course and range had a long and storied history. Joe Conrad, probably the most famous golfer to come out of San Antonio, operated it for a number of years. We took over the facility in 2010 and it was not in very good condition. It was worn out," Peterson says. "We operated it as it was for several years but the plan was always to make it into what it is now."
And what it is now is one of the most profitable assets in the Alamo City Golf Trail portfolio and a shining example of what adequate funding, a great plan and a talented architect can accomplish.
The Trail received a $4.5 million loan from the city for the San Pedro project, which completely gutted the course and range. A new clubhouse was built, the golf course that had basically become a beat up "chip and putt" was rerouted, renovated and turned into a regulation par-3 layout. The practice areas were redesigned and enhanced, and a new energy-efficient LED stadium lighting system was installed to the tune of a quarter million dollars. Being lit allows golfers to enjoy San Pedro at night during the long and hot Texas summers. The facility reopened in the spring of 2017 and the reviews from the paying customers have been nothing short of five stars.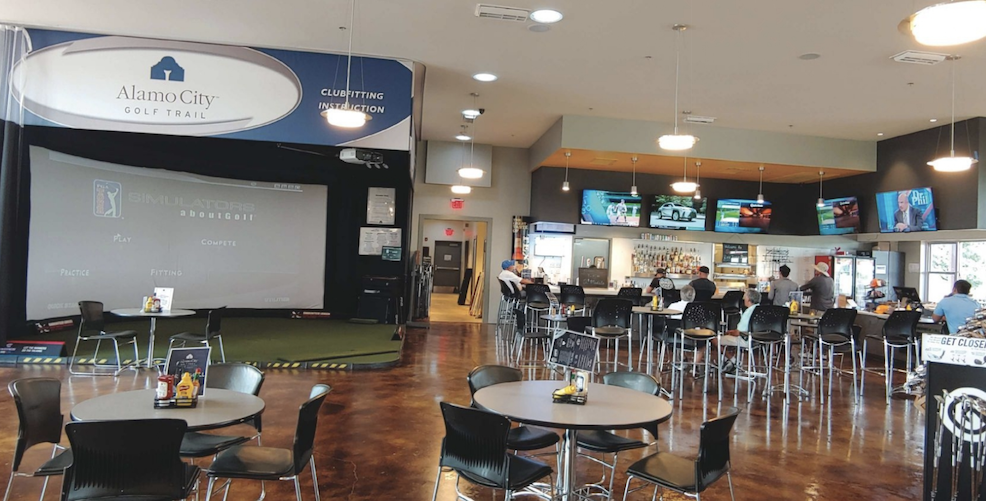 Sunday Bermuda was seeded on the greens at San Pedro and Celebration Bermuda on the tee deck and the remainder of the par-3 course. Sunday Bermuda grass gives an especially vibrant green color, is heat tolerant and drought resistant, said Peterson.
"We talked about the renovation a lot and had an aggressive public relations campaign prior to its reopening," explained Peterson. "Word spread fast and soon we were doing an incredible business. Think of it as a Topgolf for the serious player who uses the range, practice facilities and par-3 course to hone their game. The facility also provides opportunities for learning and recreational golfers that we can then move on to our other courses."
The spike in business has been impressive since the revitalization project. Prior to renovation, San Pedro was doing about 12,000 to 15,000 rounds a year. The layout did over 28,000 rounds last year and is on target to go over 30,000 in 2019.
"The range is jam packed and we can narrow the hitting stalls to accommodate 70 people at one time," describes Peterson. "We use the backside of the range for instruction and almost every night from March through October the range is completely full until midnight."
The huge increase in usage and thus revenue is allowing the Alamo City Golf Trail to pay off the project's loan in good stead. "We are using additional operation proceeds to continually upgrade the facility – new range balls, carts for the par-3 course, new outdoor furniture, new flooring in the clubhouse, and more," said Peterson. "It's one of the city's best revenue-producing facilities, second for sure."
Jeffrey Blume, president of the American Society of Golf Course Architects, was commissioned for the redo of San Pedro.
"It has really taken off and they are very pleased with it. It's lighted, it stays open until midnight, and they have a simulator inside along with the food and beverage component," Blume describes. "The range is much bigger than a Topgolf range. It doesn't have the computerized gaming aspect, it's more traditional. But I hate to use the word 'traditional' because this is so unique."
Blume, whose firm, Jeffrey D. Blume Limited, also has to its credit the design of an 18-hole championship course at Bentwater Yacht & Country Club in Montgomery, Texas, believes one of the reasons San Pedro does so well is its extended hours, but it's more than just that.
"It's much better to play during the Texas summer at 9 o'clock at night than it is at noon," says Blume. "Anybody who has been in the Lone Star State during summer can attest to that. But it's also a place to have fun, to have some drinks and food, all while enjoying a great game. It's creates a social environment.
"At the same time, it can also accommodate determined golfers who might also like to enjoy a cocktail or two after their work is done. It has a lot of flexibility," he continues. "What Topgolf has done has led a lot of facilities to look at the possibilities of a range and practice facility being a revenue generator. And San Pedro is living proof."