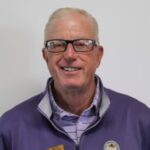 Rolla Frisinger, a three-time Michigan PGA Section Youth Player Development Award winner, is the PGA Owner/Operator at Foundation Golf Center in Coldwater, Michigan.
Rolla Frisinger on the importance of mentoring young staff with your expertise:
I have enjoyed almost 50 years in golf and 38 years as a PGA Professional. During that time, I was the PGA Head Professional at Coldwater Country Club and built my own stand-alone practice facility in 1997. Through the years, I have employed over 500 staff members, ranging from up-and-coming assistant professionals to young individuals just trying to figure out what they wanted to do with their lives. Whatever career path they chose, I always strove to help guide their education and work experience. Now, as I get older and wiser, mentoring others has become a very important part of what I do. Our practice facility employs PGA Professional Golf Management students, as well as other sports management students from local colleges and universities. With the experience they gain at our facility, they often learn to love the golf business; and in some cases, they realize that it's just not for them. While I was still at Coldwater Country Club, I started a junior golf tour that grew to be the largest junior tour in the Midwest. The Callaway-Meijer Junior Tour is now in its 28th year. We have over 700 kids participating in the tour's events and the events sell out rather quickly – we've had over 16,000 junior golfers participate over the years. Hosting a full schedule of events gives me the opportunity to hire additional staff who will learn the ropes by being put to work in vital roles, such as registration and check-in, rules administration and scoring. With anywhere between 60 and 150 kids in each event, the days can get pretty long – but that's what event management is all about. Employees learn to deal with the young participants, as well as with their parents, which is not always an easy endeavor. Fourteen-hour days are not for everyone, of course. Learning on the job helps open their eyes to the reality of the golf business.


Rolla Frisinger on the business impact of mentoring young staff with your expertise:
Growing the game of golf doesn't always mean getting new golfers to our facilities. It's also about developing our younger and budding PGA Professionals for a career in the golf business. It is important for those of us who have a plethora of experience to share that expertise, and mentor others, while preparing them for future success in whatever they choose to do. Our junior tour helps in these efforts – so does our facility. We introduce them to teaching, club fitting, merchandising, customer service and how to work with others to achieve a common goal. These are valuable lessons that they'll take with them to other golf jobs and careers out of our industry. They become better overall people who will have much more to offer a business because of the discipline they attained from getting to a golf tournament at 6:00 in the morning and not leaving until the last trophy or medal is handed out. I feel we must do something every day to improve ourselves, so we can help others improve themselves.

If you would like to email the author of this Best Practice directly, please email rolla@foundationgolfcenter.com.