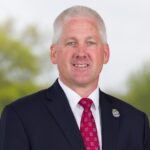 Rob Karnes is the PGA Director of Golf at NCR Country Club in Kettering, Ohio.
Rob Karnes on the importance of taking steps to reduce wear and tear on your range:
We saw rounds increase by more than 40 percent across our facility's two courses last year, accompanied by a huge rise in practice tee usage. Consequently, we had to take several steps to keep our grass hitting area in consistently good condition throughout the year. To do that, we increased the number of hitting stations from 12 to 25, upgraded our synthetic turf surfaces, moved all charity and corporate events held on Mondays to those synthetic surfaces, re-imagined the daily rotation or teeing area, encouraged people to go utilize our 9-acre short game area for iron practice, and created a full-time range attendant position to organize the daily activity and service our membership.

Rob Karnes on the business impact of taking steps to reduce wear and tear on your range:
Prior to the range expansion, we would often have more than 12 people wanting space, so they would grab balls and create their own "space." While this new setup takes up a larger portion of the practice tee, it spreads out activity to spots we choose and allows for more efficient rotation. If we happen to get a slower day, we can adjust stations sideways and not move the ropes back until the following day. It also creates divot patterns that are more spread out instead of "harvesting" an entire section, which   allows turf to recover faster after re-seeding. By upgrading our synthetic tee line, it created a more enjoyable playing surface for days when we didn't utilize grass, creating a more positive experience for golfers. Utilizing the synthetic tee for all Mondays, when the Club is closed and we host various charity events, allowed the grass a full day to rest and recover. We also added a second day each week, rotating between Tuesdays through Fridays, that we used the synthetic tee, again reducing wear and tear. By encouraging use of "The Key," our 9-acre short game practice area, it diverted much of the wedge and short iron practice up to 125 yards. This reduces use of the main practice tee, as well as reducing the number of "wedge divots" being made on the main tee, allowing for more shots per station and quicker healing after re-seeding. And finally, the range attendant became the key member assigned to oversee all daily practice tee and "Key" operations. The attendant organizes stations and keeps them straightened up, directs members to open stations, recommends use of "The Key" for wedge practice, etc. Put it all together, and we believe our practice facilities will end 2021 in better shape than they began.

If you would like to email the author of this Best Practice directly, please email rob.karnes@ncrcountryclub.com.