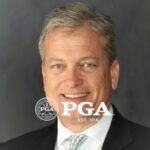 Rick Murphy, the 1988 PGA Junior Golf Leader and a 2020 Carolinas PGA Section Hall of Fame Inductee, is the PGA Director of Instruction at Greensboro National Golf Club in Summerfield, North Carolina and the Owner of Rick Murphy Golf Academy and Practice Center in Greensboro, North Carolina.
Rick Murphy on the importance of using your range for customer engagement and special events:
Our golf academy includes a 30-acre practice facility with all-grass tees, expansive bent grass putting green, two indoor studios and retail shopping space. We recently held a special event that welcomed families, kids, beginners and frequent golfers. "Food Truck Friday at the Range" was initiated this summer as a way of bringing in new customers, while saying thank you to our existing clientele. The event took place from 5:00-9:00 pm and welcomed a very popular local Mediterranean food truck and a Kona Ice truck as well. There was a live band that performed for two hours, a local beer distributor and Golfzilla set up for the kids. With a staff member manning the kids' activities near our short game area and awarding prizes, we kept the event fun, yet orderly, so everyone had a good time. We held putting contests for kids and adults to pique their competitive side, and demonstrate the enjoyment that golf can provide. I conducted a golf clinic on the range and engaged the participants in conversation and dialogue, more so than just spewing golf instruction and technical directions. It was a low-key affair that attracted guests as they walked around, enjoying the food and music. It created a buzz among some of the participants that will surely lead to increased instruction and group clinic participation, and aided in the excitement of the event. I inquired as to their playing habits – where they play, how often, etc. – and that personalization and conversation was welcomed over any attempt to sell them lessons or any other service we offer. Finding that level of engagement and getting them into conversation is beneficial for us in developing our customer base and the vital relationships that contribute to continued growth of our business. There was also yoga for golf and corn hole to ensure we had something for almost everyone there.

Rick Murphy on the business impact of using your range for customer engagement and special events:
We welcomed 250 people that night. After all, we didn't know what to expect as far as turnout. We spent money on radio advertising and portable restrooms, but ended up very pleased with the results. The food truck owners were happy with the night as well, a testament to our efforts and their food and service. We have plans to host additional food trucks this summer, making this event something people can look forward to more frequently. As a facility, we enjoy creating a fun atmosphere every day, playing music on the range and showing our customers a good time hitting golf balls with family and friends. We look forward to making "Food Truck Friday at the Range" into a trusted event that serves our mission to attract new customers and offer a unique thank you to our existing die-hard clientele.

If you would like to email the author of this Best Practice directly, please email rmurphy@rickmurphygolf.com.