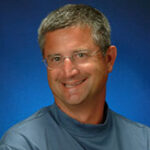 Rick Kline, a 2021 GRAA Growth of the Game Teaching Professional Elite Member Status, is the owner and PGA Director of Golf at Sittler Golf in Sinking Spring, Pennsylvania
Rick Kline on the importance of implementing new technology:
Sittler Golf, a family-owned driving range in Sinking Spring, PA, consists of a range with both open and sheltered hitting areas, a short game facility, and two full sized club fitting bays. Our most recent addition has drastically boosted our facility's capability. We have found that through the implementation of Toptracer, we have been able to do more with our business than we have ever imagined. The modern-day golfer wants to see results. Golfers crave immediate response in their game. The system has allowed us to easily provide players with answers, give them new methods of practicing on our range, and more. The night-life at the range has also improved with game nights and leagues through the use of this technology. Golfers of all skill levels deserve equal access to the newest and best technologies in the game. The inclusion of the driving range launch monitor has brought what most golfers want right to their fingertips: being able to utilize golf technology without spending thousands of dollars. With this modern-day golf tool, say no more to the concept of just hitting balls and start practicing with a purpose.

Rick Kline on the business impact of implementing new technology:
Toptracer was added at Sittler Golf in April 2021 as a plan to retain and bring in new golfers. We needed to stand out and offer golfers something that would keep them coming back for more. Since the implementation of the shot tracking system, our range buckets sold are more than double what they were pre-installation. We have also seen a 40 percent increase in lesson clients since the installation of the new technology. Like other customers, we are able to provide our lesson students with all the numbers they need to help us guide them with the strategies to lead them on the journey to better scores. The decision to add shot tracer has brought in new clients from all over the state. We are welcoming in golfers that are driving an hour plus due to the fact that we are one of the only driving ranges in the area with this technology. Plus, these golfers can pay their $15 for a large bucket and use the tracing technology at no extra cost. As a result, on weekends our bays are flooded with families with three, four, or even five people utilizing the technology. This game is about results and immediate response. And, that is exactly what this technology provides. At Sittler Golf we believe in treating our customers like family. This new technology has and will continue to bring in more golf loving family members. Every driving range should strongly consider what the implementation of a driving range launch monitor system can do for their business.

If you would like to email the author of this best practice, please email rick@sittlergolf.com