There are 100 or so golf courses in greater San Diego, Calif. That spells stiff competition among local golf facilities to lure public players in. Just having an 18- hole course in great condition these days doesn't really add anything to the table. Golfers expect that—especially as they are paying top dollar for the experience, as many facilities in Southern California command. No, golf course owners and operators have to soar above and beyond golfers' expectations. And stay up there as long as possible.
Which is exactly what compelled Bill O'Brien, general manager of the acclaimed Maderas Golf Club, to lay six figures into a practice facility upgrade back in April. Forget that the course itself is ranked on the Golf Digest list of America's 100 Greatest Public Courses list for 2014. Or that it's known by locals as one of the go-to destinations for top golf experiences. O'Brien says his staff felt that renovating the range "could substantially enhance the arrival experience, which is so important in conveying the message we wanted to create." The group also realized that a range rebuild would let them accommodate more player development programming and opportunities. "With three fulltime instructors on board who really align themselves with some of the best junior golf in the county," O'Brien points out, "we saw that we needed more space."
So Troon Golf, the course's operator, signed off on the project. The equipment began to roll and the whole job was finished in just three weeks. The space that contained three tiered tee boxes on the front end of the range was leveled to one large tee area. "We went from having potentially about 20 tees maximum to a space where we can easily fit 50 tees now," says O'Brien. "It gives a more dramatic sense of arrival" because golfers can instantly see the depth of the entire range now, as opposed to just the back of the elevated tee slopes, as they walk up from the clubhouse. Sometimes simple is worlds better.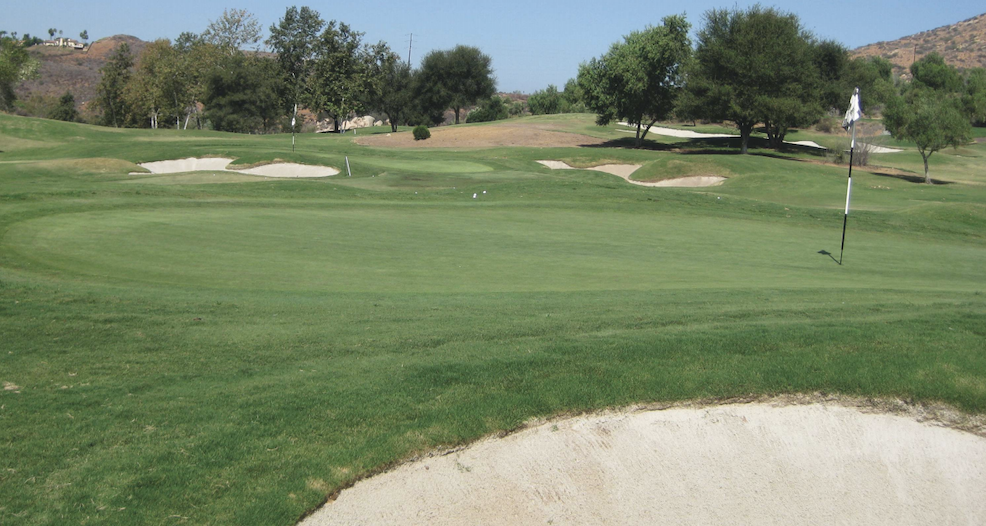 By doing the renovation, "we added about 20,000 square feet of hittable space," says O'Brien. "All the slope between the tiers you couldn't hit from. It minimized the space. So now it's all usable." From a capital-schedule standpoint, a reality had hit home: After 14 years, the range tee boxes had lived out their useful lives. "In order to recapture the hittable space, we eliminated the tiers to make a much larger space," O'Brien explains. "In doing so, one of the cool byproducts was a better practice area for our most loyal customers who could spend more time at the club."
Although there's an artificial turf tee strip on the tee, it's solely for use in inclement weather — rare in San Diego — as well as during overseeding and to accommodate maintenance. For Maderas, it's more of a supporting amenity rather than a primary one. O'Brien is adamant that "a grass tee experience is really what our customers want." The renovation also presented Maderas the opportunity to sustain the PGA's "Get Golf Ready" push. On Thursdays in May, the course offered affordable lessons for people new to the game. "We saw some traction with that," says O'Brien. "It echoed our feelings that having a player development space made sense for our club."
The immaculate short-game area adjacent to the front end of the range remained untouched, with its two championship greens, four bunkers and a tee box that allows player development and professional practice at a high level. Golfers can emulate the on-course experience of a par-3 and par-4 hole in a legitimate setting: The turf is identical to that on the course, and it's well laid out to offer a variety of backdrops and playing conditions without feeling convoluted.
The back end of the 304-yard-deep, dual-ended range was also renovated. "Our lesson business is growing," says O'Brien. "Each of the past three years has been better than the year before. And we expect that to continue. We also saw a neat opportunity, as we are now home to the Western Region USA National Junior team. Having hittable and coachable spaces makes a big difference for those teams preparing to compete on a larger scale."
Again the flexibility quotient seemed important. Having spacious conditions on both the front end and the back end, where the project also created additional space for Maderas teaching professionals, has been impactful. "We're club of record to Tiffany Jo, a local LPGA Tour pro, as well as Maria Hernandez, who has won on the LPGA Tour and in Europe," says O'Brien. "They both call Maderas their home and we're proud of those affiliations. We like to give athletes and professionals of that level an experience that they can feel very good about."
As a result of the expansive views and a large flat teeing area, the renovation also created more function space. "We hosted a wedding on the range two weeks ago, and we're hosting a company picnic in a few weeks," says O'Brien. "By having one larger, more dramatic space, we really opened it up to other types of activities. It's more practical and because now you can see more of the vastness of the horizon, it tends to present better. Before you were somewhat isolated from the entire practice range."
Factoring in the dollar cost, O'Brien and Troon officials see themselves coming out ahead. "An improvement like this adds value to our customers," says O'Brien. "It's not inexpensive to be relevant today — you see that time in and time out from restaurants and hotels that are constantly finding ways to upgrade their appointments and offerings and programming. And golf courses that want to stay relevant have to do more of that, too." The new setting truly sets the tone for what golfers come to expect at Maderas–great services, a compelling view, creature comforts, new range balls and more.
"We wanted there to be harmony in the overall design and layout," says O'Brien. "It wasn't by any means an afterthought. It was designed to be a critical element of the entire experience"