Diversey has been serving Chicago for over 100 years
BY: LEN ZIEHM
The Diversey Driving Range is a Chicago landmark, no doubt about that. There are bigger ranges around the country. Some also might be considered more beautiful, or more elaborate, but few – if any – have as much history or are as popular as this facility that has withstood the test of time.
Diversey was built between 1911 and 1913 as a six-hole golf course most notable for having tin can cups. It was eventually expanded to nine holes and Illinois governor Edward Dunne presided over the official dedication ceremonies on Sept. 9, 1916. The layout, however, took a beating over the years, and by the late 1940s most of the land was converted from a golf course to one of the very first stand alone practice ranges in the United States. Never has its popularity waned.
Chris Otis, who has given golf lessons at Diversey for 32 years, knows why. "Location. Location. Location,'' says Otis. "Diversey has no competition in this area whatsoever, and never will. Plus, it's one of the best places in the city to come and watch people.'' Surrounded by highrises, Diversey adjoins busy Lake Shore Drive and the boats of Lake Michigan's dock. Chicago doesn't have any locations left to match this one for a golf facility.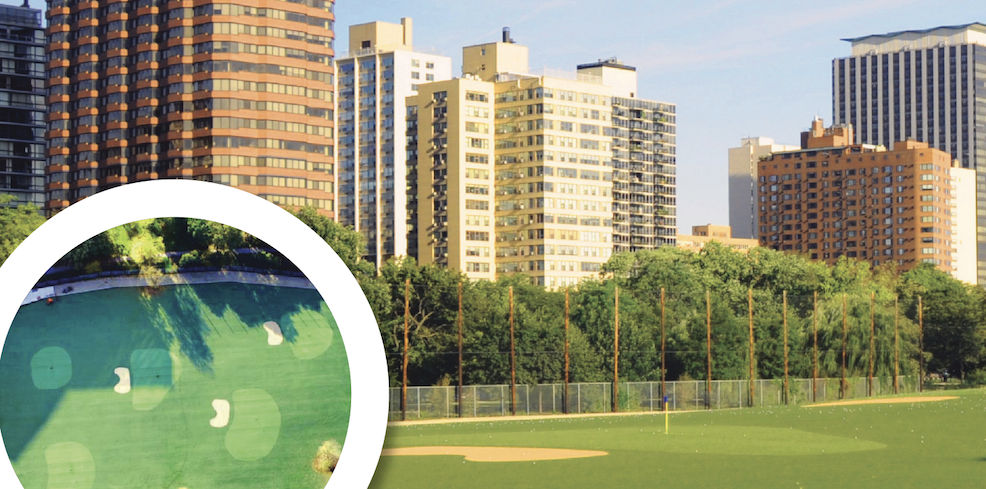 The range was self-operated until 1993 before KemperSports – a management firm based in the suburb of Northbrook – took over on a privatization agreement. KemperSports, which has since bolstered its portfolio nationally and abroad, operated all the Chicago Park District facilities through 2008. Diversey's capacity was doubled with the construction of a double-deck teeing ground while KemperSports was in charge, and lighting was also added to allow for nighttime use. The changes increased traffic, but wear and tear became increasingly obvious in the late Kemper years. The balls would stick in mud after heavy rains, and they continued to accumulate until the Park District installed artificial-turf landing areas in 2008.
Billy Casper Golf took over management of the range and Park District courses on Jan. 1, 2009. Two years ago, two synthetic putting greens were added to the Diversey facility, supplementing a nearby miniature course that was already thriving. Jered Wieland, Billy Casper Golf's general manager for all the Chicago Park District facilities, knew he had a good thing going at Diversey. "It's been an incredible draw forever,'' says Wieland. "It's got a prime location, and there aren't many locations inside the city for people to practice golf. It's a popular attraction.''
"People hit more than 10 million range balls in a season,'' describes Otis. "We always keep 60,000 balls on reserve. On weekends people stand threedeep to get in a bay, and on Saturdays and Sundays when the weather is nice people will wait in line from 9 a.m. all day long. Our people behind the counter work like a bartender on St. Patrick's Day. They never stop doing transactions.'' There's no grass hitting areas, but Diversey apparently doesn't need them. Wieland said the back fence, about 30 feet high, is about 300 yards from the hitting bays. That's enough for most players, and all types have taken advantage of the facilities. They have included celebrity types like Michael Jordan, Mike Ditka and Jonathan Toews – captain of the Stanley Cup champion Blackhawks who hit balls almost daily when his team was making its 2015 playoff run.
Diversey remains open year-around. Only the lower deck is used in the winter, where it's partially enclosed and heat lamps are installed. During the non-winter months the facility opens before sunrise and closes after sunset seven days a week. Some people like to hit balls at 7 a.m., before they go to work. Others beat balls until closing at about 11 p.m. Bunkers at 50, 100, 150 and 175 yards provide yardage guidelines. Discount cards are available for regulars, seniors and juniors. Otis is among six instructors from the Chicagoland Golf Academy to cover teaching needs and The First Tee of Chicago operates on the premises.
"People just flock here,'' says Otis. "You can make your own hours, work as much as you want and you can actually get to know people as friends. You have a captive audience, and that makes it a lot more easy for people to learn.''