GRAA Award winners share tips on how to utilize the PGA Show to improve your business back home with the practice range in mind
The 2015 GOLF Range Association Award Winners were asked by Golf Range Magazine to share tips on preparing for the 2016 PGA Merchandise Show, specifically with the goals of improving business back home and enhancing the practice range experience. Review the following tips to ensure a successful trip to Orlando, Florida for the "Major of Golf Business" on Jan. 26-29.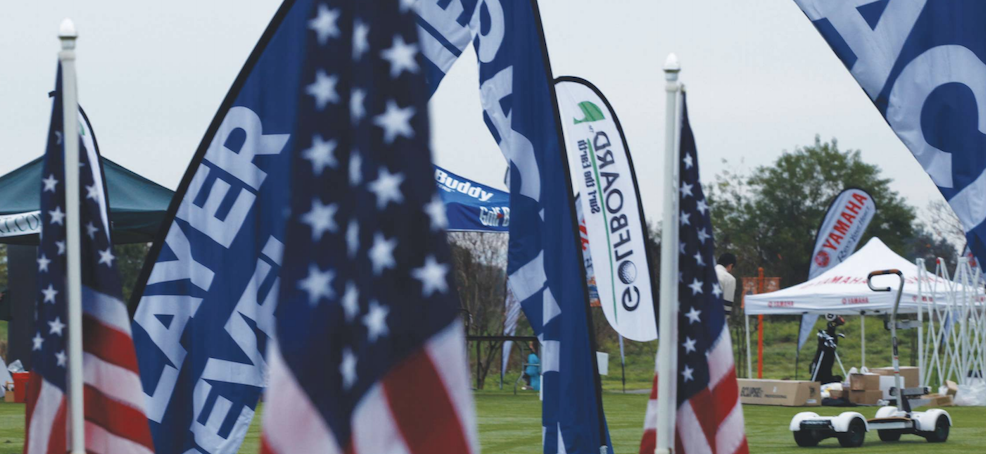 Matthew Creech, PGA Head Professional, Mayfield Sand Ridge Club, Chardon, Ohio
There are three areas I focus on at the PGA Show related to improving my business and the practice range: Player development, teaching and enhancing the practice area. I scour the perimeter for some of the smaller-known companies, looking specifically for items that enhance my relationship with my students as a "coach." New apps, statistical analysis software, even energy drinks and nutritional products all play a role in the "complete player" concept. With that in mind, I also set aside plenty of time to visit the New Products Zone in search of any new teaching aids and/or gadgets. I always make time to stop by and look at anything that might improve our practice range. I want to be proactive rather than reactive. Perhaps, it's new range signs or dividers. Maybe even better towels and club cleaners. The ideas and products in this category are countless, and they're really best experienced in person.
Ken Smythe, PGA Head Professional, Osprey Point Golf Course, Boca Raton, Florida
I use the PGA Show to review my operational budget and known purchases. I take time to visit each vendor I do business with for product info, order confirmation and, of course, trying to save dollars by catching any "Show Specials," which can reduce costs by 10 to 20 percent when orders are placed at the Show. As always, the networking and problem solving with other professionals facing similar range issues and maintenance concerns is invaluable. Be open to discussing your problems and share new ideas on how to improve the bottom line for our facilities.
Tom Morton, PGA Director of Instruction, Haggin Oaks Golf Complex, Sacramento, California
The annual PGA Merchandise Show is the perfect way to kick off the year, creating excitement and gaining the knowledge necessary to stay at the forefront of the industry. Before attending the Show, it is a good idea to plan what you want to learn and see. Then plan your time accordingly, attending the appropriate educational seminars and mapping out where you will go around the Show floor. Without a plan, it's easy to get sidetracked and lost out there. Lastly, it's a great idea at the end of each day to sit down, either with yourself or with your team, to review notes and discuss all that was gained that day.
Mary Hafeman, PGA Director of Instruction, Missing Links Golf Club, Mequon, Wisconsin and Deercreek Country Club, Jacksonville, Florida
This year I'm attending the two-day Youth & Family Golf Summit to learn about other best practices. For the success of the range, or any part of our business, it's pivotal to gain knowledge on how to grow the game and hear ideas from fellow PGA and LPGA Professionals who are leaders in player development.
In the teaching area, I'm interested in innovative teaching aids, simulators and programs that will not only enhance my teaching, but also to create a learning environment that is fun and simulates on course situations. Clubfitting is also a key part of teaching for me. I enjoy speaking to the club makers and attending presentations of their new products to learn how to fit them for specific demographics. I like to understand product nuances and whom the companies view as their target audiences, it helps me fit people more accurately. Looking to enhance the practice area for your facility is key. The No. 1 reason why people quit the game, according to National Golf Foundation, is because it's not fun. Creating a learning environment that's fun with targets to simulate on course play, as well as games to challenge their skills, are important to the retention of new golfers. The PGA Show is the perfect place to pick up new ideas and programs that can help create a fun environment for learning.
Rich Smolen, Golf Facility Manager, John Price Golf Learning Center, Lake Worth, Florida
Each year the PGA Show in Orlando provides outstanding opportunities to learn and grow the game of golf through new and exciting innovations. For us, being a stand-alone range, we look to new digital training aids that help us communicate better with our customers and students, new and improved hitting mats and, as always, the exciting new golf equipment that we can demo and share with our customers back home. Come early spring after the PGA Show, our regulars know our facility is the place to be to experience new products across a bevy of categories.
Phil Green, PGA Owner, Home on the Range, Newcastle, California
I use the PGA Merchandise Show to help with player development by networking with PGA Professionals who have the same goal of growing the game. By meeting new PGA Professionals at the Show, I can gain access to the concepts, strategies and methods they use in their area. It is great to borrow ideas from successful programs to take back to my facility to improve my own operation.
Eric MacCluen, PGA Director of Instruction, Applecross Country Club, Downingtown, Pennsylvania
The PGA Show is a great opportunity to look for better and easier ways to help our students learn faster. There isn't a better place to see so much in one spot. On top of that, PGA Show Demo Day is a great opportunity to try out the products for myself. It's always better to have firsthand experience and knowledge, rather than regurgitating facts when a student or member asks about a certain piece of equipment.
Megan Padua, PGA Teaching Professional, Maidstone Club, East Hampton, New York
There are so many ways to improve your skills and knowledge as a teacher during the PGA Merchandise Show. There are forums hosted by industry-specific Facebook groups, teaching summits from the PGA of America, certifications from individual brands and various other seminars throughout the week. These programs allow me to stay on the cutting edge by keeping up with the latest and greatest information in the world of golf instruction. It's also a wonderful place to network and learn creative ways to market your brand.
Kal Katz, Owner, Mad Golfer Golf Club, Southampton, Pennsylvania
Beyond investigating new equipment, walking the floor, communicating with previous vendors and soliciting new contacts, the PGA Show is a learning experience at every level. It provides me the opportunity to see multiple vendors in a short period of time, coordinate delivery schedules and plan promotional opportunities.
Mike Richards, PGA Director of Instruction, Mike Richards Golf Academy, Parkland, Florida
I use the PGA Merchandise Show as a resource so I can compare all the current training aids, video software and other technologies. I want to be able to view, try and learn all I can to make myself an expert as a PGA teaching professional. I also take the time to record tips/drills with V1 Golf, so I can post them on various social media outlets and share them my students.
Trillium Rose, PGA Director of Instruction, Woodmont Country Club, Rockville, Maryland
The PGA Show is all about connecting with people. It gives me an opportunity to learn what others in the industry have been doing for the last year and what they are launching for this upcoming season. I always leave the Show feeling smarter than I was before, and it's knowledge gained through conversations with my peers. I make sure that I have plenty of time to meet new people and reconnect with those who are doing things I am interested in.