BY: TONY L. STARKS
When Parsons Xtreme Golf (PXG) entered the golf equipment space in 2014, there was a lot of debate about the brand's goal to provide premium golf clubs regardless of the price. It was difficult to wrap your head around the idea of someone paying thousands of dollars for a set of irons or $600 for a single driver.
But since that time there's been steady growth in market share, especially at private clubs. There've also been examples of growth among other high-end brands such as XXIO, Honma and custom Scotty Cameron putters.
According the Golf Datatech's 2017 study on Serious Golfer Shopping & Purchase Habits, a key factor in this trend is a shift among serious golf consumers – who now regularly seek "custom clubfitting specialist" for their equipment needs regardless of the additional cost.
At Butterfield Country Club outside of Chicago, where decorated clubfitter Mike Carbray serves as PGA Director of Instruction, XXIO and PXG have been the best selling brands over the last year – XXIO for players with slower swing speeds and PXG for the better players. According to Carbray, his first step into the premium equipment market was getting over his own initial sticker shock.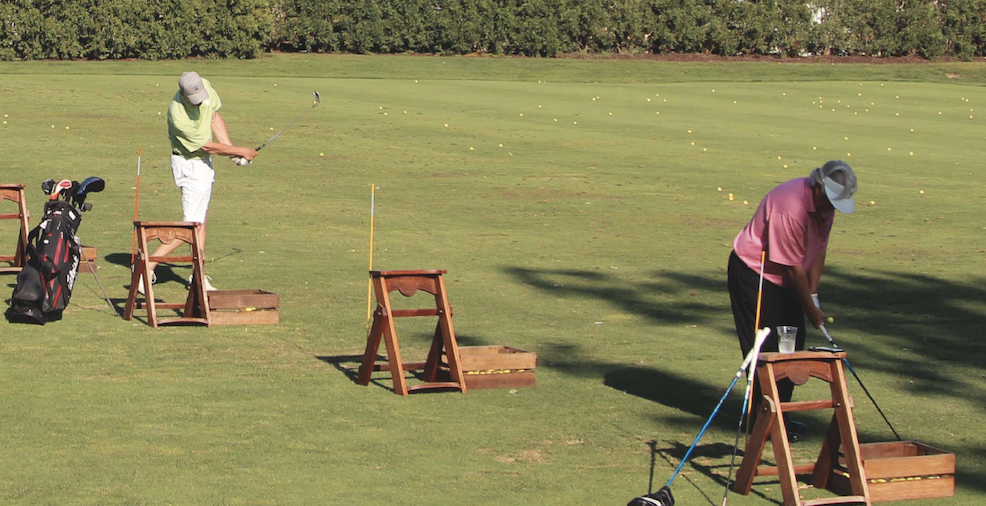 "I was just unsure if I could sell a $300 hybrid or $600 driver," he admits. "But the memberships at high-end private clubs, like ours, are used to premium stuff in their life. Whether it's the cars they drive, the houses the live in or the fashion and apparel they wear, everything is high dollar. While it was an adjustment for me, once our members got it in their hands and saw the performance, the question of price went out the window."
However, selling at a premium price point is not just about product performance; it's about providing an experience. Earlier this year, Butterfield delivered a memorable and unique event for members when they hosted the XXIO Sushi Demo Experience. The club's executive chef set up a sushi bar on the practice range (pictured) as members tested and were fit for equipment.
"It was inline with the premium luxury tone that's associated with the quality and price point of the brand. XXIO is also a Japanese company, so having sushi connected nicely with the story of the brand," says Carbray. "It was definitely attention grabbing and drew in a lot of people. I mean, have you ever seen sushi on the driving range before?"
Carbray estimates that 50 of his members now have one or more XXIO clubs in the bag, with PXG not far behind. The master fitter program engineered by PXG helps differentiate them from other brands. If a golfer is interested in purchasing PXG, the company will send a van to the club and deliver an advanced clubfitting experience. If the fitting is scheduled through Butterfield or any other authorized retailer, there's no charge and sale is allocated to the club.
Across town, PXG actually pays for space on the practice range at the Glen View Club – where the company can service VIP customers as well as the club's membership. Kyle Bauer, Glen View's PGA Head Professional, calls it a mutually beneficial relationship, as the connection to PXG helps to further elevate the already elite brand of the 120- year old private club.
Kohanaiki, on Hawaii's Big Island, is another ultra-exclusive private facility that's done well with PXG. The emerging private community keeps a full selection of premium clubs – including PXG, Scotty Cameron and virtually every major brand in all categories – on the practice range for members to test or take on course as wanted.
"We don't carry stock anything, nor to do we have an inventory of hard goods to sell. We're unique," says Patrick Clary, Kohanaiki's PGA Head Professional. "We contact all the major brands, including PXG, and have them send the latest and greatest as soon as it's available – from drivers to putters. We put those on the range for the members to use. I can't tell you how many times people have walked up after hitting something on the range and said 'This is now mine, bill my account.' From there, we can enhance that experience by offering to get the club custom fit for them."
Honma, the Japanese equipment company known for its beautifully forged irons, is also making a considerable push in the U.S. high-end market. Earlier this year, Sean McDermott, PGA Director of Golf at Admiral's Cove in Jupiter, Florida, attended a Honma-exclusive demo event at the nearby Old Marsh Golf Club with several of his members.
One of his most "frugal" members ended up purchasing the company's top-end driver, which comes with a price tag of about $900. "I was shocked, to be honest with you," says McDermott. "When I was asked to order it for him, my first response was 'Did he see the price?' He said these exact words to me: 'Sean, play golf five days a week for at least eight months out of the year. If this driver gives me those kind of results and performs this way for each of those rounds, and I'm in that many more fairways because of it…its more than worth the price.'"