The famed Casa de Campo resort is constructing a new practice range with "teeth," while Hawaii's top resorts offer practice with a view
BY: ART STRICKLIN AND SCOTT KRAMER
With the golf season starting to wind down in much of the mainland, we thought we'd give you a look at a few island paradises where golfers can practice year round. While you might not share their climates, there are some shareable business practices that you may benefit from.
Teeth of the Dog has long been considered the top golf course in the Caribbean, and with help from it's original designer, Pete Dye, they are building a top-notch practice space to accompany the acclaimed course. Hawaii's Big Island offers myriad golf options, both for practice and for play. We'll take a look at some of the island's top practice locales, in terms of conditions and scenery.
Caribbean's top resort just got better
Casa de Campo Resort, which features the Pete Dye masterpiece, Teeth of the Dog, is the 43rd best course in the world as ranked by Golf Magazine. It has enjoyed countless awards and accolades along the way, but resting on those considerable laurels is not an option. "If you're not always moving forward somebody is going to run you over," says Gilles Gagnon, the facility's PGA director of golf. With the construction of a new multi-million dollar practice ground and learning center, it's clear that nobody is going to run over the region's best course anytime soon. Especially now that it has the newest and biggest practice facility.
Countless numbers of golfers have made the journey over the years to play Teeth of the Dog, named for the jagged rocks along the Atlantic Ocean shoreline and the fact that it can bite you at any moment. Gagnon has noticed throughout the years that players were thrilled by the challenge of the course, soothed by the 200-plus luxury rooms at the adjacent resort hotel and captivated by the variety of non-golf activities. But if they wanted to practice their game while at the resort or get ready for the "Dyeabolical" challenges, they were pretty much out of luck. "Our old range simply wasn't long enough," he explains. "We had people hitting balls into the houses, which wasn't good at all. We were awarded the Latin American Amateur Championship and we were a stop on the Latin American PGA Tour and it was clear we had to do something."
After consultation with the resort's corporate owners and relying on his years of golf course experience – which includes a stop at the Crenshaw & Coore designed Sand Hills Golf Club in Mullen, Nebraska – Gagnon went to work making sure the Caribbean's best course would have the island's best practice facility.
Dye, at age 90, was asked to be the architect for the new facilities. He happily returned to the seaside layout that rocketed him from a fairly unknown Indiana architect to a worldwide success story.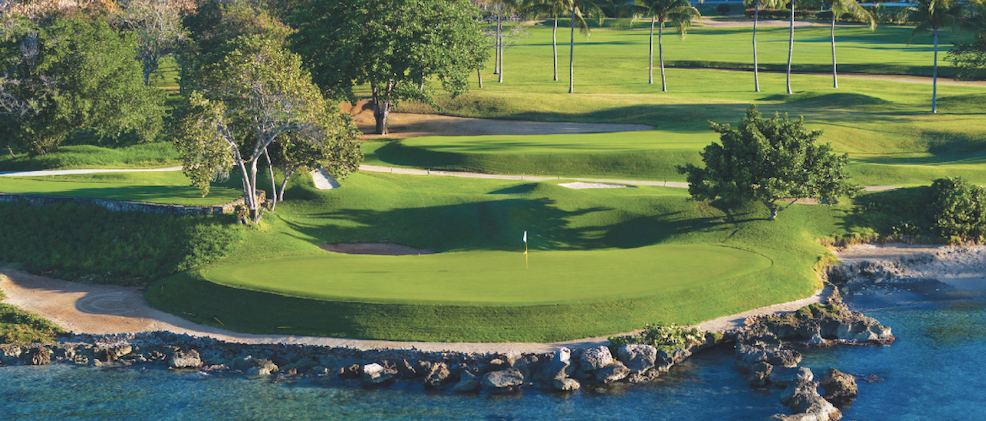 Working with a 23-acre plot of land, construction got underway in May of 2015 for a new 390- yard double-ended range with dozens of stations on both sides. In addition, they added a large putting green along with a series of practice bunkers to highlight all manner of shots a player can face during their rounds. To match the salty and often sea-splashed conditions, the tees and greens were planted with saltwater tolerant paspalum grass with the practice fairways Bermuda.
"It's just a great, great improvement," the longtime PGA Professional says. "We always try to improve the experience and this is another great way to do it." The tentatively named Casa de Campo Golf Academy and Learning Center also features a covered conference room, training center and a snack area with views of the ever-churning Atlantic Ocean. There is also a dedicated place for the fast growing junior program.
The resort added 200 new golf cars as part of the expanded practice area, reaching a total price tag of $2 million dollars. Gagnon says with the improvements to old favorites, they found some interesting trends in course play.
The majority, 60 percent of the rounds at Casa De Campo, come from the resort's approximately 2,000 homeowners who have purchased a membership for the three courses and are the steadiest customers. The next largest group is resort guests, which venture mainly from the United States and North America. The third smaller group is locals who come from all over the island. Now with the new practice area, the Casa de Campo staff can accommodate all segments of play. "Sometimes you just don't have the time to play 18 holes, but you do have the time to practice. You don't need 4-5 hours to practice, you just need one and that's the key here," says Gagnon. "You have everything you need from alignment sticks to target areas to a chipping and putting areas and a multilingual staff which can attend to every need."
Laid Back in Hawaii
Hawaii's Kohala Coast along the west side of the Big Island is home to a string of America's top upscale resorts and golf courses. It's undoubtedly a golfer's paradise where visitors can expect the luxe on-course experience to bleed right into the adjacent practice facilities.
A surprising portion of the island's perpetual 25,000 tourists and 180,000 residents use these practice ranges to hone their game. The Pacificside views, pristine turf conditions and "Kama'aina" rates for locals are staple draws for these properties. Beyond that, while the ranges don't proactively try gaining an edge on one another, they each offer something unique.
The renowned, semi-private Mauna Kea Golf Course celebrated its 50th anniversary this year. The Robert Trent Jones, Sr. design is popular with tourists and locals, alike. Jones also sculpted the pristine, 240-yard-deep, 15-hitting-station range that exclusively uses limited-flight balls. An adjacent chipping and putting green is blemish-free and undulates, to prepare golfers for the course's greens that Rees Jones modified in 2008. "We have limited space," says the resort's PGA Head Professional Duane Otte. "Because our membership is usually here from December through March – and it gets enough usage then – we don't want to beat up the tee. So we don't promote any programs to get people in to hit." Like a Hawaiian setting sun, expansions are on the horizon, however. The tee is getting widened by five bays to ease the current turf turbulence.
Sister facility Hapuna Golf Coursehas its own practice facilities. "Hapuna is a better facility to practice at because the bunkers are better," says Otte. "Locals show up mostly from nearby Waimea, to use that range for $12 an hour – but no one typically practices for more than an hour." The hourly rates keep traffic steady, but to a minimum in order to preserve turf conditions for the traveling and member seasons.
Seven miles south lies Mauna Lani's two Francis H. I'i Browncourses, and its double-sided practice facility – one of the island's largest. It includes a massive putting and chipping green and par-3 Keiki course. Homeowners within the resort grounds receive discounts, which boosts business to a 50- 50 mix among tourists and locals. Families tend to play the Keiki together. "When guests see our big putting green and find out they can chip to it, they wind up staying for a couple of hours," says J.D. Brewer, the facility's assistant professional. "A lot of locals come up from Kona to hit buckets — many are used to hitting off mats, so they come here for our grass tees. And on clear days, you can see mountains and even whales. People frequently come just to practice — it's such a nice facility with great views."
A golf academy at the back end is typically reserved for individual and small group lessons, although they've started hosting clinics, as well. "We just had David Leadbetter here doing one, and Gary Player," describes Brewer. "A lot of visitors here only play golf when they're in Hawaii, so we teach a lot of basics, groups and couples lessons. Or people trying to get their kids into golf."
Five minutes south is Waikoloa Beach Resort and its 14-acre range that hosts the Bob May Golf Academy every July. It's May's only location outside Las Vegas. Last year's PGA Championship returning to Valhalla, where May lost a 2000 playoff to Tiger Woods, "created a lot of awareness of the academy being here," says Kevin Ginoza, PGA head professional. Eighty percent of the range's traffic is attributed to travelers. Which is understandable, as the resort includes two hotels plus many timeshares. The range's back end is used frequently for private functions and events. Last year, it was the four-week home to a 20-player Japan LPGA mini-tour camp. Just 10 minutes further south is the Hualalai Golf Course, which annually hosts a Champions Tour event. Its nine-acre, 45-bay, 315-yard-deep practice facility offers an all-you-can-hit day, replete with free use of late-model TaylorMade clubs, Pro V1 practice balls, and free cold beverages. "We also have chairs to relax in and an awning over some couches, so you can take a break and enjoy the ocean view," says PGA Professional Jake Belveal. "It's the feel we're going for."