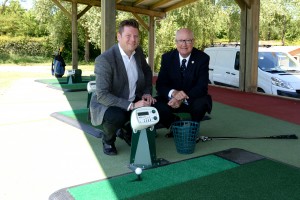 Power Tee®, the World Leader in Golf Range Automation, proudly announces it has added another prestigious practice facility to its long list of installations. This stunning site marks the fourth Ryder Cup venue that Power Tee has automated and is the future European Home to the 2018 Ryder Cup – Le Golf National.
According to Sales Director for Power Tee Matt Foley, "Power Tee differentiates a facility with its first-rate appearance, quality, functionality and ease of use. It is not surprising another world class facility and future Ryder Cup venue like Le Golf National chose Power Tee."
The future Ryder Cup venue Le Golf National is located in the outskirts of Versailles just outside of Paris, France. It features the championship L'Albatros Golf Course, one of Europe's finest golf courses, which will be challenged by both the 2018 American and European Ryder Cup teams. The world-class driving range highlights its Power Tee installation.
The automated Power Tee system not only transforms a driving range into a first-class facility, it helps golfers get better and quicker. This is credited to the lack of interruptions between swings which simplifies the practice process. There is no re-gripping, bending over, or realignment, golfers just swing away receiving immediate feedback. In addition, golfers hit more balls which increases muscle memory and most importantly, hitting off a Power Tee system is fun.
This point in case was exemplified when the President of the French Golf Federation (ffgolf) Jean-Lou Charon told Foley that when the ffgolf board met after the installation they all went down to use the Power Tees and to a man they all enjoyed hitting balls. "Golf can be fun, should be fun and should be for everyone," Charon exclaimed.
"Le Golf National, the future home of the Ryder Cup, wanted to attract new clients to the driving range and having experienced Power Tee before, I knew what it brings, but I have to say that the results are astounding!" said Paul Armitage, the Director of Le Golf National. Customer Service Manager Philippe Pilato added, "Having worked here for 20-years I have not seen the range so busy."
In addition to the future Ryder Cup venue Le Golf National installation, the automated Power Tee systems have been installed at three other Ryder Cup venues, the Belfry in Sutton Coldfield, England, and Celtic Manor in the Resort City of Newport, Wales and Wentworth Club in Surrey, London, England. Each of these world re-known facilities boast the best of the best amenities which includes the Power Tee automated system.
The Power Tee automated teeing system elevates any and all practice facilities as it combines the finest synthetic hitting mats which prevent jarring with a teeing system with multiple tee heights which not only improves a golfer's swing but transforms an ordinary driving range into an extraordinary driving range.
About Power Tee, the Automatic Choice:
Power Tee was founded by company CEO Martin Wyeth in 1996 to design, develop and promote automatic teeing. There are hundreds of Power Tee systems in 15 different countries in operation. And as of today, Wyeth's vision is a reality with more than 6,000,000 balls teed up daily with a Power Tee automated system.
Power Tee is found at some of the best practice facilities in the world such as St Andrews, the Belfry, Wentworth Club and the superb Dromoland Castle in Ireland. This is in addition to over 300 quality driving ranges around the UK, Europe and now in the USA.
The Power Tee automated teeing system is especially popular with juniors, ladies, seniors and beginners, Power Tee is an excellent way to attract new players to the game, and keep them in it. The Power Tee has been proven to increase ball sales where correctly implemented, and is the most powerful improvement one can add to a range.
Power Tee's phenomenal success is a result of its deep seated commitment to quality and service combined with the fact that golfers love Power Tee, they hit more balls per hour while on the range, and are willing to travel further and pay more for the privilege to use Power Tee.
Key Facts on Power Tee:
• NO upfront capital cost
• Installed in over 300 ranges
• Operates in 15 countries
• Tees up more than 6,000,000 balls per day
• Benefits to golfer:
o improve swing
o building confidence
o maintaining stance
o developing rhythm
o muscle memory
o swing grooving
Awards & Accreditations:
• Queen's Award for Enterprise: Innovation – 2009
• Wiltshire Business of the Year for Industrial Design & Engineering. Judged by James Dyson, founder & CEO of Dyson Limited and inventor of the world's leading vacuum cleaner
• Official Supplier to PGA of UK and Europe
• Preferred Supplier of the Organization of Golf and Range Operators (OGRO), UK
• Preferred Vendor of the Golf Range Association of America (GRAA), USA
• Business Partner of the European Golf Course Owners Association (EGCOA), EUROPE
Contact:
Vanessa M. Price, Read the Greens, GOLF MEDIA
Readthegreens@aol.com, (714) 544-6515
Tracy Nackel, Read the Greens, GOLF MEDIA
Tnackel@cox.net, (760) 420-1602