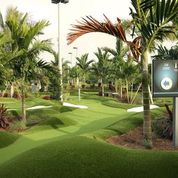 By Vinnie Manginelli, PGA
Fresh off the success of its first location in Port St. Lucie, Florida, PopStroke recently opened a second location across the state in Fort Myers. Log on to the PopStroke website or download the mobile app and you'll see Tiger Woods talking about creating memories with his dad while enjoying putting contests at the local course as a kid. PopStroke is all about that message and much, much more. The golf entertainment venue has joined several other brands, like Topgolf and Drive Shack, in growing the traditional game of golf in very untraditional ways.
Each PopStroke location has two putting courses – the Cub Course, designed for beginners, and the Tiger Course, geared towards more experienced players. "It's less intimidating than a traditional golf course, which is one of the reasons that Tiger loves the concept so much," says founder and co-owner, Greg Bartoli. Bartoli and Woods joined forces in late 2019 to create an experience that you won't find anywhere else. With the exception of the Port St. Lucie location that has been open since April 2019, all PopStroke putting courses will be designed by Woods and his award-winning team at TGR Design.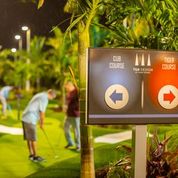 "I moved down to Florida in 2013 and started some golf entertainment businesses and realized there was an opportunity on the putting side to bring in a new dynamic experience, with cutting edge technology and real putting courses, as opposed to more traditional mini-golf," Bartoli explained. "We integrated that with the PopStroke app and have technology throughout the facility," he added. "I live in Jupiter, Florida, and have known [Tiger's] team for quite some time. We started the conversation [about collaborating] in the middle of last year. They expressed an interest in it and I was certainly interested in having them on board as a partner."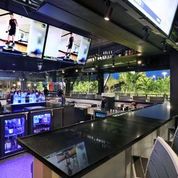 Reservations are not required to enjoy the full PopStroke experience. 18-holes take about an hour, and the rest of your time can be spent eating off their full menu or enjoying a beverage with friends while watching live sports on the flatscreen TV's spread throughout the facility. A jumbotron screen is a highlight, as it shows the daily leaderboard for those who look to get their competitive putting juices flowing. There are craft beers available and 24 flavors of ice cream as well.
"As a partner in PopStroke, I am excited to use golf, and specifically putting, to bring families and friends together. From competitive putting tournaments to kids playing on the playground, PopStroke really does offer something for all ages," Tiger Woods said in a press release issued on August 25, 2020.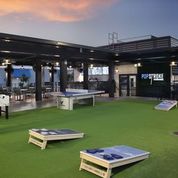 Technology is a significant aspect of the PopStroke experience. With everything integrated through the PopStroke mobile app, you can pay your bill, order food and beverage, and keep track of your score.  When on the course, golfers can even order drinks to be delivered to the very hole they're playing at the time.
The courses are lit for night play, adding to the unique experience and also enabling Bartoli to focus on a different demographic depending upon the time of day. "PopStroke is really introducing people to the game of golf. It's a real putting experience – you have to read the greens and understand green speeds and breaks. All while having drinks, being outdoors, and listening to music," he says.
The greens are constructed of a sand-based synthetic turf that rolls like the real thing, measuring at a green speed of an 11 or so. "It rolls and acts and looks exactly like a real putting green," Bartoli says. "It's much less intimidating – and that was a key element that excites us about the business model. It really is a way of introducing a much broader base of people to the game of golf."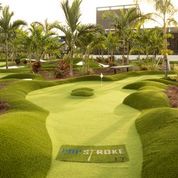 When asked about expansion, Bartoli said, "We're following the trends and population growth, where people are migrating, and even the weather. Right now, we're looking at warmer weather climates, but there will be an opportunity to go into the cold-weather markets on the second prototype." In fact, Scottsdale, Arizona is the next location, due to open in 2021. "The landscaping and the elements will be different," Bartoli highlighted. "Every single course will take on the design and landscaping elements of the native area that we're in."

Whether you're a serious golfer or there for the milkshakes, PopStroke is an experience that you've got to see to believe. From the putting to the parties to the playgrounds, it's fun for all, and another example of the traditional game embracing the 21st century.
For more information on PopStroke, log on to its website at www.PopStroke.com.