Players on the PGA Tour are incredibly precise with their equipment. What it looks like at address, what it feels like at impact, how the ball launches and how the ball moves in the air – all these elements, and more, factor in when they make an equipment change.
Recently, Golf Range Magazine caught up with the PGA Tour's Steven Bowditch and Sean O'Hair on the range at Lake of Isles resort in North Stonington, Connecticut, as they helped introduce the new M1 driver from TaylorMade. They candidly shared what they look for when testing new equipment and getting fit for a driver.
The two golfers have starkly different approaches. Bowditch is all about the numbers. He utilizes TrackMan extensively to measure launch angle, spin rates and ball speed. At one point during the presentation, Bowditch struck a 5-iron and then turned to say "I usually like to hit my 5-irons right around 5,100 RPMs of spin." When the launch monitor numbers popped up, the spin rate was 5,090 RPMs. "I'm a little off today," he quipped. On the other end of the spectrum, O'Hair is all about feel. He doesn't pay any attention to the numbers on the launch monitor – strictly ball flight, shot shape and how the equipment effects his miss-hits.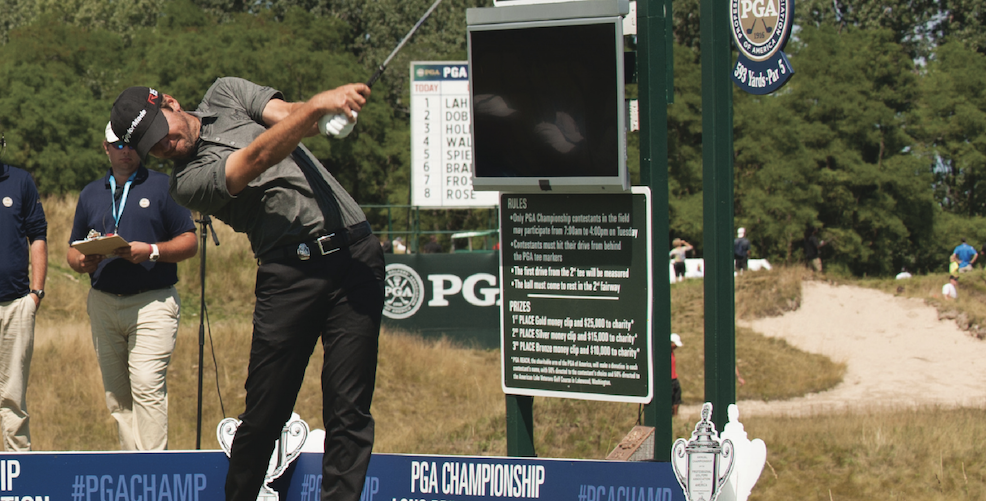 Sean O'Hair
4-Time PGA Tour Winner Over $19 million in career earnings
"When I'm testing equipment, I'm more of a ball flight guy. You always hear about numbers this and numbers that, launch, spin, that means nothing to me. The first thing I look at is how the ball is taking off and where it's launching. The second thing with the driver, if I have any tendency at all, it's to hit it just slightly on the toe. With how large they're making the driver heads today, if you hit it slightly off the toe it wants to go left. (I want something where) you could move the weight out to the toe and it could help prevent that quick snap to the left. That's really what I look for in a driver: the launch being mid-flight, and where's my miss going to be and is it going to be controllable."
Steven Bowditch
2-Time PGA Tour Winner 2015 President's Cup International Team Member
"From an optimal standpoint, I like to be down lower with a launch angle around 9.5 to 10 degrees, and a spin rate of 2,100-2,200 RPMs. The reason for that, when I'm testing or getting fit here on the range, my swing speed is about two or three mph slower than it is during tournament play. So if I can get the launch down a little more with testing and when I'm on the range, when I get out there on the golf course it's going to launch a little bit higher because my speed is going up and my spin will go up slightly. I'm a big numbers guy for that fact."