How award-winning golf professionals are preparing for this month's PGA Merchandise Show
With more than 1,000 vendors occupying 10 miles of aisle space, various educational offerings and networking opportunities around every corner, attending the PGA Merchandise Show can feel like a massive undertaking. Your preparation should begin well before you step foot in Orlando, Florida the week of January 24-27. In order to help you tackle this month's PGA Merchandise Show, we reached out to 2016 GRAA Award Winners and asked them how they are prepping for the Major of Golf Business.
Make the Most of Demo Day
T he PGA Show Outdoor Demo Day is the largest outdoor golf demo experience in the world. Orange County National Golf Center features a 360-degree range and practice facility that stretches more than 42-acres. The event annually attracts more than 100 of the leading golf companies and thousands of PGA Professionals from around the world. Beyond testing equipment, take note of how the event is operated and the different strategies the various manufacturers use to attract a crowd. There may be an idea that you can implement at the next demo event hosted by your home facility.
Michelle Holmes, Director of Instruction, Michelle Holmes School of Golf, Chesapeake, Virginia, 2016 GRAA Top 50 Growth of the Game Teacher
"As golf professionals we have a profound love for playing the game and being around it. I know many of my peers, myself included, spend hours at Demo Day trying vendor after vendor, comparing new clubs and different brands. We become the proverbial 'kid in a candy store.' Many of the golfers I work with at my facility share that same kind of passion for golf. So attending the PGA Show Demo Day made me want to give them that same 'kid in a candy store' type of experience. To help boost range traffic and encourage an exciting and open demo experience at our facility, we now have our demo clubs and fitting systems available at the practice range for customers to try with easy access. It's a simple gesture, but one that's really appreciated by golfers."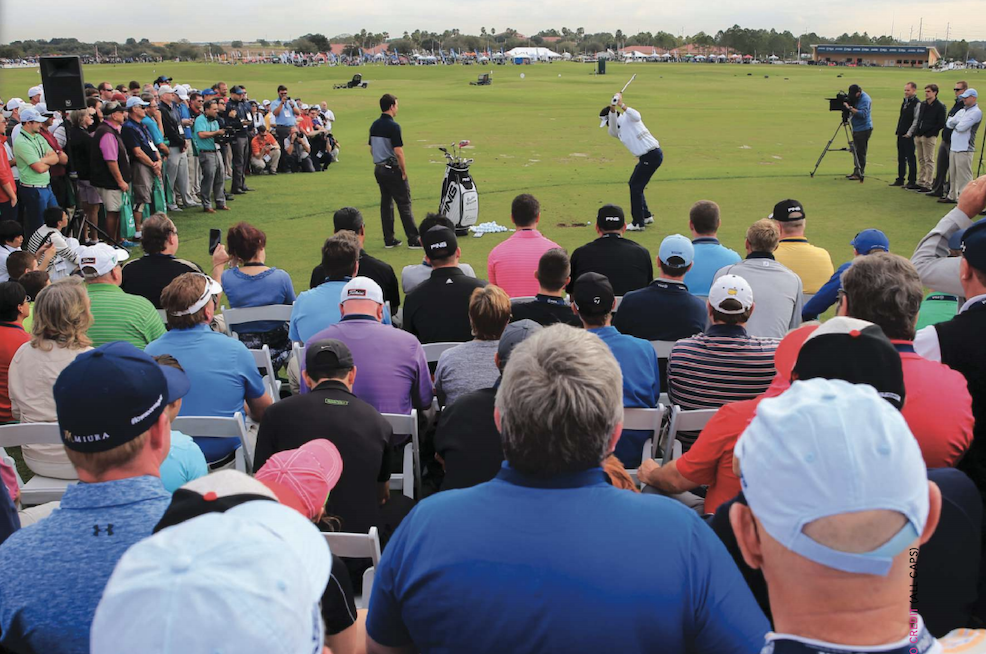 Ira McGraw, PGA General Manager, Cedar Crest Golf Course, Dallas, Texas, 2016 GRAA Top 50 Public Range
"PGA Show Demo Day is like a practice range on steroids! One thing that I think I'm constantly reminded of at Demo Day is to not be afraid of thinking outside the box. I've seen vendor booths with hummers, a tank, models, bar service, athletes, celebrities, hall of famers, buffet service, product give aways and plenty more. The overwhelming theme I think is to make the practice facility a place that your customers want to be, where they feel comfortable, where they can relax, have fun and hit a few golf balls while they're at it. This type of thinking has steadily increased our range business consistently year after year."
Jim Smith Jr.,PGA General Manager, Philadelphia Cricket Club Flourtown, Pennsylvania, 2016 GRAA Top 50 Private Ranges
"Demo Day is not just a chance to see the latest and greatest in golf equipment, but also a chance to talk with the people who spend their lives on the range. Many of the manufacturers' reps and demo technicians are constantly on the road setting up experiential demo sessions for the brands they represent. They have a wealth of knowledge. Try to ask them specific questions regarding demo days. What unique things have they seen that worked well? What new technologies can make the practice facility experience better? It's talking to the reps and techs that allow us to tap into 'best practices' and hopefully borrow a few ideas we can incorporate at The Cricket Club."
Top Instructor Provides Tips on Getting the Most Out of Your Trip to Orlando
Chuck Evans has been a respected name in golf instruction over the last 40-plus years. He has spoken at 39 of the 41 PGA Sections on the evolution of teaching and learning golf; is one of only 31 Teachers in the world tohold the designation of "Doctorate in Golf Stroke Engineering;" is on the Education Committee for Golf MagazineÕs Top 100 Teachers; and his students have had success at every level from junior golf to the professional tours. Drawing from a plethora of knowledge and experience, Evans shares his insights on how to prepare for the PGA Merchandise Show and get the most out of your time in Orlando. "During the months leading up to the PGA Show, I start the planning process and appointment setting for specific vendors and workshops. My staff and I research the latest hard good introductions and work on scheduling meetings with various brands in order to build on relationships with our existing partners and create opportunities for new potential sponsors.
"Whether you have an established brand as an instructor, like myself or current PGA Teacher of the Year Mike Adams, or you're just starting to build your stable of students, be prepared to show your value to every vendor and potential partner you meet with. Highlight things like the number of lessons you give annually, marquee accomplishments of your students and details of how your teaching business and your influence have grown over the last year.
"I am fortunate to have relationships with FlightScope, MySwing 3D Motion Capture and Medicus/KickX. The PGA Show is a time and space for me to solidify those partnerships and build on new ones. As it relates to the business of teaching, that's one of the most important elements of planning for the PGA Show: scheduling meetings with both new potential partners and existing ones.
"Another equally important action that needs to take place prior to the Show is scheduling the educational seminars you want to attend. Some years I am conducting teaching workshops and others I'm attending someone else's. This year I'm excited to attend the PGA Teaching & Coaching Summit prior to the start of the Show (Jan. 22-23) and learn from peers like Adams, Cameron McCormick and Henry Brunton.
"You know, during the Show, everyone gathers with groups or individuals and talks about what they are doing to increase customer satisfaction, rounds, revenue generation and getting more juniors involved in the sport. With so much focus on teaching technology today, some forget that we are in the people business. The PGA Show is a great reminder of that. I encourage you to take as much time as possible to share openly with your peers.
"Each year, after the show, I hopefully have seen at least one product that will add revenue and value to our programs. However, the opportunity to brainstorm with my peers on various golf-related topics has proven just as valuable over the years."
10 THINGS to Accomplish Before You Leave Orlando
Working with the 2016 GRAA Award Winners, we've compiled this list of "10 Things to Accomplish Before You Leave Orlando." Prior to arriving onsite, we encourage you to devise your own list of things you'd like to accomplish by the end of PGA Show week. Our list is a great place to start. As the week progresses, check off each of the items.
Learn the latest industry trends in equipment, apparel and technology.
2. Designate at least one event per day as a specific networking opportunity.
3. Identify at least three ideas/products you can integrate into your operation and improve it.
4. Spend quality time with the staff members you're traveling with. Schedule space for fun team-building experiences.
5. If you're an instructor, find at least one training aid that matches your teaching method.
6. Establish new relationships with golf professionals who have similar jobs (instructor, head professional, owner, GM, etc.).
7. Validate your teaching methods and business strategies by sharing your concepts with peers.
8. Identify vendors as potential sponsors of special events/programs you host at your facility.
9. Place multiple orders to take advantage of special PGA Show pricing.
10. Play golf!