The PGA Show Demo Day, held annually during PGA Merchandise Show Week in Orlando, Florida, is the largest outdoor golf demo experience in the world. The PGA of America couldn't ask for a better location. Orange County National Golf Center features a 360-degree range and practice facility that stretches more than 42-acres. The event, operated by PGA Worldwide Golf Exhibitions in conjunction with PGA Magazine, annually attracts more than 100 of the leading golf companies. Thousands of PGA Professionals from around the world gather to test the latest and greatest in golf equipment, accessories, training aids and more. Education is also an important part of the day, as PGA Teachers of the Year are featured presenters at Instructional Workshops where they showcase their latest learnings to an engaged audience of their peers. PGA Worldwide also executes the PGA Outdoor Demo Experience coinciding with the annual PGA Fashion & Demo Experience in Las Vegas. For the last three years, Cascata Golf Club has hosted the Demo Experience.
Whether hosting a large-scale demo experience like these or an exclusive private club demo day, PGA Worldwide's Elizabeth Reed says the foundational strategies are the same. "Preparation prevents poor performance, you can never plan too much. But you still have to execute flawlessly," says Reed, PGA Worldwide Golf Exhibitions senior director of industry development. "From the outset, you have to build an event pedigree. Spend time developing an event platform that delivers on your desired brand experience while also staying on budget and on time. Throughout the entire process, you have to maintain a laser sharp focus on the customer."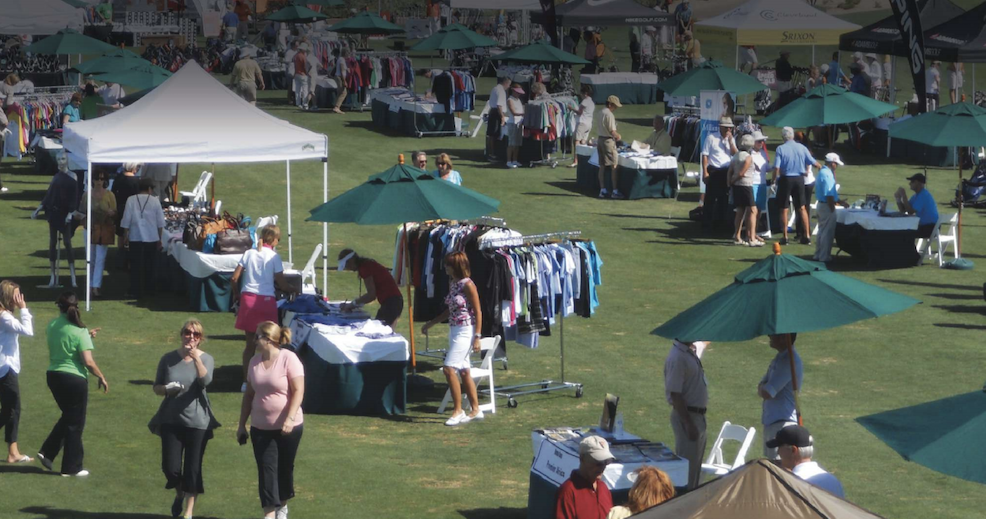 Mark Thush, the 2016 PGA Merchandiser of the Year for private facilities, serves as the PGA director of retail at Desert Mountain Club in Scottsdale, Arizona – one of the most renowned private clubs in the area with over 4,000 members and five golf shops. Under Thush's guidance, Desert Mountain has created new course-specific logos for each shop and expanded the club's demo experiences. Known as the Desert Mountain Golf Festival, the demo events are held twice annually in conjunction with the club's two largest member tournaments, adding apparel, gift and accessory vendors for a total of 80 brands represented. Thush believes that the success of Desert Mountain's demo events may have played a role in his winning the Merchandiser of the Year Award. "We've created a really meaningful day that captures the attention of our membership and becomes a 'save-the-date' must-attend event," says Thush. "I wouldn't be surprised if the awards committee was impressed by the amount of planning and hard work that goes into putting on a successful event of this magnitude. After each event, I know I'm always impressed that our team makes it happen so seamlessly!"
For the last 41 years, Haggin Oaks Golf Complex has hosted the annual Haggin Oaks Golf Expo, the first of which was a simple sidewalk sale done to generate extra cash flow to help offset the cost of taxes after the facility had a lucrative year. From those humble beginnings it has now grown into a massive demo experience with upwards of 190 vendors and nearly 25,000 attendees over a three-day span. Over the years, the event has taken on many different forms. In it's current format, it's more akin to the PGA Merchandise Show than a standard demo day. In 2000 the facility expanded the Expo to include outside vendors in the golf-lifestyle category, including other golf courses, and began charging them for booth space. The life-style companies currently comprise two-thirds of the vendors that attend the annual event. While that opened up a vast new revenue stream, it caused Haggin Oaks to pivot how they operate, market and view the Golf Expo. "We're very much in the trade show business, we're generating well over $100,000 in booth space sales annually now," says Haggin Oaks' Vice President of Retail & Marketing, Ken Morton Jr., who is also an advisory board member for PGA Worldwide Golf Exhibitions – operator of the PGA Merchandise Show. "We have an alliance to our facility to generate sales, but just as much responsibility to maximize traffic for all those booths out there." The sale of booth space allowed Haggin Oaks to expand the advertising budget for the Expo, as well – creating ad programs with the Sacramento Bee, running TV and radio ads, and working with the local ESPN radio affiliate to host live radio shows from the Expo grounds all three days of the event. Furthermore, they developed a website dedicated solely to the Haggin Oaks Golf Expo where attendees can find a list of vendors, a map of the property and more.
The Annual Spring Demo Day & Fitting Experience at Carlsbad Golf Center is one of the most well-attended and respected demo events in the Carlsbad area. That's saying a lot, considering the oceanfront town is also home to many of the major golf equipment manufacturers. That also places them in a very unique position, as facility owner and PGA Professional Susan Roll has been able to forge strong relationships with all of the manufacturers over the 14 years she's operated the facility. "We're very proud of the strong relationship we have with the manufacturers, and they truly view us as a partner because we've done a lot business with them," says Roll, the 2011 PGA Merchandiser of the Year for public facilities. "This event has been a way for us help them showcase their new products, while also showcasing our facility and everything we offer."
In the early days, fitting was less of a focus but that quickly changed. Now Roll places a high emphasis on clubfitting by scheduling fittings in advance for all the manufacturers. "The attendees know that they can get special attention from the reps from their favorite golf equipment brand and a great fitting," says Roll. "We get people coming from hundreds of miles away because they can try everything, but once they realize our fitting expertise and see what we offer they become long-term customers." In addition to hard goods, various golf products and clubfittings, they also bring in a food trucks so golfers can fuel up while they test out some of the latest golf gear. For the last three years the most popular has been a pizza truck, serving pies made with organic ingredients. Roll credits the staff at Carlsbad Golf Center, which is a GRAA Top 50 Stand Alone Facility, for dedicating hours upon hours to the success of their event. The event is "by far" their most important retail stretch of the year, with more than 1,300 people attending over two days and 30 vendors.
The midnight sun is perhaps one of the coolest phenomenons offered by Mother Nature. The sun remains visible well into the night, for 22-plus hours in fact. It occurs around the summer solstice in locations north of the Arctic Circle, like Anchorage, Alaska. To take advantage of the longest day of the year, Anchorage Golf Course hosted a 24-hour demo and clubfitting event in 2011 in partnership with Callaway Golf. While Jeri Cunningham, the facility's director of golf operations, says it was a one-time event there are certainly elements that made the event a success which can be implemented within more traditional demo days.
"Callaway has always been a great partner of ours, so we challenged them to come to Alaska to take part in this event. They jumped on board immediately and loved the idea," says Cunningham.
Callaway brought multiple fitting techs, and Cunningham worked in advance to schedule fittings – at one station they scheduled fittings every half hour, and every hour on the other one. By the time the event rolled around, every slot for a 24-hour period was filled – with midnight being the most popular timeslot. "It's not too often that you can be on the driving range under the midnight sun," says Cunningham. "People loved that unique opportunity." There were also two fitting bays dedicated to walk-ins who just wanted to try to the latest Callaway equipment or have an impromptu fitting. Cunningham's staff and the team from Callaway made it through the entire 24 hours, with only a couple people opting to get a few hours of sleep along the way. They had over 150 scheduled golfers attend and countless other walk-ins, accounting for more than $60,000 in equipment sales in just the one day. They didn't serve coffee, but they did keep the beer flowing and the music pumping. "It was a 24-hour party as much as it was a fitting day," adds Cunningham.