Mike Bender, the 2009 PGA Teacher of the Year and a four-time North Florida PGA Section Teacher of the Year, is the PGA director of instruction at the Mike Bender Golf Academy in Lake Mary, Florida.

Charles Vandenberg (white shirt), the only five-time winner of the Michigan PGA Section Teacher of the Year Award, is the PGA director of instruction at Thousand Oaks Golf Academy in Grand Rapids, Michigan.
You can create a true win-win situation by hosting golf schools with outside instructors at your home facility. The win for your students is enjoying personal access to a nationally known instructor based in another part of the country without having to spend extra time or money on travel. Meanwhile, the win for you and your facility is both financial and personal – these golf schools can bring in thousands of dollars in revenue over just a few days, while you have a chance to build stronger relationships with the students who participate. It's a unique, immersive experience to offer your students, and it's a lot of fun – and lucrative – as an instructor to teach alongside one of your peers.

Setting Up Your School
We run our golf schools as three consecutive half-days, with one group taking four-hour sessions in the mornings and a different group of students taking four-hour sessions in the afternoon. That means each student is getting 12 hours of instruction over three days, without getting worn down by spending full days on the range hitting balls. And if you have eight students in each session, you can accommodate 16 students. For Charley's schools at Thousand Oaks, we keep it to six students per session so we can give even more attention to each golfer.
We start each school with an introductory session that includes asking each student what they hope to get out of the experience. That allows us to tailor the instruction to each golfer, making the school very personal even though it's a group dynamic. We then break our sessions into two parts each day, always with a full swing component paired with a short game session. For example, we might spend 90 minutes on driving the ball, then go to the practice green to work on putting. On the last day, we go out on the golf course to talk about game management. Over the three days of the golf schools, we'll hit every aspect of golf instruction, and we'll use plenty of teaching and training aids along the way each day of the golf school.
Each student receives an instructional notebook, video of their swings before and after we work with them, and a summary of what they need to work on in future lessons with the host instructor. You can also provide lunch for the students each day, or earmark some money to provide them with a training aid for them to take home.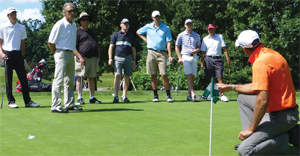 When Two Heads Are Better Than One
Our golf school teaching style is a blend of working together and separately as instructors. We've known each other for several years and run many schools together, so we have a good rapport and feel for how much time to spend with each student. The first time you have a guest instructor at your facility, you might spend more time watching and learning from them – many instructors will also invite their assistants to observe the golf schools, as it's a great learning experience for them. Like any group lesson, the key is making sure that each student gets personal attention. We'll get each player working on something, then move on knowing that the other instructor will be along soon to keep the momentum going.
Pricing for these schools varies from $800 to $1,200 per student, which is set by the home facility – you can set the price and the number of students based on what your goals are. At Thousand Oaks, we keep our golf schools to six students per session to give them the chance to immerse themselves in golf lessons for three days with a pair of instructors. But if you want to charge more, you can bring in thousands of dollars in profit each of the three days. As the guest instructor, Mike charges a flat fee that includes travel costs, allowing the host facility to set the price of the golf schools as they see fit.
Group lessons are always cheaper for the individual student, and more lucrative for the instructors. From the students' perspective, these schools are a great value. Each student is basically paying less than $100 per hour of instruction during one of our golf schools for a very intimate group lesson, which is much less than they'd pay to travel to a golf school in another part of the country. Plus, they know they will be able to continue working with the home professional, instead traveling to a golf school with an instructor they may never see again. We've been hosting these schools at Thousand Oaks for more than 20 years now, and there's a waiting list for them each year.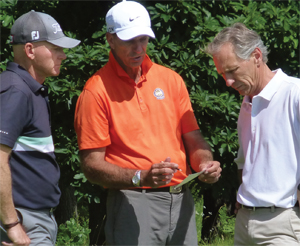 Choosing a Guest Instructor
If you're thinking of hosting a golf school with a guest instructor, look for someone who has a teaching philosophy that meshes with your own. It may seem like a fun idea to bring in someone with a contrary approach, but that can serve to confuse your students and lead to problems following up with ongoing instruction. We like to think of ourselves as two doctors who give the same diagnosis to each patient, but might choose a slightly different treatment. One of us might think of a drill or swing thought that resonates better with a student, but we're both trying to accomplish the same thing with a similar teaching approach.