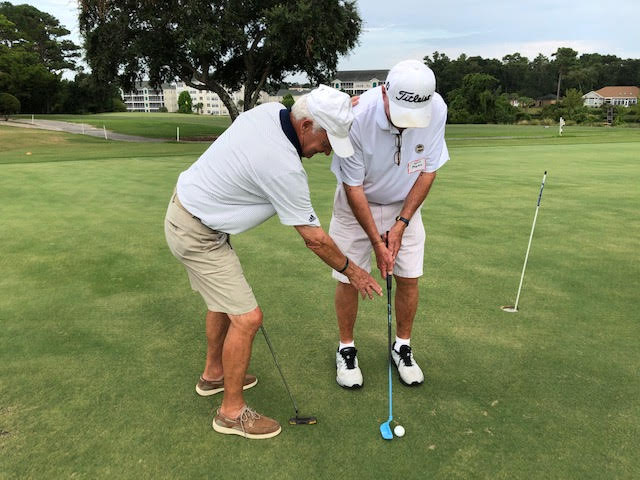 By Vinnie Manginelli, PGA
Gary Schaal is a Past President of the PGA of America. Having served his tenure from 1993-1994, Schaal was the first PGA President to come out of the Carolinas PGA Section and was that section's Golf Professional of the Year in 1985. He remains busy growing the game of golf in the Myrtle Beach area and is working with veterans through PGA HOPE (Helping Our Patriots Everywhere) and a non-profit organization called Project Golf.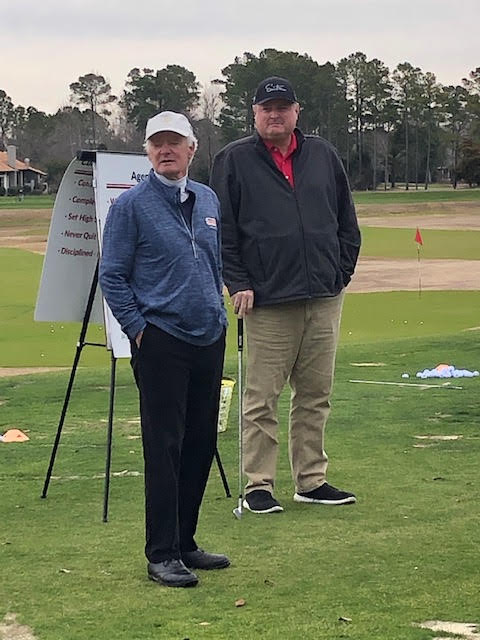 Schaal currently serves as the Executive Director of Project Golf, a group that remains focused on bringing the game to the youth of the community and enhancing the lives of local veterans through the game.
Jenna Hottel is the Director of Marketing for Golf Tourism Solutions, a company that evolved from Myrtle Beach Golf Holiday several years ago, and is the parent company of Project Golf. She says that Project Golf is an initiative that started four years ago, but has been very impactful over the past two years. She works with Schaal to drive fundraising, planning and marketing.
"We have several missions," Schaal shared, "and that's to grow the game with veterans, beginners and kids, and address diversity and inclusion, as well." Project Golf offered programming for beginners at various area courses and driving ranges early in 2020. Unfortunately, COVID-19 put the group's efforts on hold until they were able to get back up and running later in the year.
They collaborated with PGA HOPE and put programming in place that would adhere to the rules and regulations put forth by the CDC, South Carolina Department of Health and PGA of America.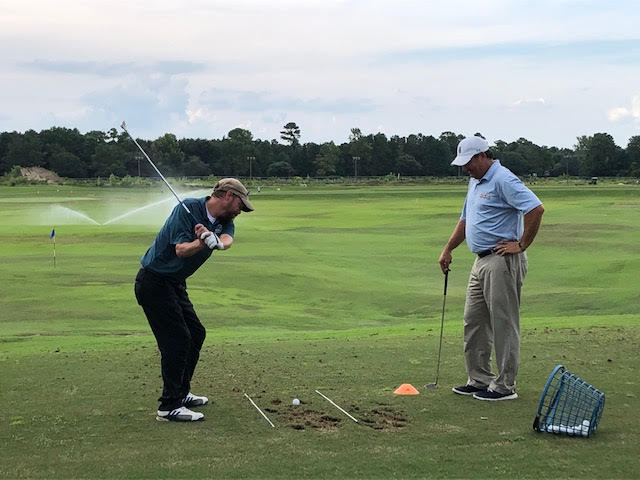 Project Golf acquired the space formerly occupied by the Greg Norman Golf Academy at Barefoot Resort in North Myrtle Beach in 2020 and enjoys three indoor hitting bays and a small gymnasium, as well as the convenient office space for Golf Tourism Solutions team members.
After launching programming for veterans through PGA HOPE Carolinas just last year, Schaal cites considerable growth in a short period of time. After hosting two six-week classes in 2020, plans are to double that initiative this year. "We're off and running," Schaal boasted.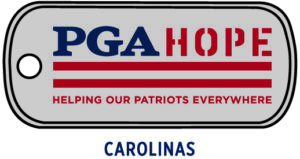 To gauge Project Golf's effect on local play, Schaal uses a sign-in sheet for the veterans to complete. He is interested to learn if and where participants are playing golf between classes. He also asks what he and his team can do to make golf more fun for the participants. What are their challenges, whether golf-related or not? It's truly an endeavor to bring joy and camaraderie to a valued group of heroes in the community.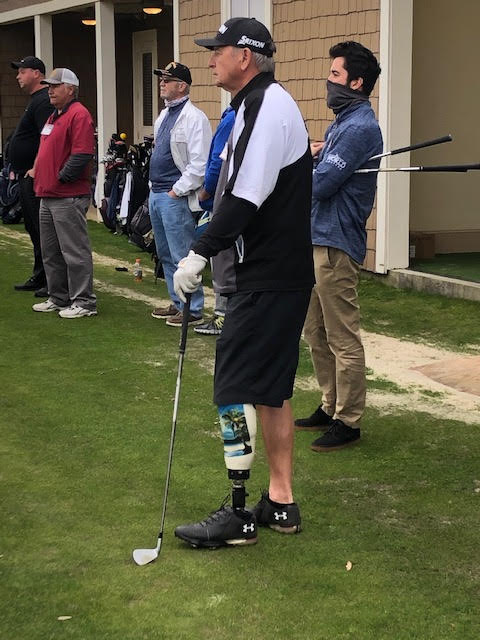 With little data available in these early stages, one thing Schaal could state is that "nobody misses classes". "When we started out, we thought we'd have 10 or 12 students, and we had 21. Then we had 22, and now have 25 in our current class," Schaal highlighted. It is important, of course, that Schaal and his team know how many individuals to expect in their sessions so they can appropriately prepare, to ensure the effectiveness of the instruction, as well as the safety of the participants, volunteers and staff amid COVID. Many of the participants are either joining with friends or recruiting others to come aboard after experiencing the fun, excitement and feeling of accomplishment that golf provides.
Participating in these sessions are veterans, some physically disabled, others having been affected mentally or emotionally by their experiences, episodes with which most Americans cannot empathize or imagine, not having endured the same situations. Schaal, a veteran himself, doesn't want to turn anyone away. "Vets love vets," he says. And as such, they have about a dozen veterans who have completed the six-week program and now volunteer as ambassadors of the program. They just want to be around the group, hitting golf balls and even taking more instruction. They help gather range balls and set up for the clinics. They're also there to talk to the participants about any topic they'd like to discuss, and it's not necessarily always about golf. It's that reassuring environment that they strive to create.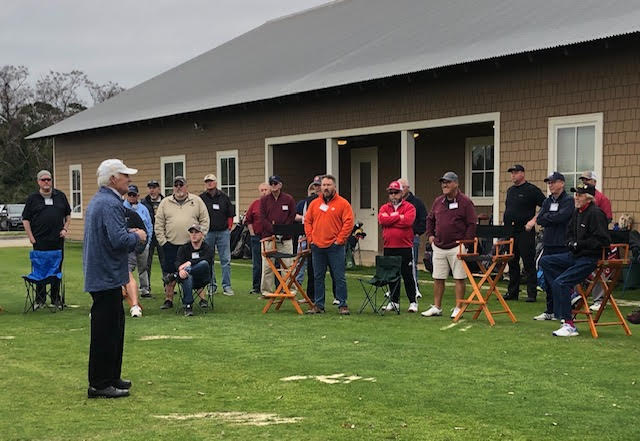 Each new six-week class starts with a welcome ceremony and Schaal asks two or three veterans if they'd like to share their stories and highlight any past experiences they've had in golf.
After that, some of the golf professionals give an overview of what to expect in the lessons and they'll also go over a few important definitions so new golfers in the group are more familiar with terms being discussed around them. Schaal even brings in a certified Rules of Golf expert to discuss various rules throughout the program.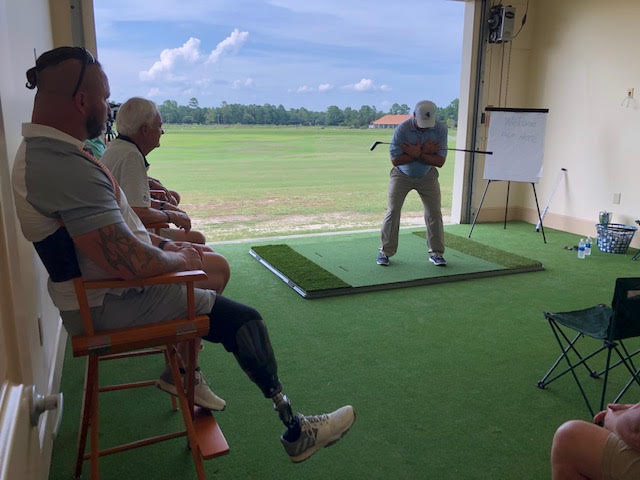 They break up into stations – full swing, putting, chipping and bunker play. Afterwards they gather for some friendly competition, like a putting contest, closest to the pin or straightest drive. With prizes like a dozen golf balls awarded, these activities serve to motivate participants to improve, but also demonstrate the camaraderie and friendship that golf fosters. Schaal says the veterans are not only competitive among each other, but by branch of the military in which they served. Many of them attend their lessons proudly donning their service caps.
The clinics are facilitated by PGA Professionals from throughout the Carolinas PGA Section, but the 2020 sessions all took place at the Barefoot Resort. "This year we thought we'd experiment with rotating. So, we did the first two at Barefoot and did one recently at TPC Myrtle Beach and then one session next week at the course at Coastal Carolina University," Schaal said. The final session of each six-week class happens on the course at Barefoot Resort and is followed by a cookout on site.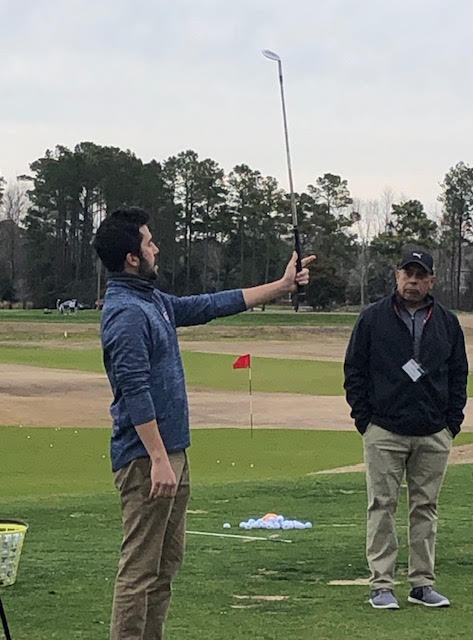 The program is marketed by word of mouth, phone calls facilitated by Schaal and his team and the considerable efforts of the Golf Tourism Solutions staff.
"Our content team covers all aspects of the initiative," Hottel said. "We produce written stories, videos and even go 'Live' on Facebook to ensure the project's story is being told via digital and social media. We share those stories through our network of assets and the response has been incredible. My favorite thing about Project Golf and PGA HOPE is that they provide a sense of hope, especially with COVID still among us."
Schaal's motivation in bringing his expertise to the lesson tee through Project Golf is to "validate Myrtle Beach as the golf capital of the world". "We want to build the best junior program and the best veteran rehab program," Schaal stated. He has previously worked with men and women at the Walter Reed National Military Medical Center and wants to spread his patient and nurturing mentorship to his fellow patriots in Myrtle Beach. "That's all I needed. I'll never stop doing this," Schaal declared.
For more information on Project Golf, log on to https://projectgolf.org/.