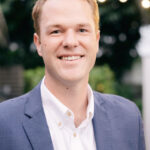 Parker Brandt is the PGA Director of Instruction at The University Club of Baton Rouge in Baton Rouge. LA.
Parker Brandt on the importance of hosting "Fireside Chat" clinics to engage your membership:
At the end of 2021, a couple members wanted to come by and play around with some of the equipment I had in my teaching center at the end of a day. They had a lot of fun and it enabled them to get a free clinic of sorts with me. I gave full access to my technology and equipment, with my supervision of course. Word of mouth spread and those two or three people hanging around my shop once a week has ballooned into what we have nearly every Wednesday in season, 15-20 members getting a chance to use the equipment and getting some instruction at the same time, what we call our "Fireside Chats."

Parker Brandt on the business impact of hosting "Fireside Chat" clinics to engage your membership:
We have had 30-35 of these and as they've become larger, I enlisted two of my assistants to aid in the instruction, with the group – gathered via group text — hitting off three different launch monitors off grass. That way everyone got to know each other better, the staff better, and all the technology and equipment better. We even had the food catered for a while by someone who owned a restaurant franchise locally. Now our food & beverage department has taken over and caters it. Vitally, it allowed assistants who had either never been given the chance to teach or had never had the time to teach because of their other duties to get teaching reps in. Everything else has followed, as we've seen a 20 percent increase in lessons, 15 percent increase in fittings, and a ten percent boost in sales overall. By the way, the name is ironic: we've held the vast majority of these over the summer, when it's so hot you'd never want be by a firepit here. But the intimacy has been what has made this as a success, and the name has stuck, too.

If you would like to email the author of this Best Practice directly, please email phbrandt1@gmail.com.