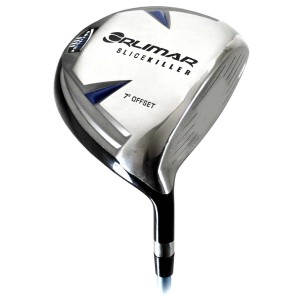 Orlimar amazed the market with the launch of the OJam range of products at the 2015 PGA Show. This range of music-enabled JamBag golf bags, headphones, speakers and the JamCart golf cart created quite a stir. Look for upcoming features on national television and radio media in early spring. Visit Ojamgolf.com to view the whole range and the video.
Now we have turned our attention to another innovation, the SliceKiller driver! Imagine stepping onto the tee box. It's the greatest moment of drama on the course. It's your moment to bask in glory as your ball arcs majestically down the fairway. That is, unless, you are cursed with that tendency in your swing that sends your towering shot sickeningly off to the right. All of us have felt the despair of a trip into the woods for what should have been a 200+ yard drive that now rests under a canopy of leaves.
The Orlimar SliceKiller is the answer to the curse of the slice. Our Unique anti-slice design includes a 7 degree offset hosel to counteract overswing and reinforces the power of your swing with a Titanium face for greater distance.
So face that tee box with confidence. Look for further information on the Orlimar SliceKiller launch this spring!