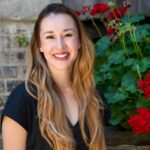 Nina Fairbairn is an Advisory Board Member of Bay Area Lyme Foundation and a former 3-time Ivy League Champion at Harvard University.
Nina Fairbairn on the importance of taking action to prevent tick bites in the upcoming PGA Jr. League season:
As golfers we spend a lot of time outside. It's awesome. It's filled with fresh air, camaraderie with friends, and a chance to clear your mind. But tied into that is the risk of ticks and Lyme disease. As with any outdoor activity ticks are a possibility, but they are especially acute for golfers, with high grasses and trees surrounding the course. A whopping 476,000 new cases of Lyme are diagnosed each year in the U.S. according to recent CDC statistics, and due to inaccurate testing the actual number may be higher. This is why I am so excited about a new partnership between Bay Area Lyme Foundation and the PGA of America's PGA Jr. League program. Through this partnership, Bay Area Lyme will be providing one free tick prevention packet for each PGA Coach for the 2022 season, arriving with their PGA Jr. League Team Kit order.
Nina Fairbairn on the business impact of taking action to prevent tick bites in the upcoming PGA Jr. League season:
I know firsthand the impact of Lyme disease. I went from having loads of energy and participating in all kinds of extracurricular activities early in my time at Harvard to getting chronic fatigue syndrome, with a need to sleep 12 hours and take additional naps between classes. I knew something was wrong and kept getting misdiagnosed. Part of what makes Lyme so frustrating is that it comes in so many forms and what you think is the definition – "you'll know it when you see it, bull's-eye rash" – just isn't the case. It was only until my mom was talking to a teammate's mom that she first acquired the proper materials that eventually led me to the right doctor who gave me the correct diagnosis. The access to basic information is crucial, and that's why this initiative is so vital. Prevention is crucial. My go-to methods are to use bug spray and picaridin lotion, spraying my clothes every few wears with permethrin, and wearing long socks and white clothes. I also tick check immediately after coming off the course, and again two days later (so that you can find smaller ticks that may have latched on and gotten engorged). As a facility owner or PGA Professional, you can ensure tick prevention stays top of mind by putting tick check reminders on scorecards and near where the day's "Course Conditions" are displayed. The products are easy to acquire and at little cost. We hope the "starter set" provided to PGA Coaches through PGA Jr. League sets a foundation which allows tick prevention to become routine before engaging in an outdoor activity. I encourage you to follow the lead of PGA Jr. League by taking preventative measures and encouraging fellow golfers to do so too. My hope is that this will help ensure others don't have to go through what I did.
If you would like to email the author of this Best Practice directly, please email nina@transcendpartnersllc.com. For additional resources: https://www.bayarealyme.org/resources/prevention-tools/ and https://www.bayarealyme.org/lyme-disease-prevention/