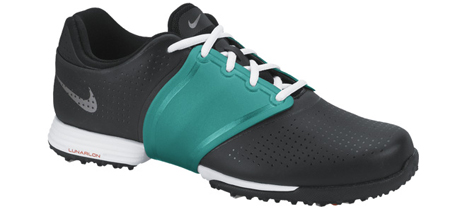 Nike Golf designers tirelessly tinker with new technologies, new materials and new methods to create better products – it's in their DNA. The new Nike Lunar Embellish golf shoe, available at retail November 1, is a direct result of that relentless drive towards innovation.  It combines the four-shoes-in-one concept and fashionable, feminine appeal of its predecessor, the Nike Air Embellish, while delivering an updated, modernized design that is lighter and gives athletes more control at impact.
"The Nike Lunar Embellish was an exercise in refine and perfect," says Lee Walker, Nike Golf Global Footwear Marketing Director. "It was important for us to evolve the best characteristics of the popular Air Embellish to make the new Lunar Embellish an even better-performing, sleeker-looking golf shoe – yet still retain the essence of what made the original Embellish so successful."
The Nike Lunar Embellish is significantly lighter than the previous model, weighing in at only 8.6 ounces compared to 11.9 ounces in the Nike Air Embellish. The incorporation of lighter materials and a slimmer, more refined design keeps athletes comfortable and reduces fatigue, allowing them to forget about their feet and focus on their round. Lunarlon Technology provides responsive cushioning in the heel and works in conjunction with Integrated Traction on the outsole to provide control at impact.
One signature feature that hasn't changed is the opportunity to customize the Nike Lunar Embellish with interchangeable color saddles. The shoe comes with two reversible saddles – four colors in total – allowing female golfers to match their shoes to their outfits, bags and more on any given day. The different saddle options, besides making it easier to accessorize, provide adjustable mid-foot support. A new water-resistant synthetic upper crafted with a no-sew technology film overlay provides additional support and durability throughout the entire length of the shoe.
Women's Nike Lunar Embellish
Availability: 11/1/13
Street Price: $99.99
Color offerings:
Pure Platinum/Wolf Grey-White: Four saddle offerings
Option #1: Red Violet
Option #2: Turf Orange
Option #3: Glacier Ice
Option #4: Wolf Grey
Black/Metallic Cool Grey-White: Four saddle offerings
Option #1: Dark Grey
Option #2: Turbo Green
Option #3: Geranium
Option #4: Violet Shade
About Nike Golf
Located at NIKE's World Headquarters in Beaverton, Oregon, Nike Golf designs and markets golf equipment, apparel, balls, footwear, bags and accessories worldwide. Nike Golf is passionately dedicated to ushering in the future of this great sport by developing ground-breaking innovations that enable and inspire athletes to become better. For more information on Nike Golf, visit our Web site at www.nikegolf.com. To follow Nike Golf on Twitter visit www.twitter.com/nikegolf and to become a fan on facebook go to www.facebook.com/nikegolf. To view Nike Golf videos subscribe to our You Tube channel at www.youtube.com/nikegolf. Editors and journalists in the U.S. seeking editorial information and downloadable images, visit www.nikeinc.com. For international journalists, please contact Nike Golf's public relations representative in respective countries for information.
Contact:
Beth Gast
503.532.8852
Kristen McKenna
503.532.6581