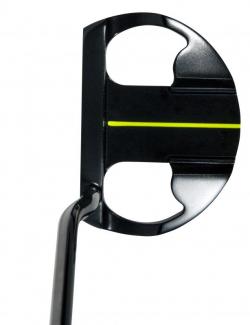 -Press Release, Baltimore – STX Golf, known for producing classically inspired putters with a modern style, announced today that the new cutting-edge Pitch Black 3 Mallet Putter with distinctive deep black finish is prepared to be introduced to the media and retailers alike.
The new and bold Pitch Black Putter Series consists of four completely unique and individually styled putters. Each are specifically designed to cater an individual's unique style of putting; therefore, STX plans to introduce each putter model individually starting with the Pitch Black 1 blade putter and then progressing with the Pitch Black 3 mallet.
The black, contemporarily shaped head on the Pitch Black 3 is spherical in design and features a precisely developed flange that drives the center of gravity backwards to maximize the MOI as well as upwards to promote a quicker roll. The distinguishing dark black finish on the putter head features a contrasting slight line for an outstanding visual set up.
According to STX Golf Marketing Manager Jason Dengler, "Our early testing proved that golfers preferred the visual difference between the black head and white ball as compared to the putters finished in a lighter color."
To ensure a visually uniform setup, the STX design team complimented the double black head with a black PVD, double bend shaft and black players grip. Each model in the Pitch Black Putter Series including the Pitch Black 3 Putter will feature a brightly colored electric yellow, soft insert that optically jumps off the black head. This Soft Insert Technology is called "F.E.E.L." – Friction Enhancing Elastomer Layer. This patented STX technology dramatically increases the coefficient of friction to put a greater amount of forward roll on the ball and start your putts on line. The Soft Face Insert keeps the ball in contact with the putter longer to also provide superior directional control, decreased ball skid and reduced ball deformation.
The new Pitch Black Series will be available in stores for the 2013 spring season. Suggested retail is $149.99. For more information on the Pitch Black Series, visit the company website at www.stxgolf.com or to learn how to win a new Pitch Black Putter visit the STX Golf Facebook page.
About STX:
The STX journey to produce world class, technically superior equipment began in 1970. Our mission is to offer products and choices that go beyond industry standards and conventional thinking. Our quest is to always pursue unprecedented feel and performance in each and every detail. When you choose STX, you can trust that we believe in your passion for the game just as much as we believe in the equipment with which you play.
Media Contact:
Vanessa Price
Read the Greens
714-544-6515
Tracy Nackel
Read the Greens
760-420-1602