Seeing a need in the marketplace, Nick Kumpis leveraged his teaching skills to create a smartphone app that's a hit with junior golfers
BY: SCOTT KRAMER
Golf meets mobile technology? Yes, here and there we have seen some overlap between the ancient game and the modern trend, generating efficiencies and even some profits for golf professionals. Examples include on-course GPS apps, diagnostic swing analyzers and handheld putter-fitting software. In the name of efficient skill sharpening, PGA professionals continue searching for tech tools that haven't been thought of yet.
The idea is to emulate Mitchell Spearman, a GOLF Magazine Top 100 Teacher based in Rye Brook, N.Y., who created his "Golf Shot Fixes" app for the iPhone and continues to sell it for 99 cents. The app's continued popularity reinforces Spearman's reputation, thanks to the depth and quality of the content—some 62 high-definition video lessons with quick fixes are loaded into the product. Pol Montano, director of golf at Boone Valley Golf Club in Augusta, Mo., burned the midnight oil to create his own smartphone app, titled "Swing At 'Em Golf" It includes video swing analysis tools in a wide variety of problem-solution vignettes.
Then in January of this year, teaching professional Nick Kumpis, based at Santa Ana (Calif.) Country Club, unveiled iJuniorGolf on Apple's app store. Priced at $4.99, it's basically a parents' guide to junior golf instruction. As far as Kumpis knows, his is the very first junior golf instruction app for iPhone or iPad. Hearing him discuss the utility of his app it's clear that the 35-year-old professional—three times a U.S. Kids Top 50 Kids Instructor—approaches his craft with dedication and creativity.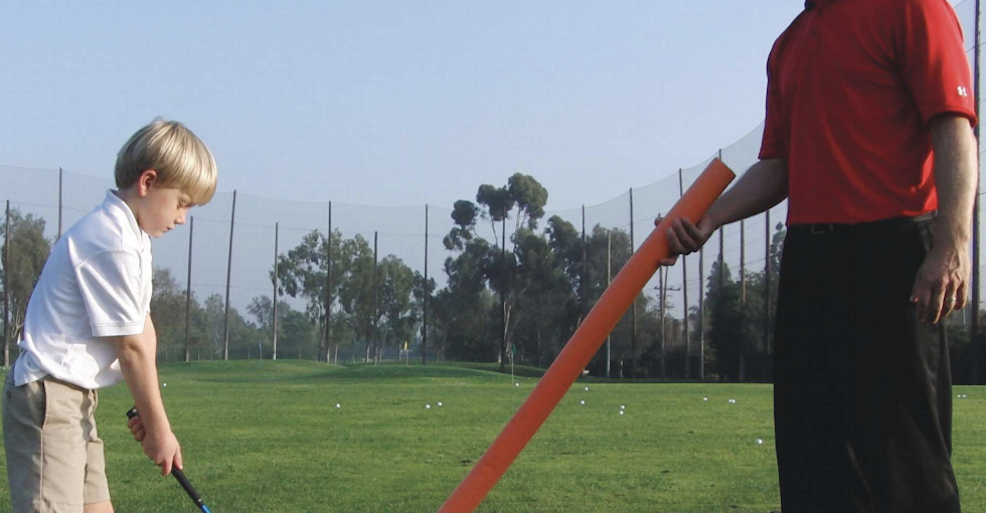 "I came up with the concept for iJuniorGolf when I realized that juniors need a fun way to learn golf and parents need a way to properly introduce their kids to the game with the help of a PGA professional," says Kumpis, whose mentors include such coaching notables as Jim Flick and Hank Haney. "The app is for kids of all ages and skill levels."
Kumpis says parents and pros alike want to introduce kids to golf early and instill in them a love of the game. "It's a game and it should be fun at every stage," he emphasizes. "Because kids absorb information differently than adults, this app helps them learn visually and improve quickly with fun drills, games and trick shots. We purposely avoid using technical golf-speak, which can be difficult to understand and leads quickly to boredom with younger kids."
Admittedly not experienced in computer science, Kumpis said the extent of his technical knowhow was limited to his smartphone apps, along with video and computer software for golf. "This is what's expected with this generation of golfers," he says. "When was the last time you saw someone take a book to the driving range? My app is easy to view on an iPhone at the range."
Kumpis had been using a lot of apps on his iPhone, and kept reading about how fast the iPad and smartphone market was growing. "One article predicted that by 2017, there would be two billion tablets and smartphones in the world," he recalls. "Also, apps have global reach. I felt like this was the future—a way for people to learn by using video and easy-to-navigate information." He began looking specifically at the golf teaching apps and found nothing on junior golf instruction. So being he had 13 years of experience giving junior lessons, he decided to create iJuniorGolf. "I thought it would be pretty cool to be the first, and after more than a year of concept-refining, sketching out user flow, and then production, I pulled it off," says Kumpis. For professionals who lean toward authoring their own mobile app, Kumpis estimates that they cost from $5,000 to $100,000 and up, depending on the number of screens and graphics produced and on how the video is hosted.
The well-organized app—categorized by shot type—is laid out with parents in mind, offering them a game plan to help their children by putting more than 100 video lessons in the palm of their hands. Lessons are both short and manageable, so that parents can be consistent and not over-teach. "Each lesson provides a specific focus, so the student can work on one thing at a time," says Kumpis. "Most important, iJuniorGolf gives parents the confidence and ability to teach golf fundamentals correctly. It means you don't have to be a golf pro to teach your child."
The app also includes sections addressing common faults and motor skills, and the lessons include tips for adjusting for skill level. To film the videos inside the app, Kumpis enlisted the help of fellow golf professional Tommy D'Eliscu, who has a background in film and photography and even made a surf movie in high school. "Tommy was very helpful because he understood both the golf part of the videos, like making sure the swing stayed in the frame of the video, and also the filming aspects, such as light, shadows and angles," says Kumpis. "It took four full days of actual filming, and before that a couple months to plan all of the videos and how to shoot them." Kumpis and D'Eliscu shared the task of video editing, as well. In its first three weeks on the app store – and with no public relations campaign in that time period – iJuniorGolf realized more than 100 downloads, along with several five-star reviews. "It was rewarding from the very start to use the salestracking tool," says Kumpis. "Most sales have been by customers in the U.S., but internationally I've had downloads from South Africa, Japan, Philippines, United Kingdom, Ireland, Spain, Netherlands, Denmark and Canada." Turns out there are kids the world over looking to at least try their hand at golf, and parents looking for an effective way to help them along.