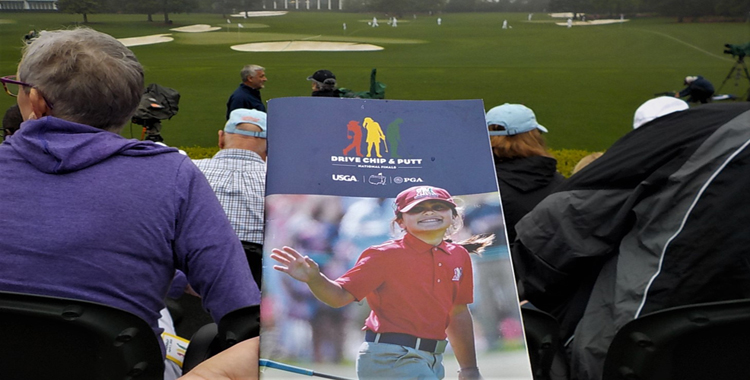 By Brendon Elliott, PGA
Last month on GolfRange.org, I took a look at the #GameChanger that is PGA Jr. League. Over the course of PGA Jr. League's evolution, a sister program has been evolving right alongside it and making as big an impact on junior golf across the country. In 2013, Drive, Chip, and Putt was formed as a collaborative effort between The Masters Tournament, the USGA, and the PGA of America. Through this endeavor, the three founding partners aimed to grow the game among boys and girls ages 7-15, by focusing on the three fundamental skills employed in golf.

Free local qualifying events provide new players and junior golfers an opportunity to play with their peers at courses throughout the country. The program aims to inspire participants with the chance to advance and qualify on several of the country's top venues, including Augusta National Golf Club, where the Drive, Chip, and Putt National Finals are held.
Top performers at the local level advance through sub-regional and regional qualifiers in July/August and September/October, respectively. From these qualifiers, 80 finalists – 40 boys and 40 girls – earn an invitation to compete in the National Finals at Augusta National Golf Club on the eve of the Masters Tournament. Qualifiers are conducted across the country by all 41 sections of the PGA of America.

The program has gained amazing support, and leaders from the Masters Tournament Committee, USGA, and PGA of America are thrilled with the impact this competition has made. In January, the heads of the three allied associations had the following to say in a release posted on the Drive, Chip, and Putt website (Article: Registration Now Open for Drive, Chip, and Putt Qualifiers.)
"It's exciting to see Drive, Chip, and Putt continue to grow the game and inspire juniors everywhere to love and play it," said Mark Newell, USGA president. "As a founding partner of the program, we're able to witness firsthand, the level of passion that junior golfers have and to know that the future of the game is in good hands."

"Drive, Chip, and Putt is a unique and exciting opportunity for participants of all skill levels to get started in the game," said Fred Ridley, Chairman of Augusta National Golf Club and the Masters Tournament. "Our partnership with the USGA and PGA of America is rooted in the shared mission of engaging golf's next generation, and each year we are encouraged by the smiles we see, as boys and girls have fun playing a game we hope they enjoy for the rest of their lives."
"The PGA of America is proud of the great tradition that Drive, Chip, and Putt has become through our longstanding partnership with both the USGA and the Masters Tournament," said PGA President Suzy Whaley, PGA. "Each year, Drive, Chip, and Putt serves as a special opportunity for girls and boys to showcase their golf skills and their passion for the game in a fun and welcoming environment. We're excited that PGA Professionals will help inspire the next generation to pursue a lifetime of enjoyment through the game of golf, as we host qualifying events across each of our 41 PGA Sections nationwide."

I asked Virginia Dent, of Augusta National Golf Club, if there may be plans for future, international qualifying spots. "There are no immediate plans to expand qualifying internationally. Chairman Ridley did address the topic when asked at a press conference last year at the Asia-Pacific Amateur Championship and indicated it was an idea worth consideration," Dent replied.
"I think the notion of expanding that internationally is something that we should think about. We don't have any present plans to do that, but I certainly think it's a topic worth exploring." – Fred Ridley, Chairman of Augusta National Golf Club and the Masters Tournament.

I have had the pleasure of being on-site for the National Finals at Augusta National each year since the program's inception. I can tell you that Drive, Chip, and Putt has a profound impact on not only those who reach the pinnacle stage, kids and parents alike, but also on anyone who is a fan of the game. You don't have to see it in person to recognize this. Just watching the finals telecast on Golf Channel will give you chills. Drive, Chip, and Putt, like its sister program, PGA Jr. League, is creating golfers and inspiring kids who are already playing the game.