-Press Release, Norcross, Ga.
Mizuno USA, a world-class leader in golf technology and development, is pushing the limits with unveiling the "STEP-Muscle" design in the new Grain Flow Forged® MP-54 irons. These new irons are the invitation to "step up" your shotmaking ability and experience the solid, smooth feel of MP play.
"This iron tasked our R&D team to improve upon an already winning formula from our previous model – the MP-53. We took a deep look into the intricacies of the club design, the physics of the golfer's motion and the desired performance on the range," said David Llewellyn, Manager, Golf Club R&D. "The result is an inspiring iron with sleek design that is still MP, still traditional, yet aggressive."
At the center of the MP-54 is the Milled STEP Muscle in the three-through-seven iron. The milling repositions weight to the cavity frame of the iron to increase stability on off-center hits, create a deeper center of gravity for launch forgiveness, all while maintaining necessary thickness behind the ball to deliver a solid, iconic feel at impact. Moving to the scoring irons, eight-iron through pitching wedge, the unmatched feel and workability remains through the seamless addition of Solid Muscle Design to the head.
The select mild carbon steel and reinforced perimeter grind of the MP-54 offers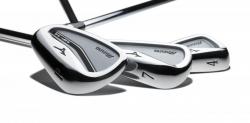 the appearance of a thin topline at address and the versatility of a thin sole to translate into a forgiving iron with increased playability. The iron is rounded out with H.I.T (Harmonic Impact Technology), a vibration management technology, to deliver the iconic Mizuno feel players crave at impact.
"Over the past several years Mizuno's MP iron category has expanded to a point where consumers expect a 'player' iron look and feel with the forgiveness of today's technologically advanced equipment," said Chuck Couch, VP of Product Management, Golf Division. "Golfers will quickly start to embrace the MP-54 philosophy after experiencing what this iron can do."
Integral to the development process were Mizuno Tour players, Luke Donald, Charles Howell III and Jonathan Byrd, who participated in various stages of product testing, including appearances in Mizuno product videos available online.
For more information about Mizuno irons, please visit www.mizunogolf.com.
Connect with Mizuno on Facebook and Twitter @Golf_Mizuno to keep up with product news, Tour updates and custom content and fitting tools.
Right and Left Hand Available
Shaft: Dynamic Gold S300
Grip: Golf Pride M-31 58 round
Other Options available through Mizuno's Custom Department
Suggested Retail Price: $999.99
Available: Sept. 9, 2013
About Mizuno USA
Mizuno USA, Inc. is a wholly owned subsidiary of Mizuno Corporation, one of the largest specialty sporting goods manufacturers in the world. Mizuno USA, Inc. manufactures and distributes golf, baseball, softball, running, track & field, and volleyball equipment, apparel, and footwear for North America. Mizuno USA, Inc. is based in Norcross, Georgia.
Contact:
Mike Whitmark, The Brand AMP
562-546-6008
mike@thebrandamp.comHarper Cornell, Mizuno USA
770-453-7853
Harper.
Cornell@mizunousa.com