Mizuno, a global leader in golf technology and innovation, introduces the new 2016 JPX-EZ Driver featuring a redesigned club head and moveable weight technology to deliver maximum forgiveness off the tee.
Developed for golfers of all skill levels, the 2016 JPX-EZ Driver adds Mizuno Fast Track® Technology to expand customization options in the loft and trajectory settings. The 2016 model incorporates a 10-gram moveable weight which allows for more concentrated placement of mass to affect the driver's neutral fade and draw settings. By enabling weight shifts in either a central sliding rail or two lateral slots, the JPX-EZ Driver can be set up to address any player's specific ball flight needs. The JPX-EZ Driver's customization creates the perfect launch conditions and spin rate for optimal control and maximum distance.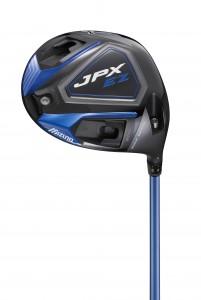 "This driver's secret is in the newly added 10-gram weight, which makes an enormous difference to its overall adjustability, regardless of the differences in player's skill level or swing dynamics," said Chuck Couch, Vice President of Product Development – Golf, Mizuno USA.
The JPX-EZ Driver again implements its Quick Switch® Technology which allows golfers to switch loft angle between 8.5 and 12.5 degrees.
JPX-EZ Driver
Available Lofts: 1 Head (8 different loft settings)
Shaft: Fujikura SIX XLR8, S, R, A-Flex (Men); Fujikura SIX – L Flex (Ladies)
Grip: Golf Pride M-31 360 Round
*Other Options available through Mizuno's Custom Department
Suggested Retail Price: $399.99
Available in-store: November 6, 2015
Learn more about the new JPX-EZ Driver at mizuno.com. Connect with Mizuno on Facebook, Twitter @Golf_Mizuno and Instagram @Golf_Mizunoto keep up with product news, Tour updates and custom content and fitting tools.
About Mizuno USA
Mizuno USA, Inc. is a wholly owned subsidiary of Mizuno Corporation, one of the largest specialty sporting goods manufacturers in the world. Mizuno USA, Inc. manufactures and distributes golf, baseball, softball, running, and volleyball equipment, apparel, and footwear for North America. Mizuno USA, Inc. is based in Norcross, Georgia.
Contact:
Mike Whitmark, The Brand AMP
949-438-1068
mike@thebrandamp.com
Harper Cornell, Mizuno USA
770-453-7853
Harper.Cornell@mizunousa.com