Mike Woods, the 2008 PGA Merchandiser of the Year for Public Facilities, is the PGA head professional at Haggin Oaks Golf Complex in Sacramento, California.
Mike Woods on the importance of turning your demo day into a golf expo:
Nearly every golf course, golf range or retail store holds demo days. To truly separate your business from the competition, you need to invent a golf promotion that the community absolutely cannot wait for each year. At the Haggin Oaks Golf Complex, we will host our 40th Golf Expo this spring. Forty years ago, the event started as a small "porch sale" outside the front door of our golf shop. Today, Golf Expo hosts 23,000 attendees over three days, with 180 to 200 vendors, always keeping true to our mission of providing a free event for the area golfers. Free means free parking, free admission, free club trials and free clubfitting by our award-winning PGA Professionals. Our surveys show that the average Sacramento-area golfer attends Golf Expo each year. Our surveys also show that a surprising number of attendees that come from all over the Western states and enjoy the three-day event as a golf trip with family and friends.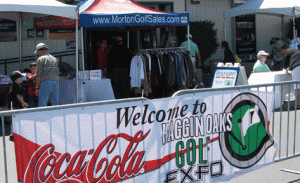 Mike Woods on the business impact of turning your demo day into a golf expo:
Golf Expo is an expensive promotion. We have more than 200 employees working those three days, and more than 100 volunteers. We spend more than $60,000 in advertising as well. But between booth sales, merchandise sales, food & beverage and other weekend revenues, it's just north of a $750,000 in revenues those three days. And Golf Expo sets up our next 90 days at the facility. The retail sales, golf course play, practice range use, golf lessons and clubfitting departments are totally booked for months following Golf Expo. We have found many of our customers enjoy Golf Expo, but do not make their purchase during the busy, fast-paced event. Instead, the customer builds a relationship with our staff members during Golf Expo, and then comes back to support our facility in many different ways, including buying a new set of golf clubs.
If you would like to email the author of this Best Practice directly, please email mwoods@hagginoaks.com
Editor's note: The above comments reflect the opinion and experiences of the submitting PGA Professional and are not endorsed by PGA Magazine or the PGA of America.