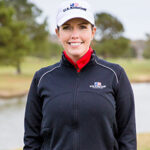 Michelle Holmes, a 2016-2020 GRAA Growth of the Game Teaching Professional, is the LPGA Owner/Operator at Michelle Holmes School of Golf with locations in Norfolk, Chesapeake and Virginia Beach, Virginia.
Michelle Holmes on the importance of promoting women's golf:
Although we welcome golfers of all ages and abilities, most of our golf instruction involves junior golfers, with more than 500 kids coming through our private and group instruction programs each year. With four full-time instructors, including my husband, PGA Professional Daniel Shea, and seasonal support staff during the busy summer months, we provide programming that creates experiences that encourage these young golfers to play the game for a lifetime. One program that I am very proud of is our LPGA*USGA Girls Golf program. Of those 500+ junior golfers who we serve each year, there are more girls than boys, a unique statistic that is a reflection of our efforts to grow the game among all youth golfers. This wasn't always the case, however, but has changed over the past three years with half of our teaching staff being women. With girls learning at all three locations, we host LPGA*USGA Girls Golf activities on random Fridays that gather participants from all three sites. This program is based on team activities, where our more competitive older girls get a chance to enjoy the laid-back camaraderie of their peers in a setting that's geared towards fun, rather than competition. The parents like what we're doing with this program because it encourages the older girls to take a leadership or mentor's role. This system also helps the newer players feel more comfortable as they ease into this new activity called golf. We will usually do an hour of golf and an hour of a social activity that might include pizza, movies or arts and crafts.

Michelle Holmes on the business impact of promoting women's golf:
We host the LPGA*USGA Girls Golf program between 10 and 20 times each year. With participation increasing among our girl golfers, we will host more events in 2022 to accommodate everyone in a safe and controlled environment with COVID still lingering, after pausing the program in 2020 and 2021. With three sites, we conduct group programming at two of them and teach private lessons exclusively at the third. But with all the great private and group instruction provided, the girls are anxious for our LPGA*USGA Girls Golf Fridays to get back on the schedule. We start kids at an early age and have developed a stellar reputation as a destination program for girls who want to play golf. Offering traditional programming, parents can sign their kids up for group sessions on our website, while we also develop our long-term golfers through special group practice sessions that get them off the private lesson tee and mingling with their peers. Adding a social aspect to our programming also helps retain the girls as they get into their teenage years.

If you would like to email the author of the Best Practice directly, please email michelle@michelleholmesgolf.com.